College of Medicine

Communique

Population Health
"Sleep is as important to good health as exercising and eating healthy – and it's easier."
That was the message Thursday as a UCF sleep expert gave tips to getting better sleep during Lake Nona's Lifestyle Medicine Week.
Kristina Grabnickas, a UCF advanced registered nurse practitioner and certified sleep science coach, offered the interactive event at the Chopra Mind and Body Center at the Lake Nona Performance Club. The session included guided imagery, herbal tea, flameless candles and other relaxing visuals and sounds.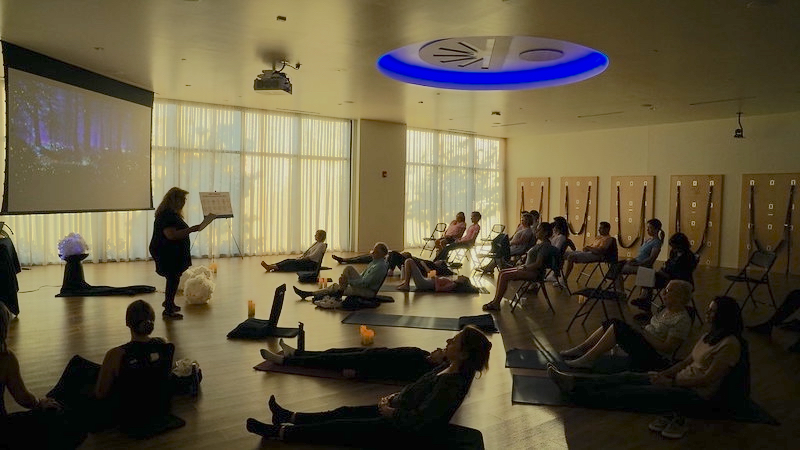 Stress, TV, cell phones and working remotely have all impacted sleep, she explained. Bedrooms have become a place to work, text and binge-watch rather than serve as a quiet sanctuary for rest. Before beginning her guided imagery – which had participants walking through a beautiful forest and focusing on the sights, smells and sounds of nature – Grabnickas offered tips for getting a good night's sleep.
Make your bed a place to sleep, nothing else. Don't work on your bed – even if you've set up your bedroom as an office. Turn off the TV, the computer, your phone. Also remove any clocks – they just remind you how long you've been unable to sleep.
Keep a consistent sleep schedule. Go to sleep and rise at the same time every day – even on weekends. That protects your body's circadian rhythms.
Don't exercise or eat right before bed. Do those activities at least three or four hours before you go to sleep.
Don't drink coffee or other caffeinated beverages after 3 p.m.
Find a sleep ritual that helps you wind down and quiet your mind before you go to sleep. Meditation, music and reading can all help. Grabnickas advises you take a one-hour "nap time" before bed. No, don't nap. Turn off your phone and computer.
Avoid taking actual naps late in the afternoon. Power through until you can go to bed at your usual time or a little earlier. Naps during the say should only be 20 minutes.
Drinking alcohol before bed may make you sleepy, but the sleep won't last. Alcohol also disrupts your circadian rhythm, so that glass of wine may cause you to wake up at 2 a.m. unable to go back to sleep.
Research shows that certain foods can help with sleep and relaxation. These include avocadoes, sweet potatoes, mushrooms and tart cherries. Foods high in magnesium, potassium and Omega 3 fatty acids can all assist in encouraging healthy sleep.
When it comes to good health, restorative sleep is as important as eating well and exercising. In fact, a lack of sleep has been linked to inflammation, obesity and depression and puts us at a higher risk for developing Type 2 diabetes, high blood pressure, Alzheimer's and cancer. So during a week devoted to improving our lifestyle to improve our health, Grabnickas urged participants to place a priority on sleep. "Sleep is for the soul," she said. "It's where dreams happen."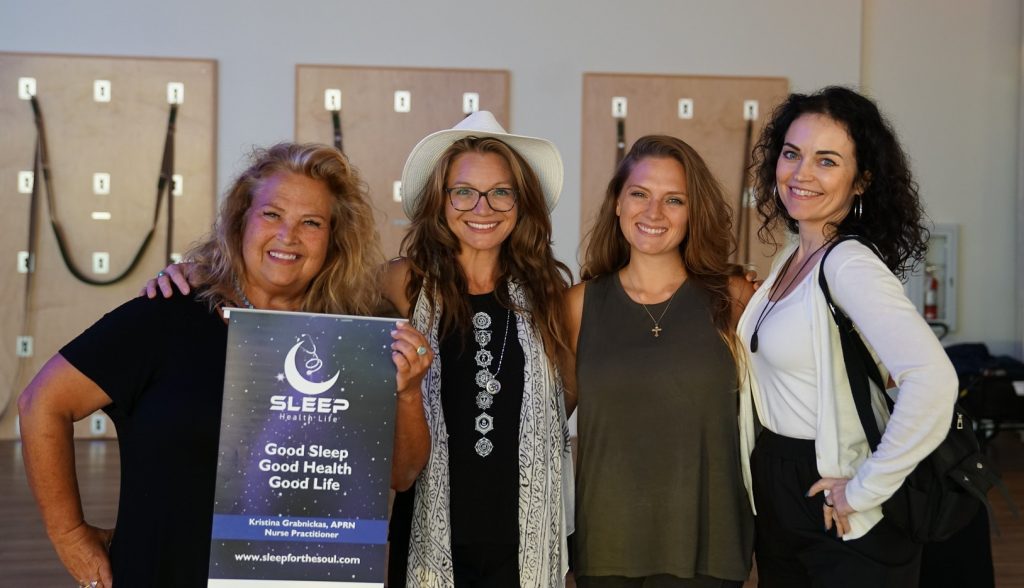 Lake Nona's Lifestyle Medicine Week concludes Saturday, June 10 with Global Wellness Day – including healthy vendors, activities and interactive events – at Lake Nona Town Center. For more information, visit https://www.livewelllakenona.com/.
Post Tags
Lifestyle Medicine Week

sleep