College of Medicine

Faculty News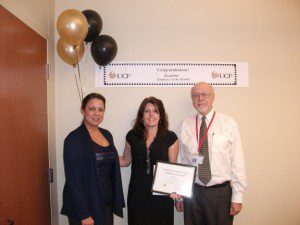 Suzanne Stalvey, a College of Medicine administrative assistant, is UCF's February Employee of the Month. Suzanne has been working with the college's Clinical Sciences Department for three years, where she supports faculty members and medical education.
"It feels good to be recognized," she said. "I just like to go above and beyond, that's my type of personality. If someone needs something, even if it's not my duty, I'm going to step up and help out with whatever I need to do."
"We call her MacGyver around here," said Geovanna Abreu, director of Faculty and Academic Affairs and Suzanne's supervisor. She and Dr. Ralph Caruana, associate dean for Clinical Affairs, nominated Suzanne for her hard work with countless projects, including helping to open UCF Health, the College of Medicine's new physician practice. In their nomination, they wrote that Suzanne is "very proactive; Suzanne always foresees anything that can happen, or anything that was left undone." Geovanna describes Suzanne as an eager employee who "never says no" and is a role model to many of her co-workers.
Each Employee of the Month receives several prizes, including a Barnes & Noble gift card, UCF apparel, and lunch with the University Board of Trustees. Honorees also become eligible for the "Employee of the Year "award, which comes with a $2,500 check.
Suzanne says she is proud to represent the College of Medicine, and hopes more employees from the Lake Nona campus will be recognized for their hard work. "Whether it was me or not, I was happy to see that someone from the College of Medicine was acknowledged," she said. "Hopefully more people from this campus will be nominated."
Post Tags