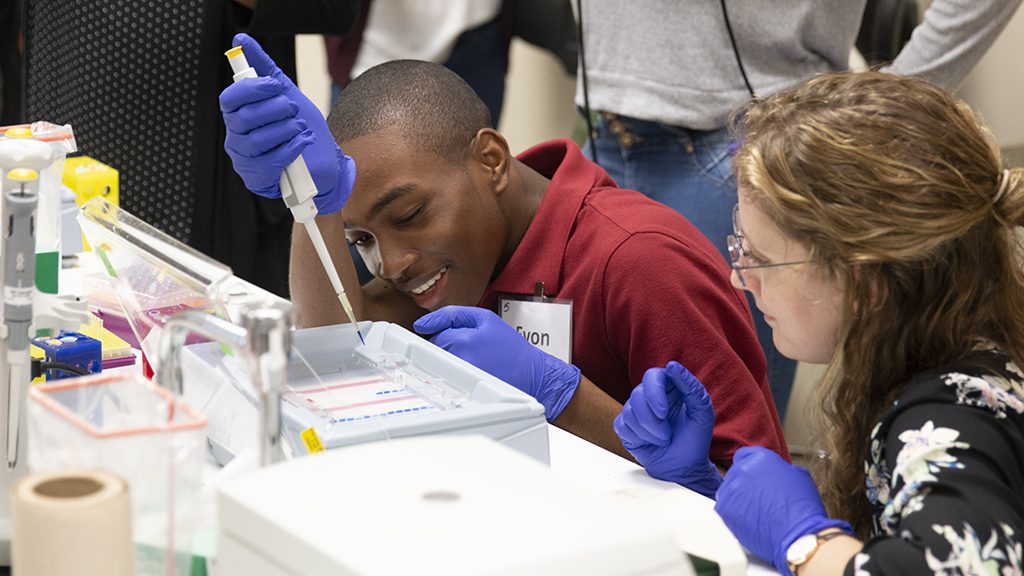 Evon Thompson, 15, is intent on becoming a physician-scientist after watching a close relative battle breast cancer.
"Seeing her go through that made me even more passionate to go into the medical field," he said.
That's why Thompson, an Evans High School sophomore, attended a recent UCF medical pipeline summer camp designed to give students from underserved communities an opportunity to learn about health careers first-hand. The College of Medicine's Health Leaders Summer Academy ran from July 9-20, providing hands-on educational experiences for 59 high school students in Orange and Osceola counties who are interested in health careers.
Minorities have historically been underrepresented in the health professions. For example, between 1978 and 2008, 75 percent of all medical school graduates were white while only 12.3 percent of physicians were black, Hispanic or Native American, according to the Association of American Medical Colleges (AAMC).
"There is a national trend of decreased participation" of minorities in medicine, said Dr. Saleh Rahman, the medical school's interim assistant dean for diversity and inclusion and leader of the Health Leaders program. "We must encourage those underrepresented groups and provide resources for them to be successful in health professions to reduce this disparity."
The Health Leaders summer camps have reached about 400 students since it began in 2012. During the week-long program, students learn physiology, anatomy and microbiology, work with micropipettes in the lab and identify white blood cells under a microscope. They also analyze DNA to narrow down an imaginary suspect in a criminal case. The goal: help inspire underserved students to seek health careers, plan their future educational goals and introduce them to healthcare providers who came from the same environment.
Siul De La Paz is a student at Osceola County's New Dimensions High School. He wants to be a neurosurgeon when he grows up and said talked about the people he met at the summer camp.
"I've seen so many people like me, with the same passions," he said.
Some students have career dreams already; others wanted to learn more about the various job options in healthcare – from nurse to biomedical researcher. Thompson was particularly excited about seeing immune cells under a microscope. "I've been learning just how research is carried out," he said. "Seeing the instructors, the different doctors, peeking into different research initiatives. It's shown me how big of a role research plays in being a physician, and in the healthcare field in general."
Admissions representatives talked to the students about what it takes to get into a university and then graduate school and provided advice on classes and experiences the students should have in high school to be worthwhile applicants. Students also heard from UCF medical students on their own journeys into healthcare.
"I believe that representation is critical," said Courtney Bell, a second-year M.D. student who is African-American. "And maybe if a young student meets someone who looks like them, comes from a similar background, or just shares the same interests, they might be encouraged to pursue their passion."
Andrew Bomar, a second-year med student and non-traditional student, used to be a mechanical engineer. When he began his journey into medicine, he didn't have the support of a program like Health Leaders, and he wishes he had. "Without this type of information and guidance, even the brightest and most-motivated student will never discover a passion for medicine, or will find it too late and miss out on those early steps in the admission process."
At the camp's graduation ceremony, Dr. Rahman challenged the students to "dream big," noting his own experience growing up in an impoverished area of Bangladesh without electricity, studying by the light of an oil lamp.
"As you graduate today, I hope you will use this summer experience to light a fire in your soul for education," he said. "And that education will lead to discovery and to service for others."
Post Tags
Diversity and Inclusion

Health Leaders Summer Academy