Burnett School

College of Medicine

Faculty News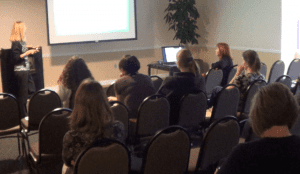 The latest UCF Successful Women Seminar Series featured a speaker from the College of Medicine's Burnett School of Biomedical Sciences — Dr. Cristina Fernandez-Valle, who is noted for her research and dedication to Neurofibromatosis (NF), a disease that causes tumors to grow on the nervous systems of its victims.
The February 20 seminar was sponsored by UCF's Center for Success of Women Faculty, in commemoration of the university's 50th anniversary. The center will be holding Successful Women Seminars over the next year, highlighting excellent work by women faculty at the university.
Dr. Fernandez-Valle has spent the past 15 years investigating NF and explained the disease and her research at the cellular level. The disease attacks the body's Schwann cells, which are part of nerves in the body. That leads to multiple tumors that can cause deafness, facial disfiguration and severe pain. Dr. Fernandez-Valle's research is dedicated to understanding the cellular changes that make NF occur and then targeting treatments and drugs that can help reduce or slow tumor growth. She is currently working with the Sanford-Burnham Medical Research Institute to pinpoint compounds that can shrink and prevent tumor formation. The complex research involves testing hundreds of thousands of compounds with the help of high-tech robotic equipment at Sanford-Burnham's Lake Nona facility.
Through her work, Dr. Fernandez-Valle has seen first-hand how an NF diagnosis impacts patients and their families. "These families are constantly in doctor's offices, they're undergoing multiple brain surgeries, and every surgery leaves them more and more disabled," she said. "I'm just very thankful that my family members were spared a genetic disorder that impacts one's life in such a devastating manner ." Working with patients and their families helps drive Dr. Fernandez-Valle's passion for research, she said, and motivates her to keep working to improve their quality of life.
Earlier this month, she led a UCF team in Cupid's Undie Run for the Children's Tumor Foundation, which supports families affected by NF and sponsors research on the disease.
Post Tags