College of Medicine

Communique

Faculty News

Population Health

Research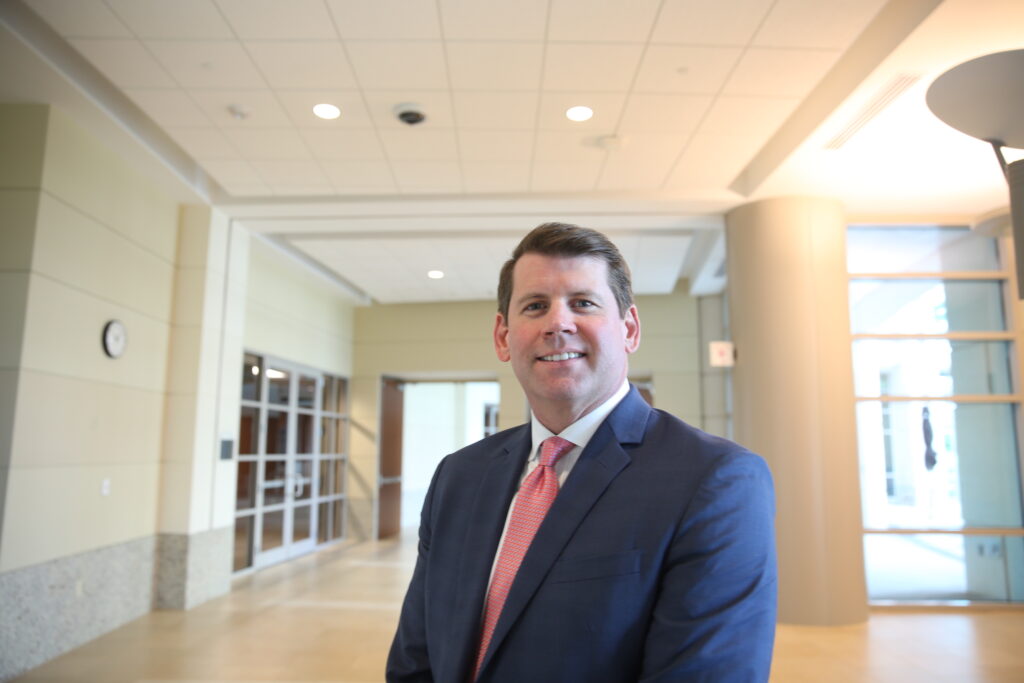 While breast cancer mortality rates have declined over the last few decades, Black women are still twice as likely to die from breast cancer compared to other ethnicities. This is according to results of a study led by Dr. Robert Hines, associate professor of Population Health Sciences at the College of Medicine. The study was recently published in Cancer Epidemiology, Biomarkers, & Prevention, a journal of the American Association for Cancer Research.
"Over the past three decades, we've seen an improvement in breast cancer survival for all women — especially for minority women — which is encouraging," Dr. Hines said. "However, in the most recent time period, non-Hispanic Black women have twice the rate of breast cancer death compared to non-Hispanic white women."
For the study, the team analyzed statistics from the Florida Cancer Data system, and reviewed women who were diagnosed with breast cancer in Florida from 1990 – 2015, according to race and ethnicity.
"Since the 80s, there's been increasing awareness of the disparities in breast cancer mortality and the troubling fact that they've grown over time," Dr. Hines said. "There's been a huge investment in decreasing or eliminating these disparities, so we wanted to see if it's been effective." Such initiatives, he said, have largely focused on improving screening education and availability for socioeconomically disadvantaged populations and racial and ethnic minorities.
Hines' study found that over the years breast cancer survival improved for all women, regardless of race or ethnicity. Around 1990, breast cancer mortality rates began to decline, reflecting improved screening and the availability of new therapeutics, but the decline was far slower in Black women.
"Despite these encouraging trends, African-American women still have twice the rate of breast cancer death, compared to non-Hispanic, white women," he said. They are group that has the worst outcomes associated with this disease and this is also reflected in national statistics."
On a national level, over the past several decades the incidence of breast cancer diagnosis in Black women has been less than that for white women and Black women have been more likely to be diagnosed with more advanced disease. Over time, incidence in Black women rose to nearly the same level as that of white women, an effect Dr. Hines attributes to targeted breast cancer surveillance in those populations. "The percentage of non-Hispanic Black women aged 50-74 who have had mammogram in the past two years is higher than for non-Hispanic white women in the most recent data for Florida," Dr. Hines said. "Clearly the message has gotten out."
The study also found that for all racial and ethnic groups, mortality decreased gradually from 1990 to 2015. In non-Hispanic white women, 10-year mortality decreased from 20.6 percent in the first five years (1990-1994) to 14.0 percent in 2010-2015. In non-Hispanic Black women, 10-year mortality decreased from 36 percent to 25.9 percent.
"It's encouraging news, but it's also a call to action," Dr. Hines said. "We still have a considerable way to go in terms of improving breast cancer related disparities and ensuring all women have the best possible outcomes.."
As next steps, Dr. Hines and his team hope to identify specific factors underlying the continuing disparities, in order to advise future initiatives aimed at closing the gap.
"What we're doing right now is conducting a mediation analysis and that is designed to identify what are the most important factors that are driving this disparity," Dr. Hines said. "In our study, when we adjusted for neighborhood poverty, insurance status, stage of disease a diagnosis, treatment, tumor aggressiveness – in terms of tumor grade and hormone receptor status – we saw the excess risk of death for African American women decreased substantially. So that, that tells us that these factors together account for a large proportion of that."
Dr. Hines who joined UCF in 2016, has been researching cancer health disparities for more than 10 years.
Post Tags