College of Medicine

Medical

Students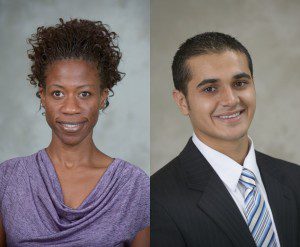 Two UCF College of Medicine students have received prestigious National Health Services Corps (NHSC) scholarships that cover a year's full cost of medical school education in exchange for the students' commitment to provide a year of service in medical care for the poor.
Second-year student Pete Guerra and first-year student Kesha Thomas were selected from more than 1,300 national applicants for the highly competitive scholarships designed to connect doctors with people who have little or no access to healthcare.
Students are selected for the scholarship based on academic performance and their passion for helping others in need.
"It's really humbling to me because somebody read my file and thought: this is somebody who is going to make a difference in underserved communities." Thomas said.  Growing up in Statesboro, Georgia, Thomas saw the effects of healthcare disparities in her own community. "Living in areas that tend to be lower income, I've seen my relatives deal with not having insurance," she said. "In my opinion, you're either part of the problem, or part of the solution, and I want to be part of the solution."
Guerra, a Cleveland native who moved to Orlando to get his undergraduate degree and play baseball at UCF, said he has also seen family, friends and teammates struggle with access to medical care.  After graduation, he hopes to provide primary care to underserved populations. "I believe prevention and education can have an extremely longstanding and significant effect when it comes to bridging healthcare gaps," he said. "I think this will be a good opportunity for growth and to better my impact in the community. What the corps is doing really means a lot, so just being a part of it is such an honor. "
Once Guerra and Thomas finish their medical education in 2016 and 2017, respectively, they look forward to fulfilling their commitments to the NHSC, and offering a helping hand to their communities. It's a motivation that makes medical school even more worthwhile, Kesha said, adding, "I can't save the whole world, but I can definitely change my corner of the world for the better."
Post Tags