College of Medicine

Students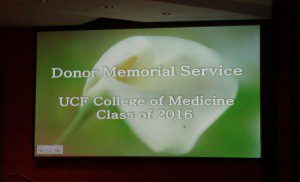 Holding calla lilies that represent rebirth, first-year M.D. students gathered February 20 to say thank you to their first patients – teachers, homemakers, an airline pilot – who had willed their bodies to medical education.
The "Send-Off" Ceremony ended 17 weeks of Anatomy Lab, a rite of passage for first-year medical students that is designed to teach them not only about the anatomical features of the human body but also lessons about life, death and generosity.
"Each one of these individuals denied what society would consider a normal burial so that others would benefit from the learning of their bodies," said M-1 student David Cantu, who led the ceremony. He noted that each patient had families, friends and jobs when they were alive, and in death had been powerful teachers of doctors in training.
Students took the stage in the Lewis Auditorium which had 16 lit candles – one for every first patient – and was decorated with the lilies. Student Michael Metzner chose to play a song on the piano that illustrated his experience in anatomy lab.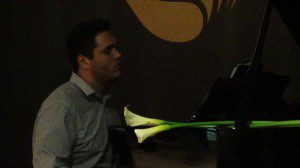 "What I've learned over the past 17 weeks has been the most phenomenal thing that I've ever experienced," he said, recounting his early apprehension and how he faced his fear by volunteering to make the first incision during dissection.
First-year student Deeva Berera shared a poem about her first patient: "She always stood by us, she was never late, every Friday she greeted us, sharp at 8. We will always remember our time spent with her, we valued her dearly, of that I am sure."
One group showed a video of a private farewell where they released a paper lantern into the sky in honor of their donor. Many students expressed thanks to their donors for helping them take the first real steps toward becoming knowledgeable, compassionate physicians.
As David explained, "Our donors have been one of our most attentive teachers, never mocking our questions, but silently providing a learning experience for each student say after day."
Post Tags