College of Medicine

Students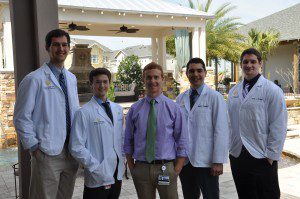 As tour guides at an innovative home that encourages health, College of Medicine students joined the nation's growing movement toward medical technology during the massive Healthcare Information and Management Systems Society (HIMSS) conference in Orlando February 23-27.
Students from the Healthcare Innovations interest group took dozens of HIMSS participants through a new "Intelligent Home" in Medical City. The home, created through a partnership with companies like Cisco, GE, Phillips, Johnson & Johnson, and Dais Technologies, the Lake Nona Institute and UCF Simulation Center, is equipped with technology that encourages a healthy lifestyle through diet, exercise and wellness monitoring. The home's  "smart mirror" tracks and stores health information for each family member, including tracking vitals like weight, blood pressure, medications, blood glucose and water consumption and even syncs with wearable fitness monitors to track daily steps and activity. That information can help the individual reach specific goals and can also be shared with the homeowner's physician for real-time health monitoring.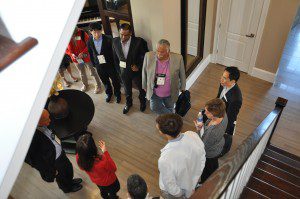 Empowering patients to better control their own health was a key theme of this year's HIMSS conference, which drew more than 35,000 participants to Orange County's Convention Center. Healthcare Innovations members said they hope in-home technology signifies a shift in the way medical care is delivered.  "I think it's a great opportunity to promote preventative healthcare," said first-year UCF medical student Cameron Wales. "We want to move away from curing people on an acute basis and try to prevent diseases before they manifest."
HIMSS participants were bussed over to Lake Nona, where they were met by UCF medical students standing at the home in their white coats. Visitors marveled at the technology and what it could mean for patients.  "People who are coming into medical school now are able to get information and knowledge so quickly," said Jennifer Carpenter, a health IT professional from Cleveland. "Imagine how creative this generation will get to be as they mature into their careers."
Students said being able to see technology in action resonated with the visitors. "It shows that innovative ideas are feasible, and can be integrated into an everyday lifestyle," said first-year student Benjamin Eslahpazir.
Added first-year student Zoran Pavlovic: "I always ask people on the tour: what is our most important resource that we have on the planet? It's human beings. We need to invest in human capital, which means we need to invest in people's health and well-being."
Post Tags