College of Medicine

Students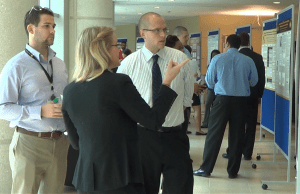 The Focused Inquiry and Research Experience (FIRE) module is one of the most detailed and extensive parts of the curriculum for first- and second-year students at UCF College of Medicine. On March 18 and 19, those students presented the research they have been working on for months, on topics from improved lung cancer treatments to the effectiveness of the "barefoot" running shoe craze.
FIRE is designed to instill a "spirit of inquiry" in students, by requiring them to do scientific research on a medical topic about which they are passionate. Each spring, the college holds a competitive FIRE conference, where students present their projects in a detailed poster, and a select few are chosen to present their projects orally to faculty, staff, and their peers. "We want our students to develop the habit of inquiry," said Dr. Diane Jacobs, professor of microbiology and the FIRE Module Director. "It's the basis for evidence-based practice: to look at the literature, question what you see… and make the best possible decision for the patient."
Dr. Jacobs tailors the FIRE curriculum to mold students into more innovative doctors who will push the status quo to find more effective treatments. "Research is a circular process of reading, planning, collecting data and analysis leading to new reading and starting the cycle again to move forward.  That's different from the strategy of learning they've used to get into medical school,"  she said.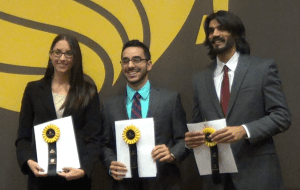 First-year M.D. students create a hypothesis about a specific health issue and then design a research plan to prove or disprove their theory. They present their findings during their second year. Second-year student Salvatore Crusco won awards from faculty and peer judges for his research into robotic surgery training at Florida Hospital Celebration Health. Salvatore looked into the effectiveness of using the DaVinci Robot to train young surgeons. He says the project improved his research skills, which are vital to the practice of medicine. "Part of being a great doctor is learning how to improve patient care by keeping up with the latest medical research," Salvatore said. His project has allowed him to collaborate with other medical students and physicians, while learning about the multi-million-dollar DaVinci robot that performs minimally invasive surgery, often for gynecologic or cancer-related conditions.
Second-year student Mohammed Jafar placed third in the poster competition for his research on radiotherapy treatments for small-cell lung cancer. The project exposed him to more aspects of medicine in addition to what he learns in the classroom. "As physicians, we should know how to critically analyze and evaluate research," Mohammed said. "This project has taught me a lot about how to do that. I've read literature reviews that I normally wouldn't have, and it's very rewarding to get that experience,"
Some key parts of the FIRE module are local doctors and researchers who serve as mentors for each of the students for the course of nearly two years "Many physicians in the community have stepped up and found the time," Dr. Jacobs said. "They have had good experiences with our students, and once they've had a good experience, they want to do it more." She says many of these doctors say the research mentoring has not only helped them become better doctors, but better teachers, as well.
The FIRE Conference may be over, but the ongoing research of UCF Medical students continues. Many of the students already have plans to present their research findings at national conferences, with the hope of getting their results out in the medical community.
Best poster from faculty judging
1st: Heather McKently- Extracorporeal Shock Wave Lithotripsy in Children: A Retrospective Comparison of Outcomes Between Stented and Non-Stented Surgical Repair of Ureteral and Kidney Stones
2nd: Salvatore Crusco- Evaluating the Effectiveness of the da Vinci Si Dual Console to Teach Novice Surgeons Robotic Techniques
3rd: Mohammed Jaffar- Stereotactic Body Radiotherapy and Conventionally Fractioned Radiotherapy in Inoperable Non-Small Cell Lung Cancer
Students' Choice Poster
1st: Salvatore Crusco- Evaluating the Effectiveness of the da Vinci Si Dual Console to Teach Novice Surgeons Robotic Techniques
2nd:  Glenn Gookin- The Impact of the Bugaboo Wild Fires on Regional Emergency Department and Inpatient Visits
3rd: Erin Caddell- Association Between Florida's Opioid Prescribing and Statewide Morbidity and Mortality, 2001-2010
Best M-I student podium presentation
1st: Ashley Franklin- Masters, Senior, and Elite Rowers' Beliefs About Competitive Exercise During Pregnancy
2nd: Engy Mui- Determination of Preoperative Risk Factors in Patients with Complex Congenital Heart Disease Undergoing Nissen Fundoplication
3rd: Romela Petrosyan- Randomized Study of Oral Misoprostol vs. Placebo for Cervical Ripening in Pregnant Women
Post Tags