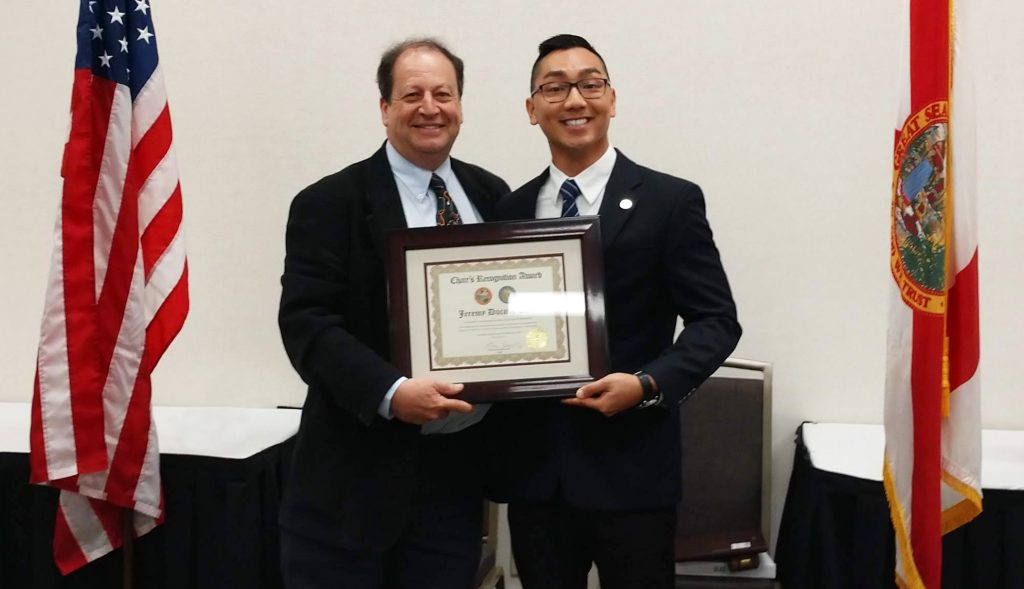 Medicine and the military run in Jeremy Tran's family.  He grew up as a self-described "Navy brat" – his father is a 28-year veteran and family physician in his hometown of Jacksonville. He said watching his father care for others inspired him to pursue a career as a physician.
"You get to connect with your patients and be with them through some of the hardest times of their lives," Tran said. "It's a gratifying feeling, knowing that I can have such a tangible impact."
As he prepares to graduate from the UCF College of Medicine in May, Tran was honored with the Florida Board of Medicine's Chair's Recognition Award, given to students who exemplify "the professionalism, moral character, compassion and intellect essential to a future leader of the medical profession."
"It was a true honor to have the school see me as a model student," said Tran, who will do his residency training in orthopedic surgery at Walter Reed National Military Medical Center in Bethesda, MD. "The college fosters a diverse environment and an innovative, pioneering spirit. I see myself as being in the position of carrying these values that the college bestowed upon me throughout the rest of my career."
Tran has had an illustrious academic career while at UCF. As an undergraduate at the College of Medicine's Burnett School of Biomedical Sciences,  he received the Order of Pegasus – the university's most prestigious student honor – and did research on fighting cancer at the genetic level with Dr. Mark Muller. While in the College of Medicine's M.D. program, Tran was a leader at the student-run free KNIGHTS Clinic,  was co-president of Alpha Omega Alpha Medical Honor Society, and served as president of the Orthopedic and Sports Medicine Interest Group.
Dr. Marcy Verduin, associate dean for students,  said she was thrilled to see Tran's hard work recognized.
"Jeremy is an outstanding student who exemplifies what we hope to see in our future physicians," Dr. Verduin said. "I couldn't be happier to see him receive this honor."
As he prepares to become a military physician, Tran said that he looks forward to serving the nation's heroes as his father has.
"The Navy trains amazing physicians that allow you to care for a very unique population in the United States," he said. "I thought this was a great way to give back after all they've done for me and my family."
Post Tags