College of Medicine

Faculty News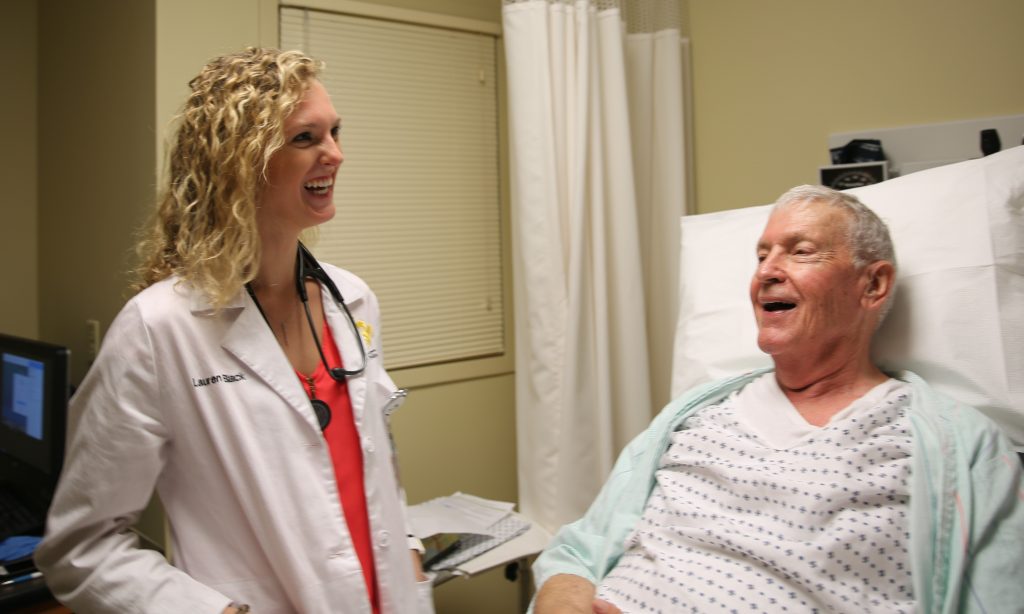 Sitting at the edge of the examination table, still dressed in his hospital gown, Fred Anklam waves a finger of warning to his team of 'doctors'.
"You must have at least two hours of fun this weekend. No books, just rest," he says.
His 'doctors' are a team of medical students who have just conducted a simulated physical examination on him. It was an emotional moment for all as it was Anklam's last day as a standardized patient at the UCF College of Medicine, as he retires from the program to spend more time with his family.
Born and raised in Ohio, Anklam is an 80 year-old retired research chemist who has volunteered as a standardized patient (SP) since the medical college's charter class in 2009. As a physical exam teaching assistant (PETA), Anklam is trained to teach med students the techniques of basic physical examination while playing the role of a patient in the college's Clinical Simulation and Training Center.
Anklam was a member of the Learning Institute For Elders (LIFE) Program at UCF when he and his wife saw an ad in the newspaper looking for patient actors to help train medical students.
"We thought it was interesting. We didn't have anything particular to do and so we thought let's volunteer for that." The couple signed up, and have since worked with seven classes of medical students. His wife previously retired from the program due to health issues.
Describing his teaching experience as "just plain fun", Anklam says the best part of his job is watching the students grow and mature over the years.
"Their whole personalities change from one of awe to one of knowledge," he said. "I love to watch their confidence improve as they begin to know what they are talking about."
"They are all very bright students, but it's hard to make the transition between undergraduate and medical school, and it's quite stressful on them," Anklam said. "So you find yourself not only being a patient for them to practice on and a teacher, but there are times when you are really their friend and counselor. Being a senior citizen, they feel like they can talk (to me) like their grandfather, easier than they talking to anybody else."
First year medical student, Lauren Black was among Anklam's final group of students.
"Fred is very kind and caring," she said. "He always takes the time to make sure we know exactly what we need to know as future physicians. It's been a really valuable experience working with and learning from him, and we will certainly miss him."
Anklam and his wife maintain a strong relationship with the medical school. They were contributors to the scholarship program for the charter class. They also try to attend the college's commencement ceremonies each year.
"This is a fantastic facility," he said. "In the short time that it has been in existence, it has made a reputation of producing fine physicians. If you can get all your students matched into residencies, that's fantastic."
Dr. Analia Castiglioni, director of Clinical Skills and Simulation Center and associate professor at the college thanked Anklam for his years of service to the med school.
"Fred has been one of the most supportive people in our program as reflected by the hours he has worked as an SP and PETA, as well as contributions to student training," she said.
Post Tags
castiglioni

clinical skills

standardized patients