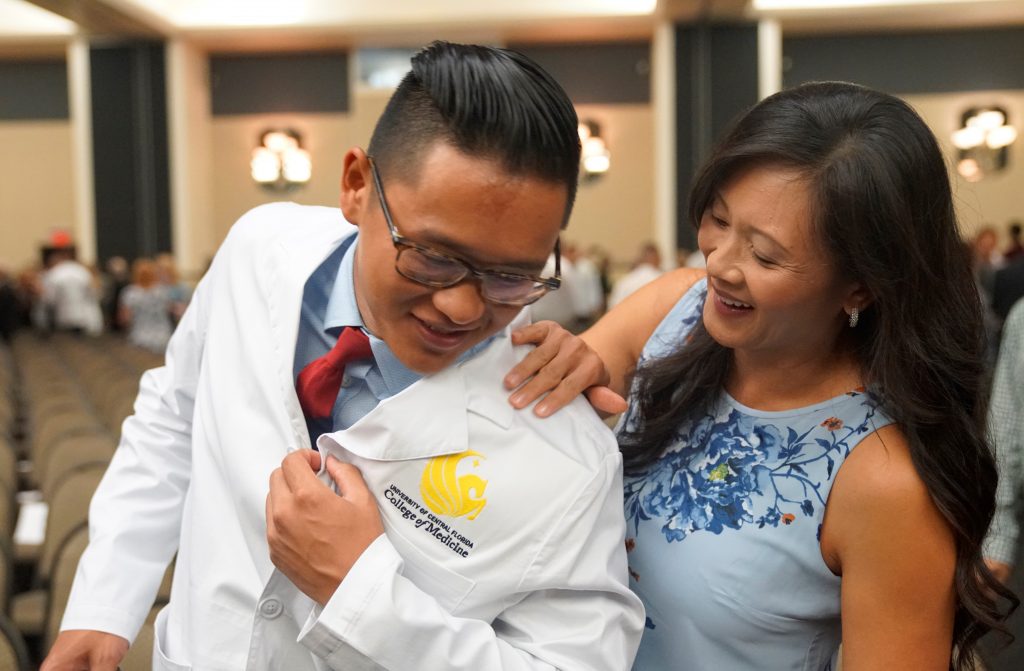 When the 120 new medical students in the Class of 2023 receive their white coats on Aug. 5, it will mark the first step on their journey toward fulfilling their dreams of becoming physicians.
On that day, Dr. Deborah German, vice president, medical affairs, and the college's founding dean personally places the coat – the mantle of the medical profession – on each student's shoulders in a symbolic White Coat Ceremony that marks the first day as a medical student.
To help make their dreams possible, the College of Medicine invites alumni, faculty, parents and friends of the school to support a future physician by sponsoring his or her white coat.
There are several sponsorship levels are available:
A $100 gift to sponsor a new medical student's white coat
A $500 gift to sponsor five white coats for new medical students
A $1,000 gift to sponsor ten white coats and gain recognition as a President's Circle member
A $2,500 gift to sponsor 25 white coats and gain recognition as a President's Circle member
For each white coat sponsored, a student will receive a personalized card in their coat pocket with the name of the donor that helped to make their first moment as a medical student memorable.
To sponsor a student from the Class of 2023, white coat gifts must be received by Monday, July 29. Gifts received beyond this date benefit the M.D. General Scholarship Fund but are not guaranteed card inclusion or recognition at the White Coat Ceremony on Monday, Aug. 5.
To make your white coat gift, please visit: https://www.ucffoundation.org/whitecoat
Post Tags