College of Medicine

Communique

Philanthropy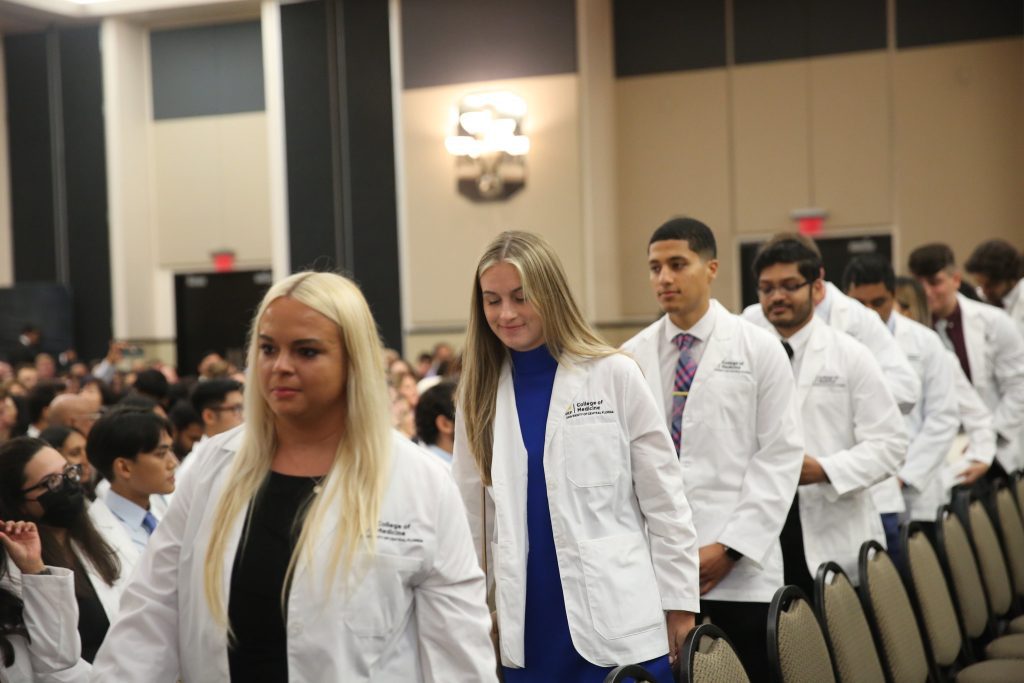 On Monday, July 31 the College of Medicine will welcome our fifteenth class of aspiring physicians in the Class of 2027 in the traditional White Coat Ceremony which marks the first step of a medical student's journey to become a doctor. You can help make this moment special for a Class of 2027 medical student by sponsoring their white coat or stethoscope. Join us in welcoming those about to embark on a tremendous journey.

In addition to sponsoring a white coat, you now have the opportunity to sponsor an incoming student's stethoscope, or both. Stethoscopes are a necessary and required item for all incoming medical students.

This year, an anonymous UCF alumnus will match every stethoscope sponsored, until the entire class is equipped with stethoscopes.
For each white coat or stethoscope sponsored, a student will receive a personalized card in their coat pocket or stethoscope box with your name included as the donor who helped to make their first moments as a medical student memorable. In addition, we encourage you to include a personalized message to be printed on the card(s).
To sponsor a student from the Class of 2027 and ensure your donor card is included, white coat and stethoscope gifts must be received by Monday, July 24, 2023. Gifts received beyond this date will still benefit students through the White Coat & Stethoscope Fund but are not guaranteed for card inclusion when white coats and stethoscopes are distributed the week of Monday, July 31, 2023.
*All gifts are 100 percent tax deductible, as allowed by law. Proceeds from sponsorships benefit the White Coat & Stethoscope Fund, which supports student equipment needs and student scholarships.
For more information, contact
Erin Turner '08 '16MBA or call 407.266.1041.
Post Tags