College of Medicine

Students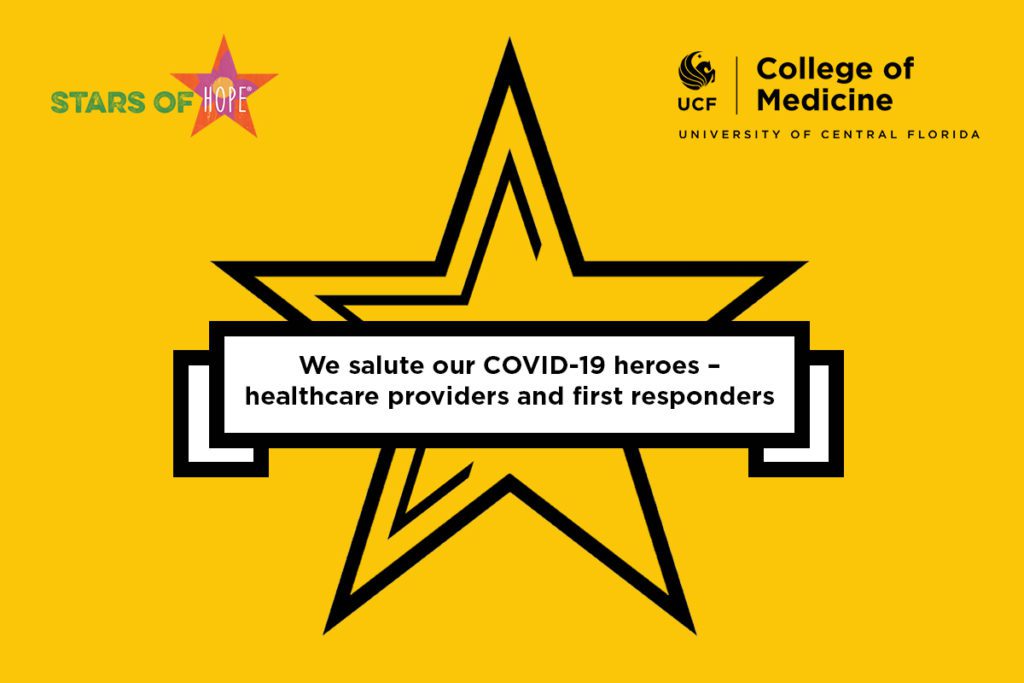 The UCF College of Medicine is promoting a new way of thanking healthcare providers and other first responders on the front lines of the COVID-19 fight.
The college has partnered with Stars of HOPE, a therapeutic art and disaster response program that helps communities deal with trauma, for its first Digital Stars of HOPE Community Project. Prior to COVID-19, the organization created colorful wooden stars to display as public art in communities hit by natural disasters, terrorist attacks or other traumatic events. Now with social distancing regulations in place, the group is sharing its healing art across social media.
"This is an opportunity to heal the healers," says Kelly Burns, a registered art therapist who is program manager and art therapist for Stars of HOPE USA. "We may not be able to create art by being together physically right now, but we can create art online and share it. Art can help us make sense of what's happening."
The partnership with UCF's medical school came about thanks to the College of Medicine's annual Global Health Conference. This year's event, in January, was dedicated to the healing power of art. First-year medical student Bernard Sarmiento was charged with organizing a hands-on workshop for the conference. He reached out to the American Art Therapy Association, which referred him to the Florida chapter. Its president: Burns, who lives in Mount Dora.
The two organized a workshop where conference participants learned about Stars of HOPE and the impact of its work before painting their own healing messages. UCF's group created 70 stars that will soon be sent to locations worldwide – likely communities in Australia devastated by that country's wildfires last year.
Based on their previous collaboration, Burns reached out to Sarmiento for help with the Stars of HOPE digital effort. Burns is urging people to share stars on social media (the College of Medicine has designed one you can share with the hashtag #starsofhope and @starsofhopeusa). She is holding weekly star-painting events on Facebook Live and the group has an online star template that people can download, color and display at home. She is urging volunteers to share their stars with a message of support to healthcare providers and first responders, including grocery store clerks, delivery drivers and sanitation workers.
Sarmiento, a Florida native who did his undergraduate work at Johns Hopkins, says it makes perfect sense for the medical school and help lead the effort. As a future physician whose parents both struggle with health issues, he said creativity can help people connect and find peace as they deal with any illness, especially COVID-19.
"Art brings healing," he said. "And by sharing this art we can send a message to all of the people on the front lines of this pandemic that we're looking out for them, we care about them and we're incredibly grateful for what they're doing for us every day."
Post Tags
COVID-19

first responders

Star of HOPE