Burnett School

College of Medicine

Faculty News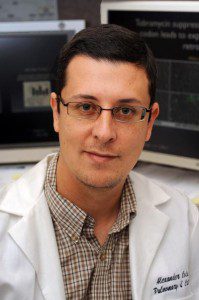 A College of Medicine professor and Ph.D. co-coordinator is spearheading a new study that will explore whether quitting smoking can deter the spread of Staphylococcus aureus ("Staph"), which causes dangerous Staph infections like MRSA that kill 60,000 Americans a year.
About 30 percent of people actually carry the bacterial strain in their noses. Dr. Cole's $400,000 grant from the Florida Department of Health's James & Esther King Biomedical Research Program will examine whether smoking cessation can make patients less vulnerable to Staph infection.
"There is evidence that smokers carry Staph in their nose at a higher rate than non-smokers," Dr. Cole said. "Our hypothesis is that smoking impairs the natural ability of the nose to prevent Staph colonization."
In an effort to prove his hypothesis, Dr. Cole is teaming up with Drs. Michael Deichen, James Schaus and Mary Schmidt-Owens at UCF Health Services to identify smokers who are interested in quitting. Participants would be able to enroll in a free smoking cessation program offered by the university. "If they are nasal carriers of Staph, we will ask them if they want to participate in our aspect of the study," he said. "We will assess the ability of smokers' noses to carry their own strains of Staph, before and after successful completion of the cessation program." The study would determine if smoking cessation helps protect the body from infection.
Dr. Cole has devoted more than 15 years to the study of Staph infection and even used himself as a subject in his postdoctoral days. "As a young investigator, I poked and prodded my own nose to characterize natural antibiotic proteins present in nasal fluid," he said. "And I always noticed that there was a 'contaminant' in my cultures. That contaminant turned out to be Staph."
Dr. Deichen, the director of UCF Health Services, says Dr. Cole's study is a great opportunity to encourage good health on campus. "It's a very nice assimilation with our 'Healthy Knights 2020' goal to reduce smoking," he Deichen said. "This allows us the funds to encourage smokers to participate in smoking cessation."
His colleague, Dr. Schmidt-Owens, is no stranger to this effort. She was instrumental in making UCF a Smoke-Free campus in 2012, and was named a Public Health HERO by the Orange County Health Department last year. She runs the smoking cessation program at UCF Health Services. "I think this is going to be a win-win for both of us," she said. "Hopefully the added education they will receive from Dr. Cole's study with encourage them to quit smoking long term."
The partnership between Dr. Cole's lab and Health Services holds the potential to affect the lives of smokers on campus and beyond. "These investigations could improve therapies for smokers' respiratory issues, and provide a new incentive for smokers to complete cessation programs," Dr. Cole said.
Post Tags