Burnett School

Cancer Division

Cardio-Metabolism Division

College of Medicine

Infectious Disease Division

Neurodegenerative Division
Finding tomorrow's cures shouldn't rest solely in the hands of scientists, but must include physicians and patients, Dr. Sampath Parthasarathy, associate dean of research, told researchers at the first Lake Nona Medical City Research Day on October 14.
The event, at the GuideWell Innovation Center, attracted more than 100 researchers from the medical school, Nemours Children's Hospital, the Orlando VA Medical Center and Sanford Burnham Prebys Medical Discovery Institute. Research Day included poster and oral presentations to highlight the scientific study happening in Medical City and to encourage collaborative research.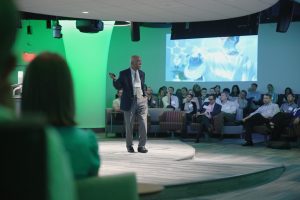 In his presentation, Dr. Parthasarathy said research is too often driven by scientists who are far removed from patient care and may not fully understand the needs and issues patients face. To better serve patients, physicians need to take a more active role in research, and work with scientists to identify trends and problems in the clinical care of disease, he said. Instead of hoping that they are conducting relevant studies, scientists should be actively collaborating and communicating with clinicians to focus on specific needs, he added.
There are many barriers to such collaboration. "Physicians are expected to see increasing number of patients… and there is no incentive to perform research," said Dr. Parthasarathy. While physicians may fear getting into areas like research in which they are not familiar, Dr. Parthasarathy said, healthcare providers are vital allies in identifying issues that affect patients every day.
He also pointed out that researchers are often reluctant to veer too far away from the "comfort zones" of their own area of expertise. Therefore, lesser known conditions are not explored. "Research is driven by funding sources, special interest groups and is prioritized by the government on the number of deaths rather than human suffering," Dr. Parthasarathy said. He cited endometriosis as a prime example. The painful, chronic condition occurs when endometrial tissue – which lines the uterus – forms outside the uterus leading to severe pain, infertility and lost productivity. While endometriosis strikes a third of women of child-bearing age, research funding for the disease is low, Dr. Parthasarathy said.
Dr. Parthasarathy believes that sharing information between clinicians and researchers is critical in promoting more effective research, not just among department peers, but across colleges and institutions. He said combined educational programs such an M.D./Ph.D. can help bring scientific and clinical thinking together.
"The M.D./Ph.D. programs take the fear out of research," he said, noting that the UCF College of Medicine enrolled its first joint degree candidate this fall. Through increased collaboration efforts, physicians and researchers can apply jointly for grants, share technology and knowledge – like CT scans – and brainstorm studies that better address patient concerns.
Post Tags