Burnett School

College of Medicine

Research

Student Affairs

Students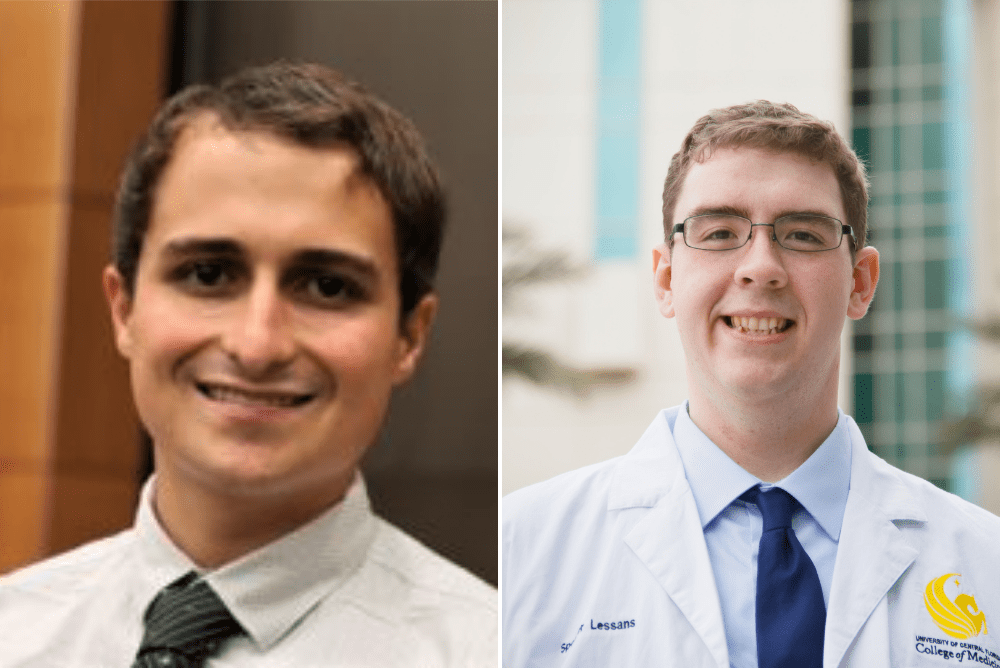 Despite the challenges brought on by COVID-19, UCF medical students continue to make their mark with medical research, presenting their discoveries at a national conference and winning top awards for their presentations.
Third-year medical student Spencer Lessans and MD/PhD candidate Michael Rohr were accepted to present recently at the American College of Gastroenterology 2020 National Scientific Conference, which was held virtually because of the pandemic.
Rohr, the first student in the College of Medicine's joint M.D./Ph.D. program,
presented two studies at the conference. His research identifying the mechanisms of how pancreatic cancer cells metastasize earned him a Best Presenter Award. Another study that established a connection between bile acid receptors and gastric cancers, received a Presidential Poster Award among some 1,000 poster submissions.
COVID-19 caused multiple challenges for student researchers, including temporary closing of labs and then restrictions on the number of people who could be in labs at one time to follow physical distancing protocols.
"What people may or may not have realized is that during the COVID lockdown, all lab work had to be suspended," Rohr explained. "Unfortunately, when you suspend a project for more than a week, sometimes when you come back, you have to restart from scratch."
Rohr said he had to think outside the box to find other research methods to complete his projects.
"So I learned to use bioinformatics – publicly available data from previous research studies," said Rohr, who became aware of the power of database meta-analyses through conversations with Dr. Dexter Hadley, a data expert at the College of Medicine.
"I didn't know how to organize and analyze this kind of data before, but since I was stuck at home, I decided to learn how to do it. I applied those principles to gastric cancer study and I'm still using those skills now."
The pandemic postponed clinical clerkships for third- and fourth-year students, and Lessans said that allowed him to dedicate much of his time to his research.
"For those three months, all we had were online classes and didactics, so I was able to devote a good portion of my time to working on this project," he said. I was actually able to spend more time and really put more effort into working on this abstract in this poster and finishing up the loose ends, which was very helpful."
Lessans' study was a continuation of his FIRE (Focused Inquiry and Research Experience) project, a two-year research module required of all M.D. students. His presentation on gender differences in developing non-alcoholic fatty liver disease received Best Presenter and Presidential Poster Awards from the gastroenterology conference .
Non-alcoholic fatty liver disease (NAFLD) occurs when there is too much fat stored in the liver and the cause cannot be attributed to alcohol consumption. His study found that the estrogen, the female sex hormone, acts as an anti-inflammatory that protects women against the disease.
"NAFLD is a very silent disease and it's difficult to diagnose," Lessans explained. "So, knowing who is most at-risk will allow us to come up with proper screening guidelines, and also know which patients should be more concerned about it."
Dr. Deborah Altomare, cancer researcher at the Burnett School of Biomedical Sciences, mentored both students.
"I am thrilled that both Michael's and Spencer's hard work and presentation skills were so richly recognized at the ACG national meeting," said Dr. Altomare. "I am truly blessed to be working with such bright and motivated students. These awards from the ACG are a great recognition of the quality and talents of the students that doing biomedical research at the UCF College of Medicine."
Lessans' and Rohr's abstracts have been published in the American Journal of Gastroenterology, one of the top five journals for gastroenterological medical research.
.
Post Tags