College of Medicine

Faculty News

Internal Medicine Residency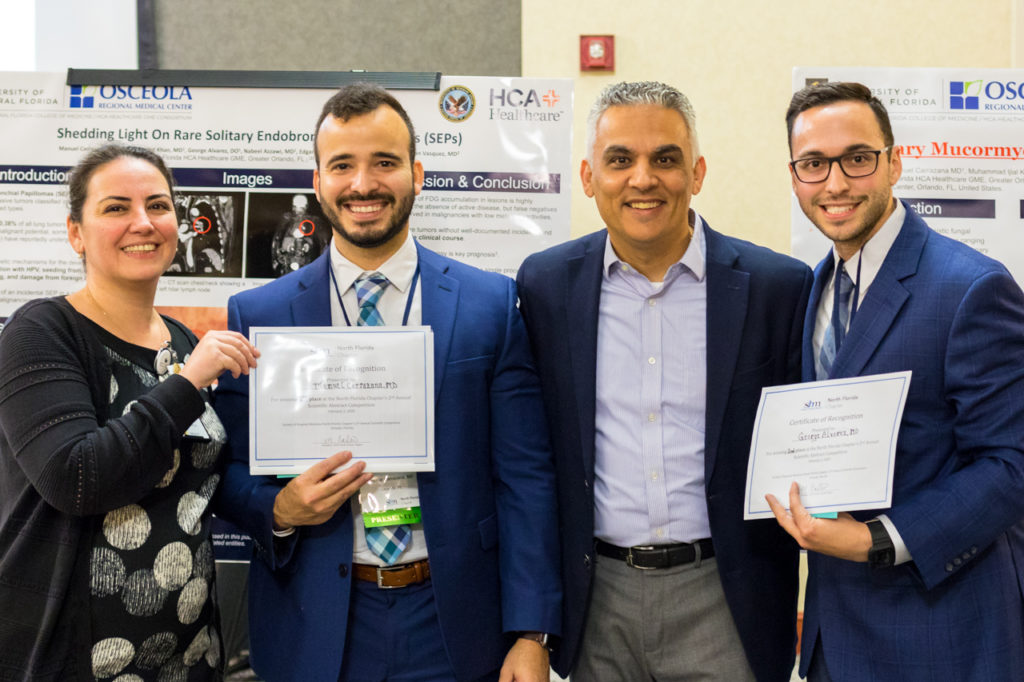 Dr. Manny Carrazana's patient was a neck cancer survivor who came to the Emergency Room complaining of neck and back pain. Physicians suspected his cancer had returned. But diseases don't play by the rules and rounds of imaging studies found no cancer. It wasn't until doctors used a bronchial scope that they found a tumor hiding in a lymph node in his right lung – on the opposite side of where he was experiencing pain.
That patient was a teacher for young physicians recently, as Dr. Carrazana won first place for his research presentation at the Society of Hospital Medicine's (SHM) North Florida Chapter scientific symposium this month. The chapter's second annual symposium brought together residents from across North and Central Florida along with graduate medical education physicians and other healthcare providers focused on the care of hospitalized patients. The symposium included research presentations and lectures on best practices for in-patient care.
"Diseases don't read the textbooks," explained Dr. Matthew Calestino, president of the SHM's North Florida Chapter. "These conferences are important because we learn from one another. We learn from one another's experiences."
Dr. Calestino is program director for the Transitional Year residency at North Florida Regional Medical Center in Gainesville, a partner with UCF in a consortium with HCA Healthcare that is training about 450 resident physicians across the state. He organized the Feb. 1 symposium, held on the main UCF campus.
Research and scholarly activity is a focus of the UCF-HCA consortium. Physician educators who lead those programs say conducting and presenting research helps young physicians expand their learning, critical thinking and a spirit of inquiry – which ultimately improves patient care.
"I love seeing the spark in the eyes of these young physicians as they present their research," said Dr. Abdo Asmar, a UCF College of Medicine nephrologist who leads the UCF-HCA consortium's inaugural residency program – internal medicine in Greater Orlando. "Our wonderful faculty not only teach the residents but help cultivate their inquisitive spirits. When they present their research, residents are sharing what they have learned with people who are eager to listen. It's a perfect match for scientific learning."
In addition to research, the day's learning included presentations from UCF and HCA physicians across the state on topics of interest to those who care for hospitalized patients. For example, Dr. Shazia Beg, a rheumatologist at the UCF College of Medicine, discussed the severe complications that can hospitalize rheumatology patients. Dr. Laurenie Louissaint , a resident at North Florida Regional Medical Center, provided an inspirational talk on her global health efforts in Haiti, including starting sporting programs for disabled patients such as amputee soccer and wheelchair basketball.
Dr. Carrazana said presenting research is more than just a way for a resident to build his or her CV. "You get a unique case and then you do all this research and you learn new things," he said. "And then you share what you learn. And then you walk around and see other residents present their research and you learn some more. You win twice."
In addition to residents, medical students also presented research. All three of those winners are from the UCF College of Medicine. Here are the winners:
Medical Resident Category:
1st Place- Dr. Manuel Carrazana, Osceola Regional Medical Center
2nd Place Dr. George Alvarez, Osceola Regional Medical Center
3rd Place Dr. Ahmad Abdulzahir, Orange Park Medical Center
Medical Student Category

1st Place- Nicole Mamprejew, M-2, UCF College of Medicine
2nd Place- Sun Kim, M-2, UCF College of Medicine
3rd Place- Irina Tardif, M-2, UCF College of Medicine
Post Tags
Dr. Abdo Asmar

Matthew Calestino

Research

resident education

Society of Hospital MedicineDr.

UCF-HCA residency consortium