College of Medicine

Faculty News

Internal Medicine Residency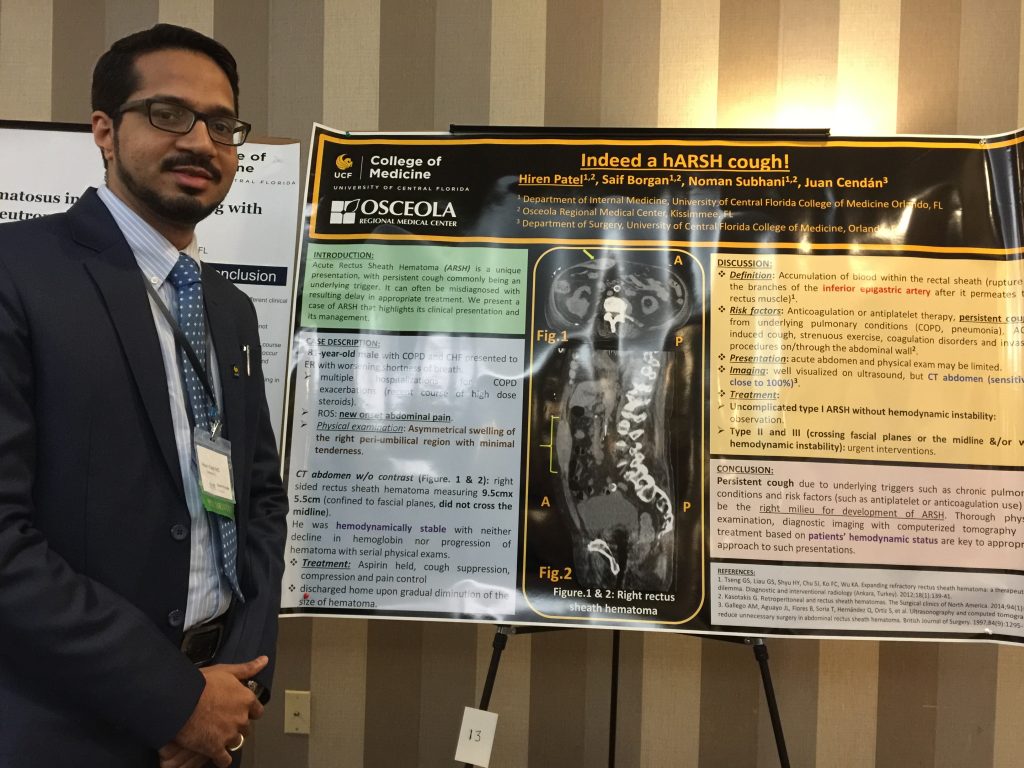 Dr. Hiren Patel's COPD patient was suffering from worsening breathing problems and now complained of a dull ache in his abdomen. During a physical exam, the UCF resident physician discovered the cause – his patient's chronic cough was causing bleeding into an abdominal muscle. That case was a learning opportunity for the young doctor and recently he shared that knowledge with others at an inaugural Society for Hospital Medicine (SHM) conference organized by UCF's residency consortium.
That consortium, between the College of Medicine and HCA North Florida, is training almost 350 residents across Central and North Central Florida and continues to grow. One of its priorities is scholarship – encouraging residents to do research and share that new medical knowledge with others.
As part of that effort, Dr. Matthew Calestino, (shown below, far right), who leads the consortium's Transitional Year residency at North Florida Regional Medical Center in Gainesville, organized the First Annual North Florida Chapter SHM Scientific Symposium in Jacksonville last month. The SHM represents those who care for hospitalized patients – including physicians, nurses, nurse practitioners and hospital administrators — and is focused on improving the quality of in-patient care. SHM has chapters in South and West Florida, but didn't have an organization representing North/Central Florida, so Dr. Calestino organized the first event and hopes to expand its membership and events into the Orlando area.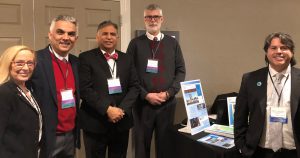 "The stars of the event were our resident physicians whose astonishing personalities and research posters lit up the room in a way that rivaled any fireworks display I have ever seen," he said.
Research posters came from the Internal Medicine residents at the University of Florida's Jacksonville location, Orange Park Medical Center, Ocala Regional Medical Center, Oak Hill Hospital and Osceola Regional Medical Center as well as Internal Medicine, Transitional Year and Psychiatry residents from North Florida Regional Medical Center. The conference also included presentations on a variety of topics including treating patients with complicated high blood pressure, caring for in-patient pregnant patients and healthcare of the future.
Dr. Calestino said physicians need to conduct and present medical research to advance science. "Evidence-based medicine is a game-changer because it strives to provide scientific proof worldwide of the benefits of treatments and good and bad outcomes for patients," he said. Because research posters often deal with unique cases – and unique manifestations of disease – they broaden knowledge for physicians who might otherwise never see such a case. "Diseases don't read the medical textbooks," when it comes to their presentation, he said. "And if they did, we wouldn't need doctors."
Dr. Patel is an Internal Medicine resident at Osceola Regional Medical Center, a partnership between UCF, HCA and the Orlando VA Medical Center. He will serve as one of the program's chief residents starting this summer and was the winner of the SHM poster presentation for his study, "Indeed a hARSH cough!" He said presenting research at conferences helps young physicians spread medical knowledge while meeting and networking with physicians who will be colleagues across their careers.
"Patient care and research go hand-in-hand," he said. "Research is how we create more medical evidence. My COPD patient reinforced to me the importance of the physical exam. Nothing in his bloodwork or other tests indicated bleeding. We discovered it through the physical exam. It's important for all of us to share these outcomes. And I'm happy UCF is so proactive in research."
Dr. Abdo Asmar, (shown above, second from left), who leads the Internal Medicine residency at Osceola Regional, said research allows young physicians to develop better communication, critical thinking and leadership skills. "We all need to be learners," he said. "And scholarship helps residents think about a case in a different way. It teaches young doctors to think, 'Let me share with you what I learned from this case.' And that helps medicine."
Second place poster honors went to Dr. Jake Cho, Ocala Regional Medical Center, for "Comparing Pulmonary Renal Syndrome and Necrotizing Crescentic Glomerulonephritis."
Third place went to Dr. Ibrahim Khambati, Orange Park Medical Center, for "Diabetic Ketoacidosis and Atypical Hemolytic Uremic Syndrome: An Unlikely Pairing."
Post Tags
COPD

Dr. Abdo Asmar

North Florida Regional Medical Center

Research

residents

scholarship

UCF-HCA residency consortium