College of Medicine

Communique

Faculty News

Student Affairs

Students
"In diversity there is beauty and there is strength." Maya Angelou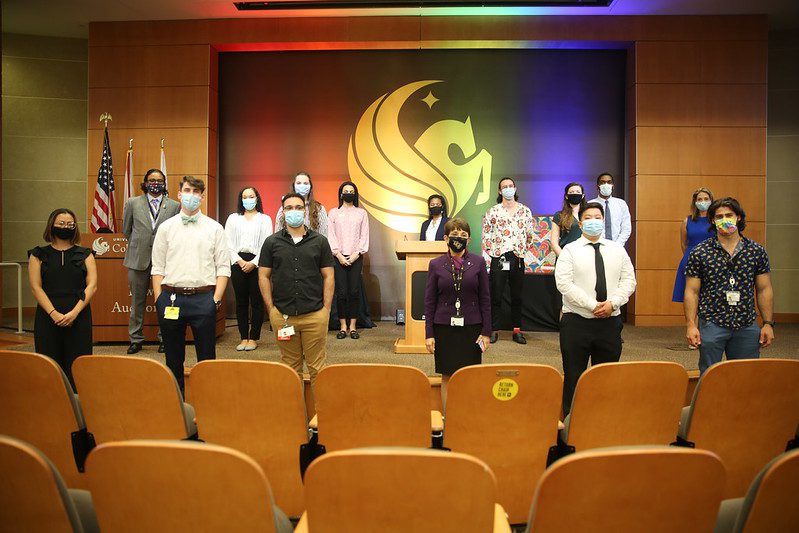 Medical students on Feb. 25 unveiled artwork in remembrance of those lost to racial injustice and hate and to "serve as a reminder that all students, no matter who they are, what they look like, or who they love, are accepted at UCF College of Medicine."
The "Remembering Those We Lost: A Pulse and BLM Memorial" was organized by the LGBTQ+ Medical Students and Allies, the Student National Medical Association and Arts In Medicine. The art – a quilt honoring the 49 people killed in the 2016 Pulse shooting in Orlando and a word mural created in support of Black Lives Matter – will be displayed permanently in the Medical Education Building.
Dr. Deborah German, vice president for medical affairs and dean, said she hoped that everyone who passes the artwork each day remembers that "love conquers hate… Let's go forward as leaders in ending injustice and creating a tomorrow were love and inclusion prevail."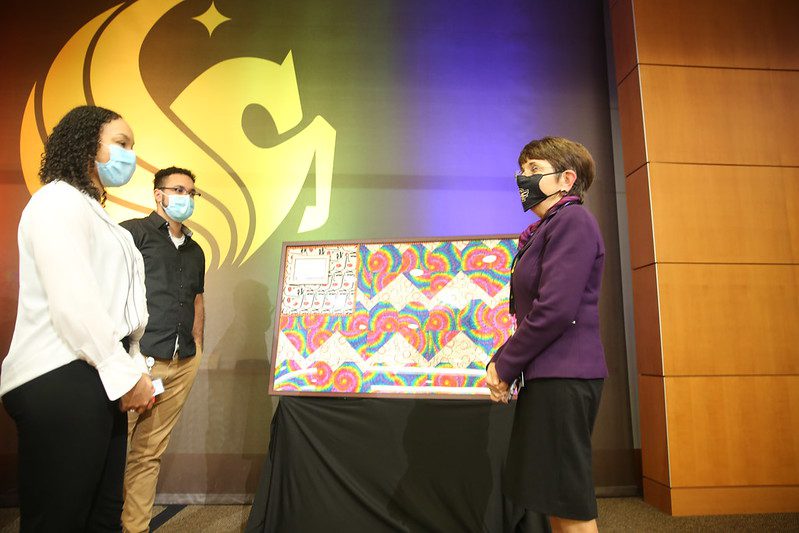 The small, socially-distanced event was also broadcast live on Zoom.
The quilt is one of nearly 2,000 pieces hand-made to show support for the victims, family and friends of those impacted by Pulse shooting. Nikole Parker, director of stakeholder and community relations for the OnePulse Foundation, spoke at the Remembrance event, explaining that while news reports talked about Pulse as a "gay bar," the club in downtown Orlando was more than that. It was a safe place for many in the LGBTQ+ community who felt rejected and judged.
A temporary memorial has been created at the club and will become a permanent memorial and museum that will help educate people about equality, the need for safe places, and the fact that "at the end of the day we are all human. We all bleed red," she said.
Parker thanked the students and the medical school "for not forgetting the 49, not forgetting the survivors, and the first responders."
In creating the BLM mural, the Student National Medical Association and Arts in Medicine asked medical school students, faculty and staff to submit words that reflect their support for the Black Lives Matter movement. The mural includes words like courage, love, equity, understanding, ally and the Angelou quote.
Dr. Tracy MacIntosh, associate program director for UCF's Emergency Medicine Residency at Osceola Regional Medical Center, will join the College of Medicine on April 1 as the new associate dean for diversity, equity and inclusion. "We are the medicine against injustice," she said at the event, explaining that such injustice includes unequal access to healthcare, education, nutritious food, green spaces, clean air and "who and how we love."
The Black Lives Matter mural, she said, "is a permanent symbol of our relentless commitment to racial and social justice."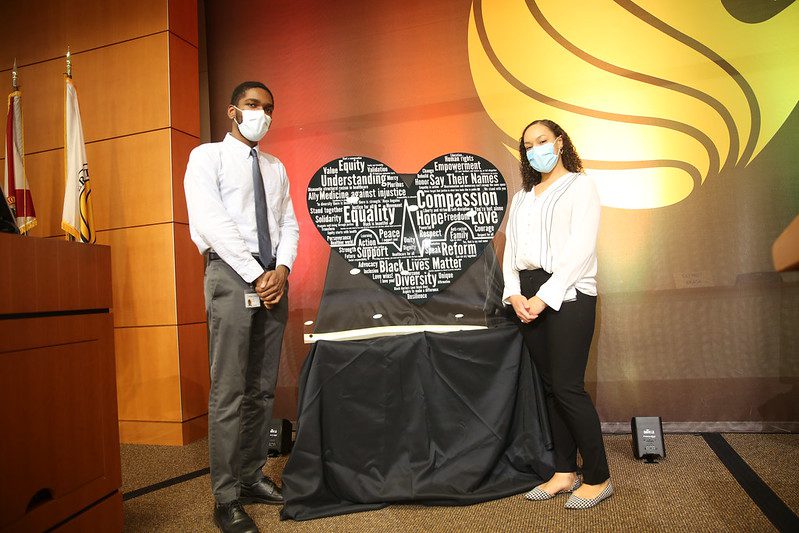 Medical student Lake Lindo helped design the mural. He closed the Remembering event with a statement articulated by all of the speakers:
'We affirm that a commitment to social justice is inseparable from our future in healthcare," he said. "And that we are uniquely positioned as future physicians to push for equity."
.
Post Tags