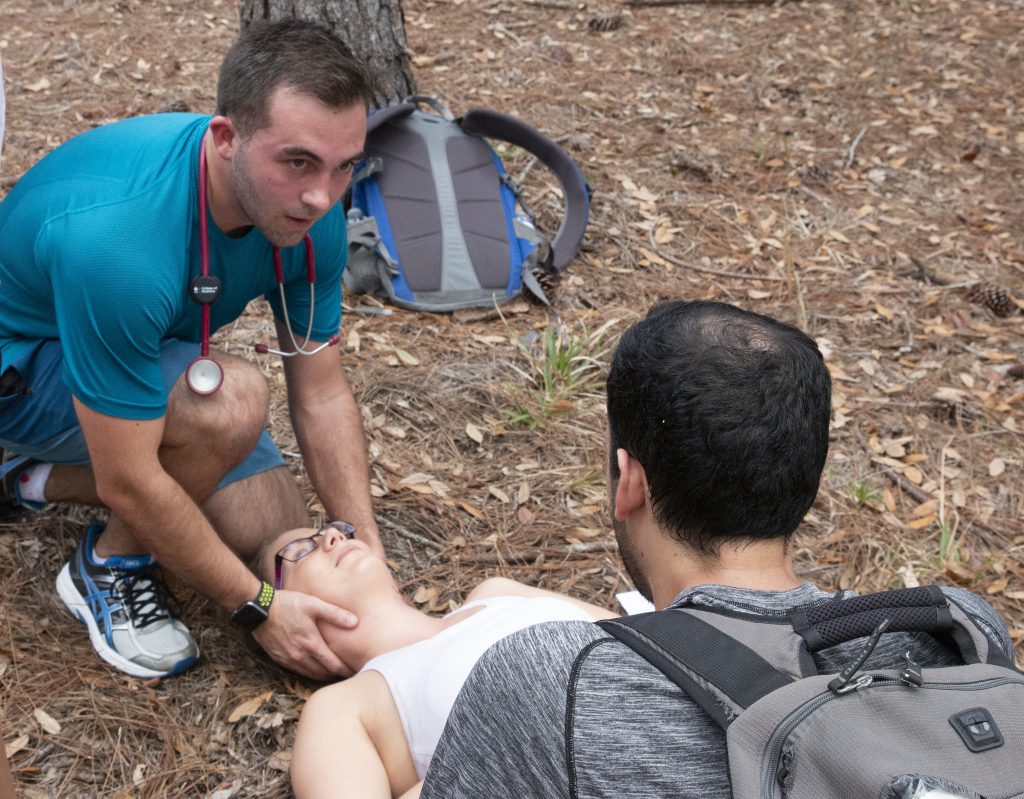 Johnathen Diaz was stranded in the wilderness, confused, nauseous and taking rapid, shallow breaths. When rescuers arrived, they noticed the mucous membranes in his nose and eyes were dry — a classic case of heat stroke requiring immediate care.
"We need to put something wet and cold on his neck to cool him down," directed Diaz's classmate Kenneth Dumas, pulling out his phone to call 911. Others grabbed water from their backpacks, drenched a cloth and put it on Diaz' neck. Then they guided him to lie in the shade under a tree and waited for an ambulance to arrive.
Diaz's heat stroke wasn't a real emergency. It was part of a UCF medical student event designed to test students' skills in providing care outside a typical hospital setting. Within the wooded confines of Southeast Orlando's Moss Park, medical students hiked a 7.5-mile trail without the aid of maps and responded to wilderness emergencies, including an alligator attack, a broken bone and an allergic reaction to a bee sting.
The Feb. 23 event was led by UCF's chapter of the Wilderness Medical Society, a group devoted to educating physicians, residents and medical students on health safety in the outdoors. The group holds wilderness medical challenges across the country.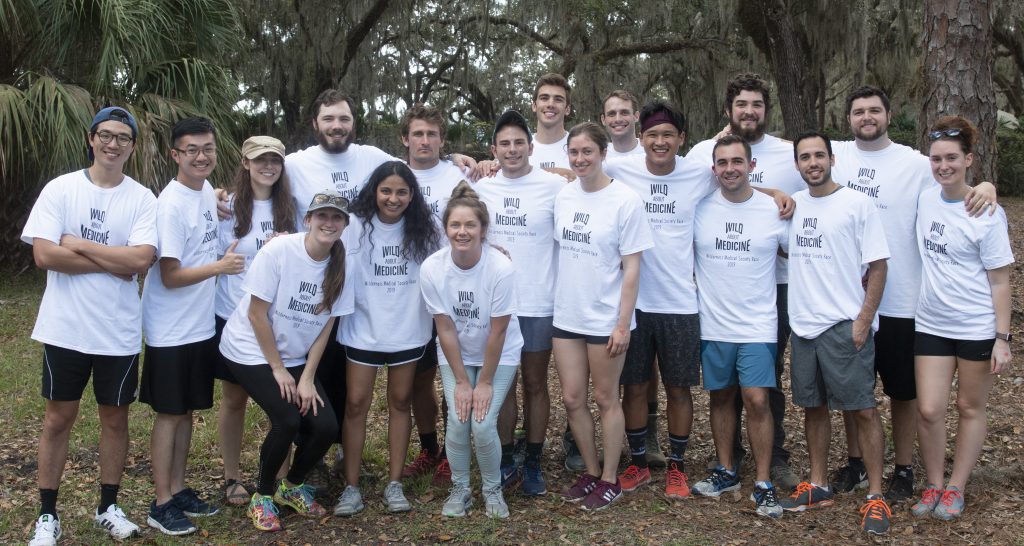 Second-year UCF medical student Brandon Marshall participated in a similar event in the foothills of Georgia last year, and came away impressed with the combination of testing participants' physical endurance and medical knowledge. So he organized this year's event. Marshall is no stranger to grueling physical activity. He was a Greco-Roman wrestler who competed worldwide before coming to medical school. Marshall points out that Florida has more than 8,900 miles of hiking trails and 5,200 miles of bicycle trails, so there are plenty of opportunities for illness and injury to happen in the wilderness.
"You just never know when you're going to be faced with an emergency outdoors," he said. "As a physician you have to be able to think on your feet when you're tired. That's why we wanted to bring this event to our medical school."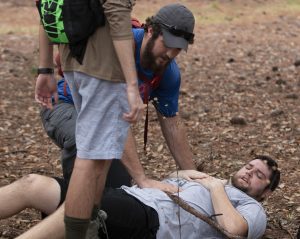 Students faced six real-life scenarios – with fellow students serving as patients. In one scenario, a hiker was attacked by an alligator near the edge of a lake and dragged in, suffering head trauma and a broken, bleeding arm. In another scenario, a hiker was stung by a bee, had an extreme allergic reaction and couldn't speak to tell rescuers what was wrong.
Dr. Martin Klapheke, assistant dean for medical education – whose hobby is mountain climbing – helped supervise the outdoor challenges. "You could see the growth in communication and teamwork as each group worked its way from medical station to station," he said.  "Such teamwork is critical in medical care today."
Dumas, a third-year medical student, said the Wilderness Medical Society event challenged students' medical knowledge and their ability to work quickly as a team. "Especially in emergency situations, things can get hectic," said he said.  "So it's important to verbalize loudly what's happening and what you're doing – telling people, 'I'm checking pulses,' or 'I'm checking breathing.' "
Dumas said one of the most challenging scenarios involved a patient who had fallen out of a tree, breaking his pelvis and injuring his head. The patient complained of a stiff neck and spine pain.
"Both of those can be life-threatening emergencies. Which do you handle first?" Dumas said. "And that's where the team dynamic came in. We had someone stabilizing the head, and we had somebody assessing neurologic status, and another team member checking pulses."
"Knowing how to keep calm, how to assess the situation and go from there, I think is what really makes you a great physician."
Post Tags