Burnett School

College of Medicine

Diversity

Faculty News

Medical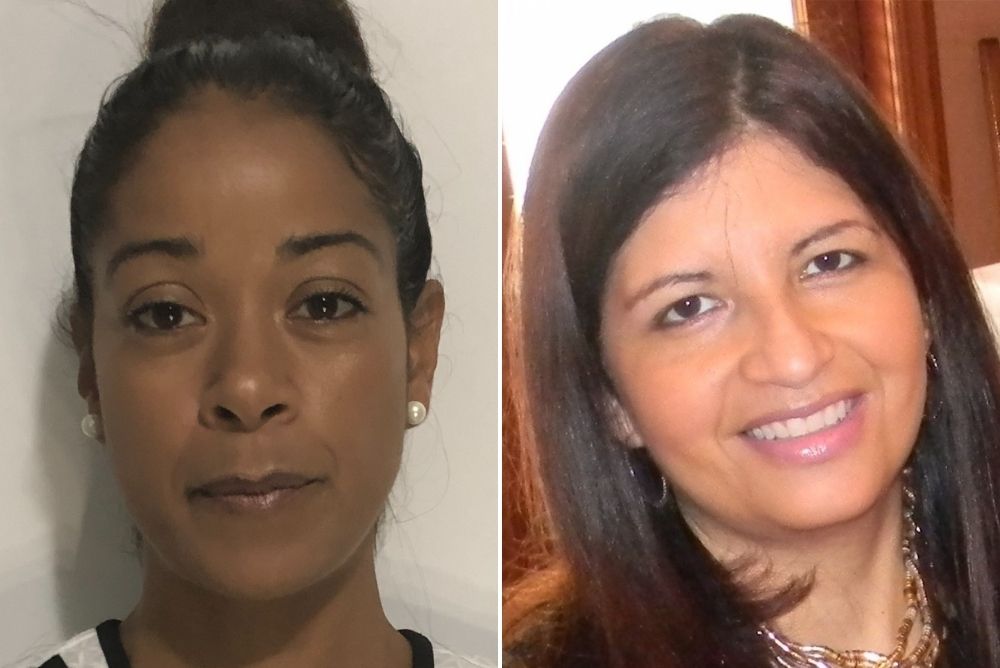 As the COVID-19 pandemic highlights health disparities and the need to better acknowledge the social determinants of health, the College of Medicine has added two faculty members to its new Population Health Sciences Department. Drs. Elena Cyrus (left) and Karina Villalba (right) both come to UCF from Florida International University, where they did extensive research and community outreach in battling health disparities among women, people battling alcohol and drug addiction, and those suffering from HIV/AIDS.
"I am delighted to have Drs. Cyrus and Villalba joining us," said Dr. Eric Schrimshaw, the department's chair. "Critical to our mission is understanding and eliminating health disparities in underserved communities. With their addition, Drs. Cyrus and Villalba greatly expand the department's ability to conduct research with, and design interventions for, underserved communities, including African American, Caribbean Islander, Latinx, and transgender women, both in the U.S. and around the world."
The medical school's Population Health Sciences Department is just the 19th of its kind in the nation. The department collaborates with colleges and programs across UCF and has helped the university lead new contract tracing initiatives designed to slow the spread of COVID-19 on campus.
Elena Cyrus
Dr. Cyrus is an infectious disease epidemiologist with research experience in Sub-Saharan Africa, South East Asia, Latin American and the Caribbean. She did her fellowship training with Yale University in Lima, Peru, where she researched HIV/AIDS risk factors of women in prisons and men who have sex with men and transwomen.
Before her doctoral training, Dr. Cyrus was a clinical trials manager with the HIV Prevention Trial Network.
Her research focus is on health inequities across vulnerable populations. Her National Institutes of Health (NIH)-funded research primarily focuses on preventing substance abuse and HIV/AIDS among high-risk women. Since joining UCF, she partnered with College of Medicine and FIU colleagues and recently obtained funding through the National Institute on Minority Health and Health Disparities to study the burden of COVID-19 on communities of color and the increasing use of alcohol and drugs as people battle the stresses of the pandemic. She is also focused on improving access to mental and physical care for those facing the biggest health inequities in Florida – including transgender women of color who may be supporting themselves through sex work and other high-risk jobs.
Dr. Cyrus identifies as being both African American and from the Caribbean because, although she was born in the U.S., she spent part of her childhood in Trinidad and Tobago. As a black female researcher, she said she understands first-hand the structural barriers that underrepresented individuals and populations encounter. "Population health is my calling," she said. "I feel like I've been training for this all my life."
She received her Ph.D. from FIU's Robert Stempel College of Public Health and Social Work, and earned a Master's in Public Health at the University of Miami Miller School of Medicine.
Karina Villalba
Born in Bolivia and raised in Miami, Dr. Villalba completed her bachelor's and graduate training at FIU. Before coming to UCF, she did postdoctoral work at Louisiana State University's medical school at the Robert Stempel College of Public Health and Social Work at FIU. She also has an M.B.A. in healthcare, which she says gives her invaluable perspective on ways to connect public health and healthcare to address health disparities. She has done extensive research and community service to address the issues of violence between intimate partners and is part of UCF's research cluster focused on violence against women.
That cluster includes faculty in diverse areas such as population health, psychology, criminal justice, and sociology. "This is a multidisciplinary approach bringing many disciplines together to stop violence against women," she said. "Topics like abuse and trauma have been stigmatized and have been in the dark for too long. The Me-Too Movement has been a catalyst to start the conversation more openly, to lay it on the table, and do something about it."
The COVID-19 outbreak has brought opportunities to understand how the pandemic has impacted already at-risk populations. Dr. Villalba is studying how the pandemic has impacted the care of people of color with HIV/AIDS, and she plans to start a study of how COVID-19 has impacted Latinx students at UCF in the areas of health behavior, mental health, and substance use. She is also submitting a grant to the NIH on how mindfulness can help women at risk for HIV improve their adherence to preventative drugs by reducing their stress and alcohol use. She said she was delighted that UCF faculty and staff, with their focus on innovation, offered to create an app for her research that will provide at-risk women with online mindfulness sessions, given that COVID-19 has made in-person sessions more challenging.
Dr. Villalba also is eager to help create a new Master of Public Health program at the College of Medicine that will help prepare future public health professionals and also emphasize public health in the training of future doctors, nurses and researchers. "Public health is on everyone's radar right now," she said. "And as an innovative, young medical school in an emerging Medical City, we have the perfect opportunity to come up with a more innovative MPH program – not just the traditional. Doctors treat. Public health prevents."
Post Tags
COVID-19

faculty hires

HIV/AIDS

population health