Burnett School

College of Medicine

Faculty News

Medical

Students

UCF
Forget the pool or vacation. For more than 60 Orange and Osceola County high school students, there's no place they'd rather spend summer break than in the science lab. For them, the third-annual College of Medicine Health Leaders Summer Academy offered an opportunity to delve deeper into the health sciences and explore future medical careers.
"I remember being just like you, sitting in a summer academy many years ago, when I wanted to be a doctor," said UCF College of Medicine Assistant Dean for Diversity and Inclusion Dr. Lisa Barkley as she opened the Summer Academy July 7. "I hope these two weeks will be life changing for you. Make sure you see yourself as that professional you want to be. That path starts right now."
Students participated in a variety of activities, including research, labs, college preparation and tours of local hospitals. The goal of the Health Leaders pipeline program is to increase the diversity of tomorrow's healthcare professionals by making sure students from underserved communities have the skills they need for college, graduate education and healthcare jobs.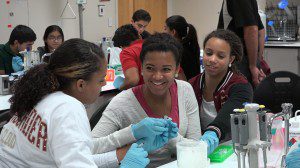 Thirty-three Osceola County high school juniors and seniors were the first to attend camp and began their lab experience with thorough safety training from College of Medicine Environmental Health and Safety Manager Renee Michel. For Michel, workplace safety is more than just a set of rules, it's become the passion for her career — one that she hopes to impart on young adults looking to find their own motivations. "I really gravitate toward empowering students and faculty to put their safety first," she said. "I want you to take hold of this journey, and really embrace it. Open your heart to know that everything is possible."
Over the next several days, Health Leaders Academy students spent time in labs at the college's Burnett School of Biomedical Sciences learning to use pipettes and measure samples to exact proportions. "This program helped me to experience biochemistry like I have never experienced it before," said Emmanuel Pope, a student at Orlando's Jones High who attended camp on the second week. "I always knew I wanted to get into pharmaceutical chemistry, and this let me see what I'm looking forward to in the future."
In addition to lab work, students were introduced to clinical research, as they were assigned group projects on illnesses like diabetes, sickle cell anemia and Staph Infection. Each group looked at specific clinical cases of the disease, and presented the epidemiology, treatment and prevention of the condition. "Research is another core competency that physicians have to know, and it's becoming more and more important." Dr. Barkley said. "By the time they apply, almost all medical schools are going to be expecting students to understand the research process."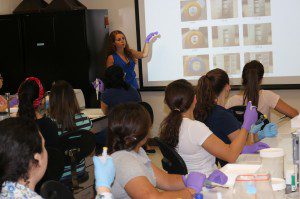 Dr. Barkley also had students participate in lessons on the social determinants of health, a subject that is often not approached with young people. "If you tell me your zip code, I can predict exactly what your life expectancy will be," she told Health Leaders, explaining how issues like poverty, unemployment and crime can have serious health consequences. Students also heard from current medical students about their path to medical school, and starting to prepare early for that journey. "In high school, I didn't really have that mentor who had gone through with I was trying to do," said second-year medical student and Summer Academy Volunteer, Khadijah Fergiani. "I really think it's important to come back and talk to high school students, and kind of give them my personal journey."
For many Health Leaders, the guidance from the College of Medicine made their future journey less intimidating. "Being able to see the steps of where we're going to go takes the fear out of it, I feel really great about all of our futures," said Celebration High School student Mallory Theurer. The second week of Health Leaders academy allowed students to see exactly what the Central Florida community has to offer in health careers. They visited facilities like Florida Hospital, St. Cloud Regional Medical Center and Nemours Children's Hospital. Medical City is expected to create 30,000 jobs by 2017 and Rhonda Baur, medical pipeline program director for the Osceola Education Foundation, said that county's educational leaders want their students to be prime candidates. "We want our students to have these jobs," she said. "We want them to understand the educational pathways that are available for them, and the career pathways that are available for them right here locally."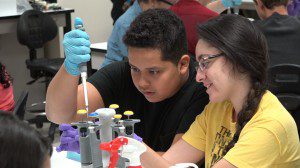 This year's academy was the biggest yet. Osceola Education Foundation Board Member David Berelsman said the pipeline program was made possible by partnership. "We have this incredible campus here on our doorstep, and it's to all our benefit to use it," he said. "It's the partnership we have that's really made us so strong."
As the two-week program came to a close July 17, each student received an honorary certificate as parents and friends looked on. College of Medicine Vice President for Medical Affairs and Dean Dr. Deborah German spoke to the crowd as someone who was the first in her family to attend college. Dream big, she told the students. "Don't forget that you are capable of doing anything that you set your mind to do," she said. "When you see what's out there, you can dream beyond what you were dreaming before, and know there's always someone out there to help you achieve your dream."\
Post Tags