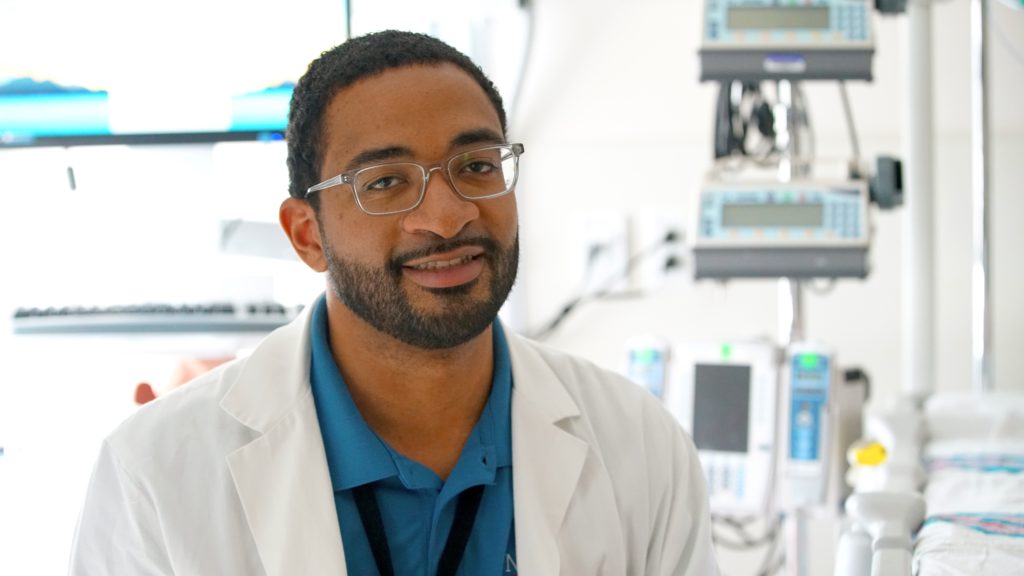 Almost a year since beginning his pediatrics residency at Nemours Children's Hospital, Dr. Gabriel Williams strides confidently through the hospital halls and is greeted warmly by nurses and staff as he enjoys a lull in his hectic day of seeing patients, updating attending physicians and overseeing patient care.
"Being at Nemours keeps me grounded on what really matters," he said. "Seeing children battle life-threatening illnesses really puts things into perspective for me, and it shows I have very little in life to complain about. It drives my passion to want to do more to help them."
Dr. Williams, an Orlando native who graduated with his M.D. from the UCF College of Medicine in 2019, joined Nemours' residency program in its inaugural year. Fellow College of Medicine grads, Dr. Laura Chilcutt and Elliot Griffin, were also part of the first residency cohort.
During medical school, Dr. Williams did his pediatrics clerkship training at Nemours and was drawn to the specialty because of his natural connection with children, which he first noticed while working as a substitute teacher before medical school.
"Children are smart, inquisitive and ask a lot of questions," he said, "and helping them doesn't feel like work to me. The role of a pediatrician is not just about being a doctor. It's about being able to provide parents reassurance, helping a child through an illness that can't be cured, and giving them encouragement and confidence outside of medical treatment."
One of his biggest lessons from residency: "Always listen to the parents. They notice things in their child that we may miss."
Dr. Williams said he was drawn to Nemours' charter residency program for the same reason he joined UCF's young medical school – the opportunity to help create something new. "You have to be flexible and work collaboratively," he said. "They asked the first (residency) class how to make the program better and how to improve work flow and set expectations."
As Match Week begins for 2020 M.D. seniors, Dr. Williams offered his advice on residency training and being a young physician. "No amount of reading text books or observing (in the clinic) can prepare you for becoming a physician," he said. "The hours are long and the work can be exhausting, but the rewards are great. Above all, listen to your patients and don't be overly confident. There is a lot to learn."
Has the UCF College of Medicine Positively Impacted You?
The UCF College of Medicine is a research-based medical school with a culture based on partnerships and collaboration. As a founding member of Orlando's Medical City we are proud to be your community medical college.
Find out how to give back to your medical school, today!