College of Medicine

Communique

Faculty News

Medical

Residents

Students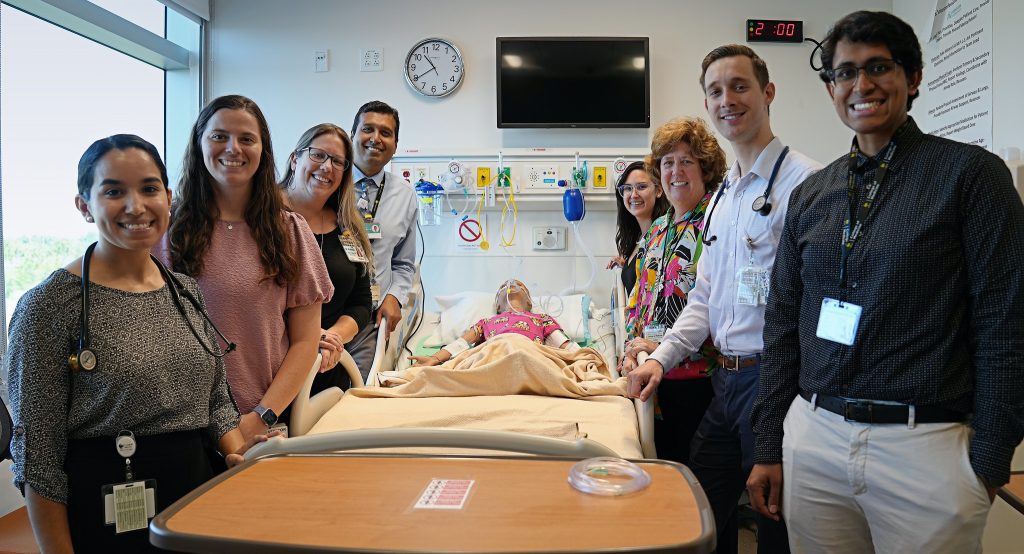 Fourth-year medical students preparing for pediatric residencies participated in a week-long capstone course recently at Nemours Children's Health where they received hands-on training in their chosen field.
Under the guidance of Dr. Shiva Kalidindi, medical director of Nemours' Institute for Clinical Excellence and director of education at the hospital's Emergency Department, students were quizzed on the signs of a sick child as they gathered around a computerized manikin.
The course was designed to provide graduating students an opportunity to apply their skills and knowledge in a safe environment before they start formal residency training this summer. "The program covered critical care and urgent care activities, pharmacology, communication skills, and challenging scenarios, including breaking bad news," said Dr. Colleen Moran-Bano, the College of Medicine's assistant professor of pediatrics and pediatric clerkship director.
Students worked in small groups with individual faculty members, where they practiced evaluating patients and giving CPR. They also competed as teams to see who could diagnose a simulated patient's ailment the fastest.
"Being able to practice our skills in a safe environment is always helpful to be more proficient and feel more confident," said Melodie Noel, one of the 18 students attending the boot camp. After graduation on May 19, Noel heads to Children's Hospital of Philadelphia for her residency training. She said she was inspired to become a physician for children and help the underserved because both her parents are social workers.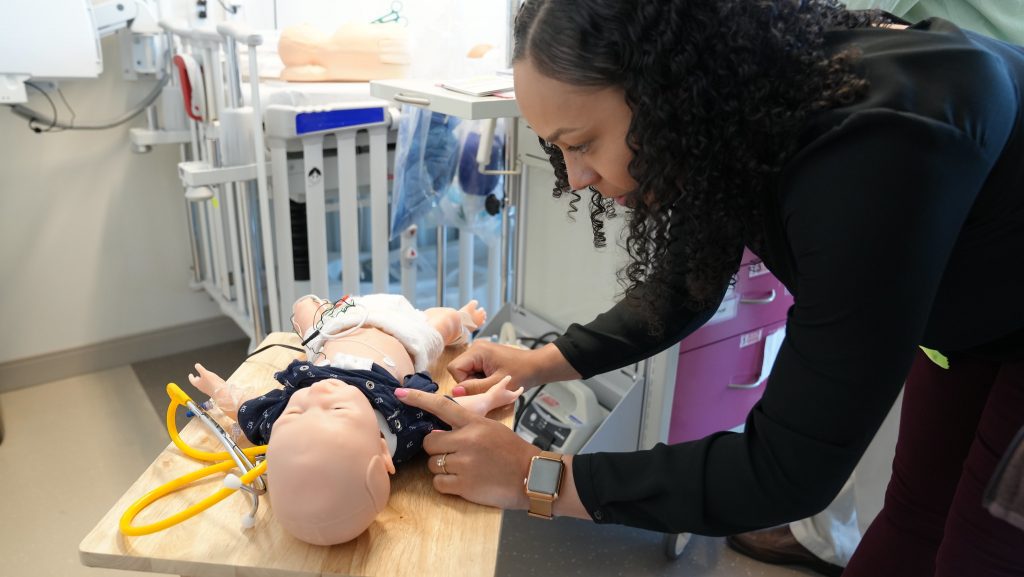 Graduating senior Gabriel Krivenko, who will train at Northwestern University in Chicago, described the boot camp as an effective way to help him remember what he had learned during four years of medical school "We're all kind of looking forward to the future, but anxious too," he said. "Being able to go into the rooms, review and remember some of the things that we've learned in terms of resuscitation and how to assess a sick child is invaluable."
Nemours plays a vital role in the education of UCF medical students. Every third-year student goes through pediatric clerkship training at Nemours, and Dr. Moran-Bano said the quality of that experience has encouraged many College of Medicine students to choose pediatrics as their specialty. During pediatric clerkships, medical students train in a newborn nursery, work with a Nemours pediatrician in the community, and spend two weeks of in-patient service at the hospital.
To date, Nemours has trained over 1,000 UCF medical students and seven UCF graduates chose the hospital for residency training based on the positive experiences they had with mentors and residents during their clerkships.
Dr. Moran-Bano said she and Nemours physicians want to provide the education and nurturing environment UCF College of Medicine graduates need to become good stewards of the pediatrics profession.
"They're representing us," she said. "I want to make sure they're well-trained so they can perform at the highest level and represent UCF and have professional success and personal happiness."
Post Tags