Burnett School

College of Medicine

Faculty News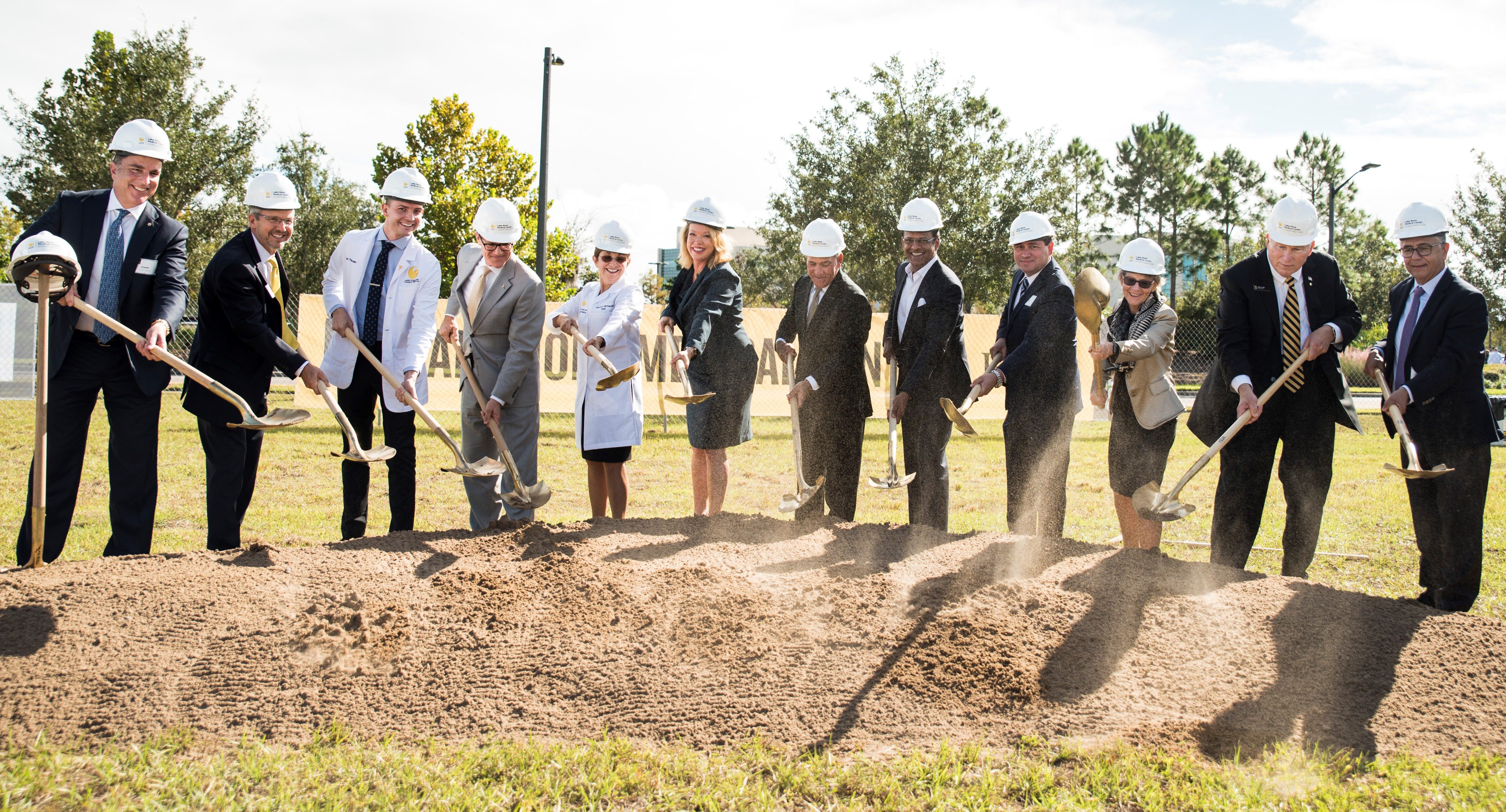 "You all ready to build a hospital?"
With those words — from Michael Joyce, president of HCA Healthcare's North Florida Division – university and HCA leaders, faculty physicians, medical students and community leaders broke ground Thursday for UCF Lake Nona Medical Center.
The UCF-HCA joint venture hospital will open in late 2020 on 25 acres across from the UCF College of Medicine.
About 500 guests attended the groundbreaking event, which began with an early morning rainbow.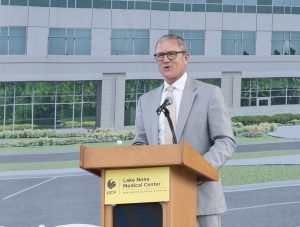 UCF President Dale Whittaker said the hospital embodies a bold, collaborative spirit that will "make Orlando a destination for how health and wellness should be taught and practiced in the 21st century."
The hospital groundbreaking came eleven years and 22 days after university and community leaders broke ground for the UCF College of Medicine as the anchor of an emerging Medical City at Lake Nona.
"A teaching hospital was part of our dream that day," said Dr. Deborah German, vice president for health affairs and founding dean. "On Oct. 3, 2007, we didn't know who our partner would be or how we would build such a hospital. But we knew then what we know today – that we needed a teaching hospital to accomplish our goal to be one of the nation's premier 21st century medical schools, anchoring a Medical City that could one day be a global destination."
The hospital will be just a few steps from a new UCF Lake Nona Cancer Center that will be created in the former Sanford Burnham Prebys research facility. And it will be the cornerstone for UCF's new Academic Health Sciences Center that will eventually bring many of the university's health-related programs to Lake Nona.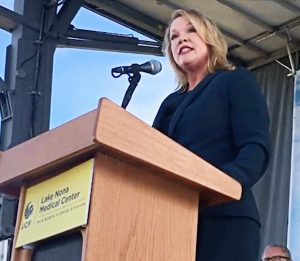 Wendy Brandon, the new CEO of UCF Lake Nona Medical Center, said the new academic hospital will incorporate medical education, research and patient care. "Our hospital will be a place that not only provides healing for our patients but also educates the healthcare providers of the future and supports the work of brilliant researchers that will lead to lifesaving care," she said.
UCF medical students applauded the role the hospital will play in preparing them as future physicians. UCF and HCA are already partnering to create residency programs across North Central and Central Florida and soon will expand those graduate medical education programs to Pensacola. Ultimately, the new hospital will have its own residents but will provide clerkship training for third- and fourth-year medical students from the time it opens.
"The UCF Lake Nona Medical Center will allow us to give back to and serve the community that has embraced us so warmly," said medical student Kevin Petersen, Student Council president for the Class of 2021. "Today, we are one step closer to creating a healthier tomorrow… the UCF way."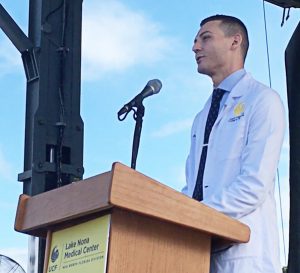 In preparation for his remarks, Petersen did an online survey of all 490 current UCF College of Medicine students and asked what the new hospital meant to each. He created a framed image of the hospital rendering with some of the students' quotes and presented it to Dr. German "to thank you for believing in your dream and for believing in us… and also to remind you of the inspiration you provide all of us students on a daily basis."
With the groundbreaking ceremony finished, construction of the hospital will begin. The hospital's foundation will be poured by January. The three-story hospital will open at 204,079 square feet with 64 beds and shelled space enabling expansion to 80 beds. UCF Lake Nona Medical Center is authorized to grow to 500 beds without further state approval.
The hospital is a joint venture between HCA Healthcare and UCF Academic Health, a direct service organization of the university. HCA is spending $175 million to build and begin operating the hospital. No state dollars are being used.
Post Tags
Dean Deborah German

Hospital Corporation of America

kevin petersen

Medical City

Michael Joyce

President Dale Whittaker

UCF Lake Nona Medical Center

UCF-HCA hospital

Wendy Brandon