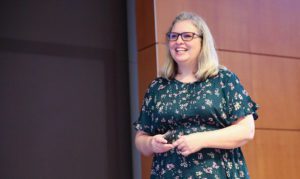 Lara McElderry, a life coach and podcast host of "Married to Doctors," spoke at the UCF College of Medicine on March 5, about seven contentious issues in relationships that can be especially challenging with medical providers:  traditions, roles, goals, values, sex, money and the past.
"When you add medicine into a relationship, you add more to those contention categories," said McElderry, whose talk was sponsored by Hand in Hand, the medical school's family support group.  "How you see medicine may not be how your spouse sees medicine."
McElderry spoke about her difficulties trying to raise five young boys while her husband underwent years of medical school and training before becoming a general surgeon.
"There were times when it felt like everything was working, and then there were times when it felt like nothing was working," McElderry said. "You're going to have highs and lows, and that's normal."
Spencer Adams, a second-year medical student at UCF and co-leader of Hand in Hand, knows this all too well. He lives in Lake Nona with his wife Heidi and two young children, Matthias, 4, and Eliyana, 1.
"I am expected to fully commit to schoolwork, my marriage, and my kids. It can be overwhelming on the best days," Spencer said. "At any given time, I can list off 100 things within each domain of my life that I need to get done."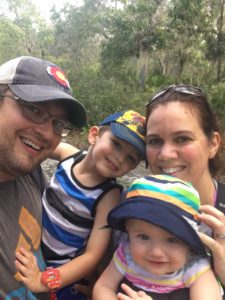 Spencer and Heidi met in Colorado Springs, CO while working at a non-profit ministry organization. They married in 2006.
Spencer earned a master's degree in public health from The George Washington University and got a job working at the Department of Defense.
When Spencer decided he wanted to step away from his career in public health and become a doctor, he said UCF's dedication to supporting medical families is what sold him.
"We had the opportunity to meet and talk with several non-traditional students and were able to talk with them about their experiences at UCF," Spencer said. "Without exception, each student was able to give specific examples of how UCF demonstrated a commitment to the well-being of student families."
While Spencer and Heidi agree that UCF has supplied them with great resources for juggling medical school and their home life, they said there are still many unavoidable challenges people in medical relationships face.
"I am carrying the burden of providing for a family of four financially," Heidi said. "Being a full-time working mom and then coming home and having to take care of the kids and house in the evenings and on weekends because Spencer is studying or in clinic is exhausting."
Heidi works as an American Sign Language interpreter. She said that she finds comfort in others who share her experiences.
"Having other medical spouses that are experiencing the same struggles is very helpful," she said. "I have become good friends with some of the spouses here at UCF.  We can take the kids to the park and have a shared understanding that other non-medical spouses may not have."
She added that Lara McElderry's "Married to Doctors" podcast has also been a great resource for her. McElderry said she started her podcast for similar reasons – to distract herself from the moments she felt stressed and lonely as a medical spouse.
"You have to appreciate both the joys and the challenges," McElderry said.
McElderry also advised Hand in Hand members to have open communication and to take the time to reflect and discuss ways to improve their relationship in each of the contention areas.
Spencer hopes to pursue a specialty that allows him to work in critical care after graduation. While they don't know what the future will hold for them, they said they are ready to take it on together.
"Both of us are committed to serving our community, so regardless of specialty or city, we are looking forward to serving together and with our kids in whatever role we find ourselves," Heidi said.
Post Tags
hand in hand

medical families

medical marriages

medical relationships

medical spouse

relationships

relationships in medicine

UCF College of Medicine