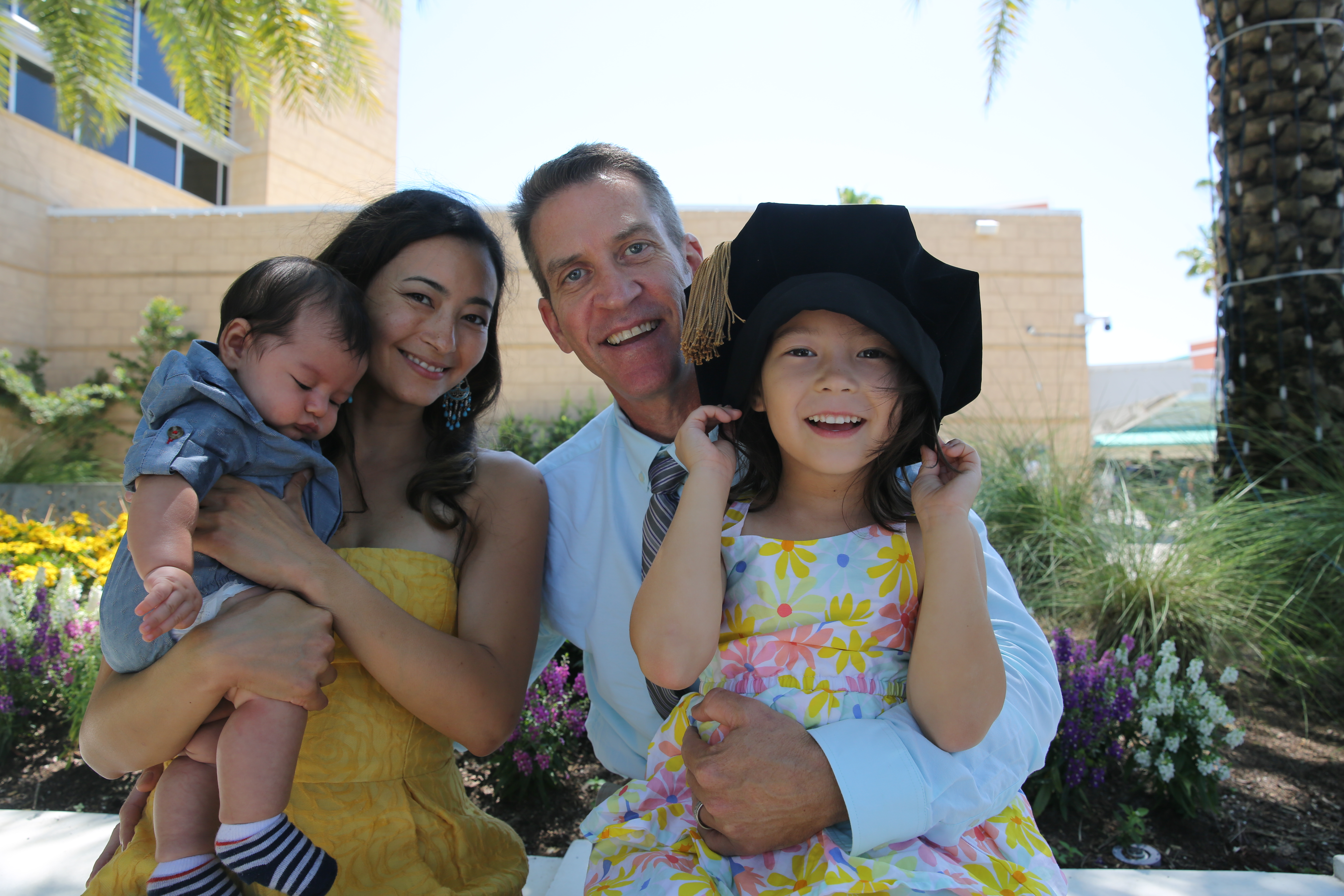 When Mariya Kristeva showed up to rehearsal the day before commencement, she did so with two-month old Dimitri strapped in a carrier on her stomach. Dimitri was with her during her final months of medical school at UCF  and on May 17 he watched from the stands as she collected her M.D.
When Dimitri was just weeks old, Kristeva learned she had matched into interventional radiology at the Mallinckrodt Institute of Radiology at the Washington University School of Medicine in the St. Louis. Not only is she the first UCF med student to match into the highly competitive specialty, but she secured one of only two residency positions available annually at the institute. She will do a transitional year at UCF's residency program with HCA Healthcare in Kissimmee before moving to St. Louis.
Her journey to M.D. was 15 years in the making. It first began in 2004 when she enrolled in medical school in the post-Soviet Union country of Uzbekistan where she is from. Two years in, she migrated to the United States thanks to a diversity immigration program, and made her way to Kissimmee, Florida.  With no way to pay for medical school, she worked in hotels for a few years before enlisting in the U.S. Army as a medic who served in Afghanistan.
"I worked with a team of combat engineers and so I would have a little backpack with medical supplies and we would  go on patrols," she said. "And I had really good supervisors that encouraged me to go back to medical school."
It was in Afghanistan that she met her husband Brian Peplinski, then a flight medic, who also encouraged her to continue her dream. But that meant starting again from square one. Most medical schools refused to accept her credits for classes in Uzbekistan. To meet prerequisites for med school, she completed an online bachelor's degree at Empire State College, then took the Medical College Admissions Test (MCAT). While applying for medical school her daughter, Anna, was born.
As a new mom, she came to UCF in 2015, which she said was her first choice because "when I interviewed here, it was a really good experience. The school was very beautiful, had the latest technology and everyone was so warm and welcoming."
Toward the end of her third year of med school, during her clinical rotations, she found out she was pregnant with Dimitri and one of her first thoughts was of his safety.
"I was a little bit worried about the side effects of radiation," she said.  "So I reached out to some women who were interventional radiologists and they assured me that if I took proper precautions, I would be fine."
While pregnant in her fourth-year of medical school, she did three out-of-state clinical rotations, including one at Columbia University where she walked six miles a day from her apartment to the hospital because it got her there faster than sitting in Manhattan traffic.
She also did residency interviews at 30 locations across the country while expecting, which meant hours of travel,  airport security checks, and being away from her family.
"I don't focus on being a perfectionist," she said about balancing motherhood and medicine. "It's really about being flexible and studying when I can. I try to set a schedule and it doesn't always go as planned so you have to be flexible.  And when I had to go away for rotation or interviews, my husband was there to help with Anna."
After the Class of 2019 commencement, Kristeva held Dimitri and covered his face with kisses.  "I just want to thank him," she said, "for being such a gift to me and such a blessing to our family."
Post Tags