Burnett School

College of Medicine

Faculty News

Medical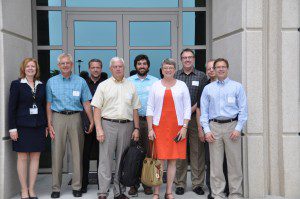 Leaders at the University of North Dakota School of Medicine spent July 1 at the UCF College of Medicine, seeking information and inspiration as they build a new facility to train medical and health sciences students.
UND's medical school has been open for more than 100 years, but recently received state approval to build a new $124 million facility.  "We did some research and decided that this would be one of the best places to come and see how to build a brand new medical education center," Randy Eken, UND associate dean for administration and finance, said of visiting UCF. "The reputation of this school just made it an easy first choice to visit."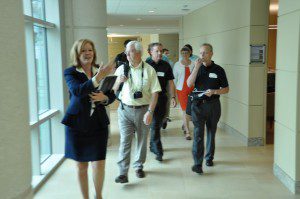 Eken was joined by fellow UND administrators, faculty members and department heads, along with a few architects who will plan the new building. The group spent the day touring UCF's Health Sciences Campus at Lake Nona, learning in detail the physical design and curriculum foundation of virtually every department and educational space. The tour was led by UCF College of Medicine Director of Resources Facilities Barbara O'Hara, who played a vital role in the planning and building of the Lake Nona facility  and knows what went into every room. The visitors came equipped with plenty of questions on educational technology, design and space planning.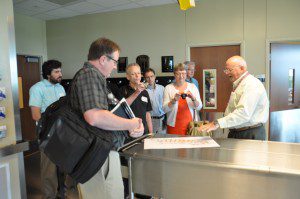 In the state-of-the-art Anatomy Lab, Dr. Andrew Payer, professor of anatomy, demonstrated the computer screens above every dissection table that provide interactive textbook materials, shared imaging and opportunities for students to get additional online information during dissections. One of the most striking aspects of the lab is the bright, open feel, and the panoramic view of Medical City. While most anatomy labs are located in the basement, the UCF College of Medicine placed the lab on the top floor, to honor the gift of those who will their bodies to science. "We probably have one of the best labs in the country, so they were able to go back with some good ideas." Dr. Payer said. "I could tell by their expressions that they were pretty much in awe." The North Dakota team also toured the Clinical Skills and Simulation Center, seeing high-tech mannequins and virtual patients that can mimic medical conditions and even, in the case of the mannequins, exhibit biological reactions like sweating and salivating.
The visitors were particularly interested in how the Burnett School of Biomedical Sciences is part of the medical school, as the UND will be integrating multiple health education programs under the same medical school.  They toured the Burnett Biomedical Sciences Building at Lake Nona and heard from Dr. Sampath Parthasarathy, associate director of research, on UCF's commitment to research in medical education.
The group will make one more stop before heading back to North Dakota. They are flying to Richmond, Virginia to visit Virginia Commonwealth University. The UND leaders said the UCF College of Medicine has certainly left an impression on them as they begin the journey of building their own new medical school. UCF is an extremely well-built and well-planned facility," Eken said. "You can tell the people took ownership of this place, and it really shows."
Post Tags