College of Medicine

Faculty News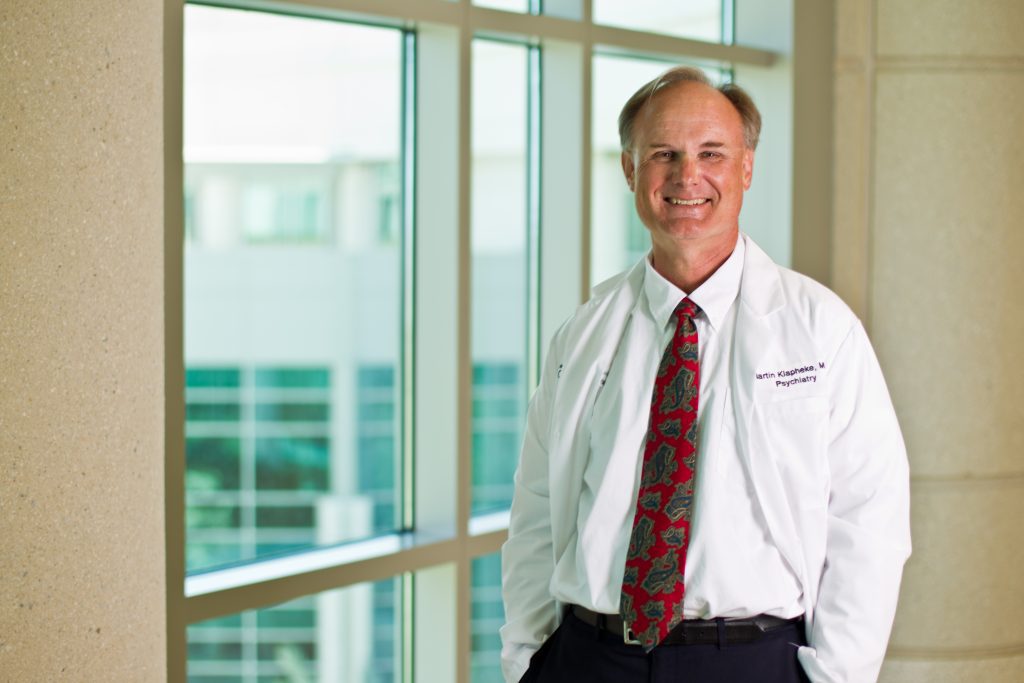 By 2025, the demand for psychiatrists in Central Florida will outnumber the available number of specialists by more than 2-1. But a new Central Florida-based psychiatry residency program hopes to change this.
The new program is part of the UCF College of Medicine-Hospital Corporation of America North Florida Division Consortium that hopes to add more than 600 residency slots to Florida by 2020. The addition of the psychiatry program, based in Osceola Regional Medical Center and the Orlando VA Medical Center, will increase the number of programs to 21.
Dr. Martin Klapheke, program director for the new residency and psychiatry professor at the UCF College of Medicine said the residency program will help meet the need for mental health resources, particularly in Central Florida.
"Physicians, in any specialty, tend to settle down and practice wherever they do their training, and there is no training program in the Orlando area," Dr. Klapheke said. "The physicians and faculty who are part of this new residency have a chance to make a marked impact on mental health care for decades. A number of them will hopefully settle here and beef up the mental health resources in Central Florida."
The 2014 Florida Physician Workforce Analysis forecasts a 55 percent deficit of psychiatrists in Florida in seven years. A National Council for Behavioral Health report suggests that nearly one-in-five Americans have a mental health condition and the number of patients going to emergency rooms for psychiatric services are increasing nationwide. Dr. Klapheke believes a nationwide increase in reported alcohol and opioid addictions as well as a reduction in the stigma surrounding mental health have contributed to this.
"Neuroscientific breakthroughs that help explain mental illness makes psychiatry less mysterious," Dr. Klapheke explained. "Now more people understand that it's not a moral weakness or lack of will power to get better; but that there is a basis for mental illness just like diabetes or any other condition. So people are less ashamed to seek treatment."
Dr. Klapheke was quick to note that the shortage of psychiatrists was not due to lack of interest in the field. Within days of its announcement, the new residency program had received 1,700 applications for the six available positions.
Erin Myers is one of the six residents set to join the new program. She will receive her M.D. from the Medical College of Wisconsin in the next few weeks and is looking forward to training in Central Florida. She felt the urge to practice psychiatry after seeing so many patients with underlying mental health issues during her clinical rotations.
"I was nervous about starting in a brand new program," Myers said. "But when I had my interview with Dr. Klapheke, I realized how passionate he was about psychiatry and serving the population of Central Florida, and that made me feel that I wanted to be a part of this."
"I feel like joining this program is a really great opportunity to build something from the ground up that could help a lot of people," she added.
This year, close to 4,000 graduating medical students applied for 1,556 psychiatry residency spots in the National Match program.
"There are just not enough training programs. So the UCF-HCA consortium is doing its part, with this new program and we're moving in the right direction," said Dr. Klapheke.
"We looked for students who have a bit of a pioneering spirit," he said. "Whenever you set up a new program, there are going to be kinks, growing pains, things that don't go the way you hope and we wanted a group of residents that could be flexible, adaptive, and roll up their sleeves to work alongside us to help make this the best program possible."
Residents will start orientation late June and start their first day of training July 1.
Post Tags
GME

graduate medical education

klapheke

psychiatry

psychiatry residency

residents