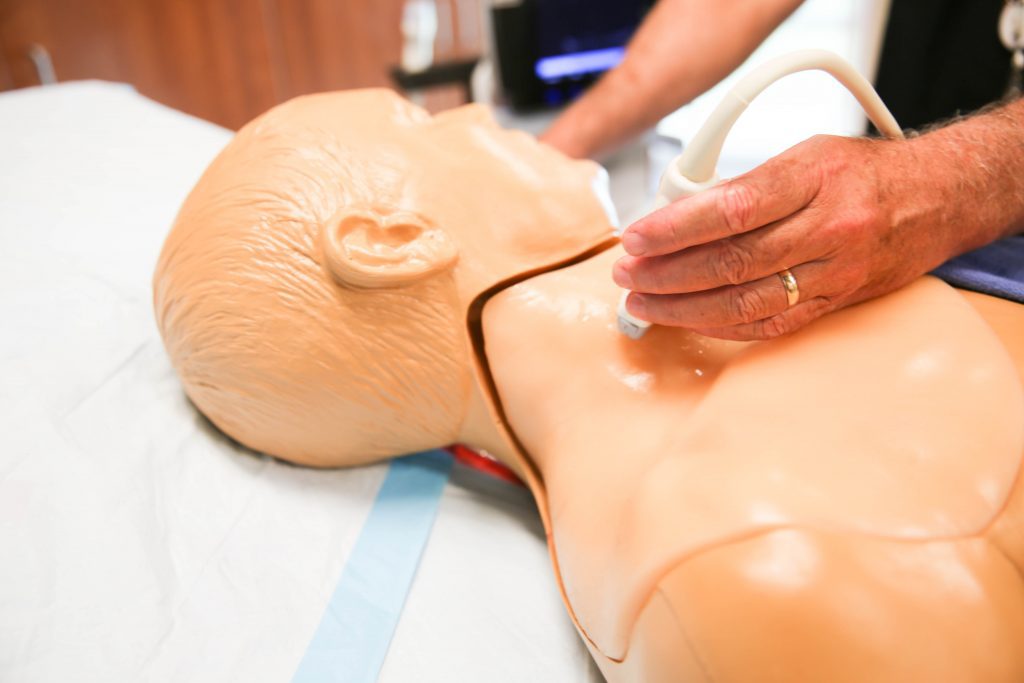 Seeing patients for the first time can be a nerve-wracking experience for medical students. So, a new training program geared toward giving third and fourth-year students additional practice time on "dummy" patients is providing them with the skills to tackle challenging procedures.
The students can practice on patient "manikins" – or jointed models of the human body – that can mimic symptoms, bleed and even speak.
The program, titled "Procedures & Skills Practice Sessions" or "PSPS," was started in response to students requesting more clinical experiences before treating real patients in hospitals and clinics on rotation. It offers five procedures: venipuncture, IV placement, lumbar puncture, central line placement and intubation.
In the lab, instructors can control the heart rates, oxygen levels, blood levels, breathing and simulate real-life medical situations and emergencies on three different manikins, adult male and female as well as a child.
"I found the clinical skills session very helpful," third-year medical student Tuleagh Innes-Gawn said. "It was very useful to get to learn practical skills on a manikin before performing them on a real patient."
Dr. Christopher Gallagher, professor of anesthesiology, said the complexity of the patient cases changes based on the education level of the student and that he helps the students work through each case to prepare them for the real thing.
"If you make a mistake … it's not going to hurt them," he said. "We can take a timeout and figure it out."
Based on the initial interest in the program from students, Dr. Gallagher says he hopes that the course will be offered every year to help ease students from the classroom to a clinical setting.
Dr. Analia Castiglioni, assistant dean and medical director of clinical skills at the UCF College of Medicine, said that it's always important to give students as much exposure to medical procedures as possible while they're in the safety of the simulation lab.
"It gives motivated students, or those interested in procedure-based specialties, a chance to review the equipment and steps involved in different advanced medical procedures," she said.
Post Tags