Burnett School

College of Medicine

Faculty News
Music helps patients heal, from preventing seizures to easing their pain, and on May 11, scientists gathered at the UCF College of Medicine to learn the the medicinal power of music and its everyday application to science.
"Music cannot be a neurosurgeon, but music has a strong power," said College of Medicine neuroscientist Dr. Kiminobu Sugaya, who helped plan the "Music and the Brain" event. Dr. Sugaya actually teaches a "Music and the Brain" course with Dr. Ayako Yonetani in the UCF Honors College. Saturday's event offered the public an opportunity to learn more about the science of music during the three-hour symposium. As participants listened to Dr. Sugaya's words on neuroscience , the sounds of violin music played by Dr. Yonet played in the background.
"Music and the Brain" was held in conjunction with the newly formed Central Florida Society for Neuroscience, which is working to unite scientists whose work relates to the brain.
"We try to bring all the neuroscience forces together at UCF to make these things happen." Dr. Sugaya said. "Today was just a kickoff, and we want to provide more and more visibility to our area."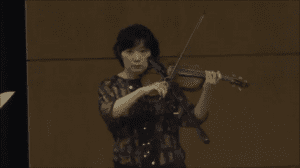 Dr. Sugaya explained the many effects that music can have on humans, including preventing seizures (or actually causing them), and reducing pain. He showed video containing various types of music to show how they evoke vastly different emotions. Some clips showed people who were able to achieve painful feats like body piercing, without feeling any pain, because they were listening to music.
Dr. Sugaya also presented evidence of how music can improve symptoms for patients with Parkinson's and Alzheimer's disease improve. One Parkinson's disease patient who could hardly walk was able to complete tasks much more quickly when music was played, and could even dance.
The local Society for Neuroscience chapter is hoping to illustrate how many different fields are applicable to Neurology. From computer science to anthropology, the society's graduate student president, Max Jackson says all fields have something to contribute. "We believe that neuroscience is only going to grow in its importance," he said. "As it becomes much more culturally salient, we want to bring as many perspectives into the fold as possible."
The group hopes to hold more events like "Music and the Brain" to increase membership, and educate the public on the relevance of neuroscience in their everyday lives.
Post Tags