Burnett School

Cancer Division

College of Medicine

Faculty News

Research

UCF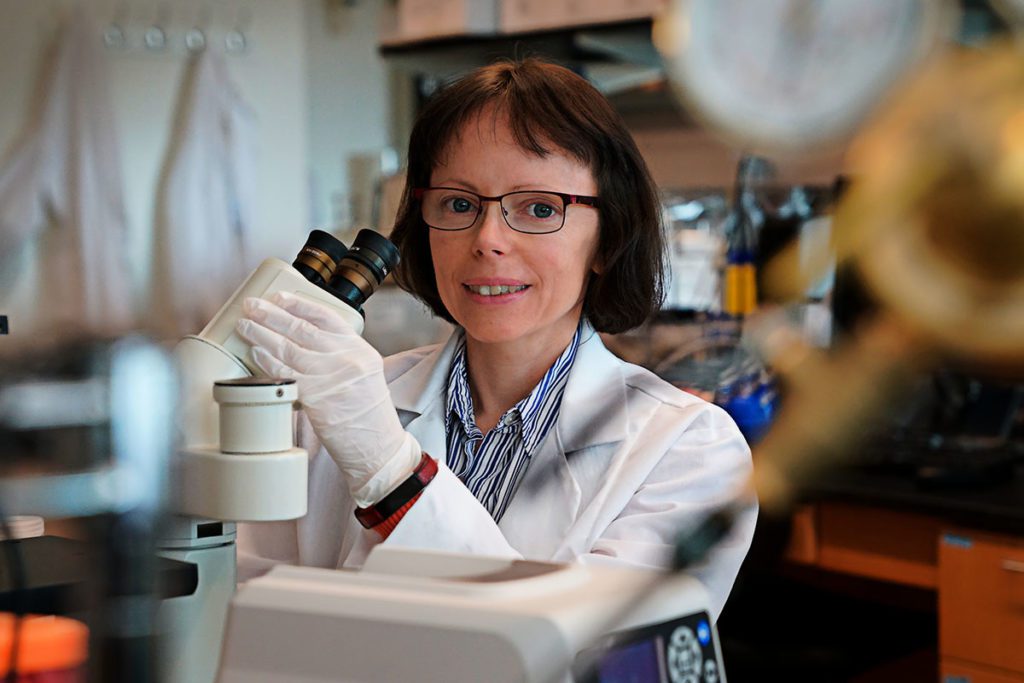 An immunity-boosting technology developed by the College of Medicine is being tested as a potential weapon in the fight against COVID-19.
UCF cancer researcher Dr. Alicja Copik created the therapy that stimulates the body's natural killer (NK) cells with nanoparticles to increase their numbers and killing ability.  Kiadis Pharma, one of the world's largest pharmaceutical companies, has licensed the technology and has it in clinical trials as a therapy for cancer. Now, with $9.5 million in funding from the Department of Defense and the Advanced Regenerative Manufacturing Institute's (ARMI) BioFabUSA program — which specializes in tissue engineering — Kiadis has begun clinical trials using NK cell therapy as a potential treatment for COVID-19 patients with weakened immune systems. The study will also see if the therapy protects high-risk patients against respiratory infections like influenza, either alone or in combination with vaccines and antibodies.
"We've lost more than 200,000 Americans from this terrible disease and so there is a great need to develop innovative medicines,' said Dr. Robert Igarashi, Kiadis' vice president of discovery and preclinical development and a former UCF College of Medicine faculty member. "We know the body's natural killer cells surveil and suppress the virally compromised cells, so then we considered the potential of our NK cells as a possible therapeutic for COVID-19. And in our current situation, nationally and internationally, what better time could there be to apply this because there are so many people in need of innovative medicines to fight this pandemic."
"We've lost more than 200,000 Americans from this terrible disease and so there is a great need to develop innovative medicines."

Dr. Robert Igarashi, vice president of discovery and preclinical development at Kiadis.
Dr. Copik has spent her career investigating NK cells, the body's first line of defense against disease. "The NK cells are like the immune system's assassins," she explains. "With our technology, we supercharge them with nanoparticles to not only increase their numbers but we make them deploy with bigger and heavier guns to better target and kill the bad guys which are invaders like viruses and tumor cells."
Dr. Igarashi was a part of Dr. Copik's team of researchers who developed the NK cell technology in 2016. The researchers later co-founded the company CytoSen to take the concept to market. In 2019, CytoSen was acquired by Netherlands-based Kiadis Pharma, which is now in clinical trials and hopes to see if the amplified NK cells have the ability to enhance a patient's antiviral immunity against COVID-19 and other viruses that could cause pandemics.
Dr. Igarashi explained that the vast majority of COVID-19 patients have lymphocytopenia, or a shortage of lymphocytes – a type of white blood cell that helps protect the body from infection. The severity of the COVID-19 infection has been correlated to a reduction in the number of NK cells, a type of lymphocytes, in the body. The clinical trials are determining if injecting energized NK cells into ill patients can help them fight COVID-19.
Kiadis is working in partnership with the Abigail Wexner Research Institute at Nationwide Children's Hospital in Columbus, Ohio. That institute received approval for an Investigational New Drug from the U.S. Food and Drug Administration to study the treatment of viral infections like COVID-19 with the NK cells therapeutic. Dr. Igarashi said the potential drug therapy is currently in phase one of clinical trials and could take several years before the drug is approved.
Post Tags
Alicja Copik

COVID-19

nk cells