College of Medicine

Medical

Students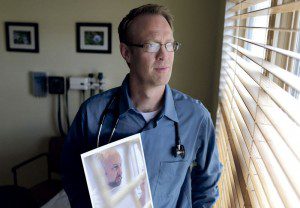 The UCF College of Medicine played host to Dr. Ben Gilmer, a North Carolina physician who was caught up in a murder mystery and a case blown open by his own startling medical diagnosis. Dr. Gilmer's story was featured on the PBS radio show "This American Life," where it caught the ears of some UCF medical students. "A classmate shared the broadcast with me and we knew we had to get this guy here," said second-year student Farrah Dosani, who worked as a PBS reporter before coming to medical school. "Back in August, I wrote a letter to Dr. Gilmer, and he was actually happy to come."
Farrah is active with the student Narrative Medicine group that hosts several events throughout the year focusing on the human stories behind medicine.  In Dr. Gilmer's case, students learned  through his story how to look beyond their pre-conceived notions to deliver a more accurate and thoughtful diagnosis.
Dr. Gilmer began his first job out of residency at a small family practice in the mountains of Western North Carolina. His predecessor, Dr. Vince Gilmer, had recently been convicted of strangling his own father to death, and cutting off his fingers. Those who knew Vince Gilmer before the murder described him as a kind and caring doctor who was "as solid as a rock," leaving Ben Gilmer even more puzzled as to why the man would commit such a crime. "There was a really bizarre dissonance between this very loving, incredible doctor and this monster who did this awful thing," he said. "I was totally paranoid stepping into his boots."
Ben Gilmer also began to notice some eerie parallels between the two. Both men shared the same last name, even though they were not related. Both were the same age – 40 – when they started at the practice. As Ben heard stories from Vince's former patients, he became concerned about the murderer's mental health and decided to visit him in prison.
Ben says he encountered a man who was profoundly anxious, paranoid, had a shuffling gait and facial tics. Law enforcement officials were sure Vince was faking his symptoms, but Ben was not convinced, so he decided to call on colleagues for help. "When you're in doubt about a patient, phone a friend," Ben told the students. "So I phoned my friend Steve Buie, who is a fantastic psychiatrist." Ben returned to the prison with his colleague, who suggested that the symptoms might be associated with Huntington's disease.
Huntington's is a neurodegenerative condition that is passed down through generations. Symptoms include behavioral disturbances, paranoia, facial tics and an unsteady gait—much like what Vince displayed. Ben was able to convince a forensic psychiatrist with the corrections system to test Vince for the disease—and the results were positive. "What do you do when you have a prisoner—not even a patient—and you think they may be in there for the wrong reason because they have a diagnosis that was never made?" he asked. In addition, Ben believes Vince was also suffering from depression, Post Traumatic Stress Disorder (PTSD) from an abusive childhood at the hands of his father, and even a concussion from a recent car accident. Ben called the mix a "perfect storm for disaster."
Since the diagnosis, Vince has been put on selective serotonin re-uptake inhibitors (SSRIs,) an anti-depressive medication he had been requesting for 10 years while in prison. Ben says that Vince's condition has changed drastically thanks to the medication, and he is working with The Virginia Innocence Project to have Vince released from prison, and put into a mental facility that better suits his needs.
Ben used his experience to offer advice to UCF medical students on diagnosing patients. "It's pleasurable for your brain to go straight to one diagnosis. It expends less energy, and you feel smart", he said. "It's an art to come up with a differential and try to mold it and work with it."
Students said Dr. Ben Gilmer's thoughtfulness and altruistic spirit mirrored "The Good Doctor: A UCF Tradition" that Dean Deborah German presents to first-year students each year at their White Coat ceremony. In it, Dr. German asks students to list all the characteristics of the doctor they would want caring for a beloved friend or family member and then writes the traits on a chalk board. The traits of The Good Doctor become the students' contract with the medical school.  "It really came to mind the "Good Doctor" mantra that has been instilled in us," second-year student Grace Logan said of the Narrative Medicine presentation. "Dr. Gilmer was advocating for his patient and really going far lengths to be the best doctor that he could be."
Post Tags