College of Medicine

Faculty News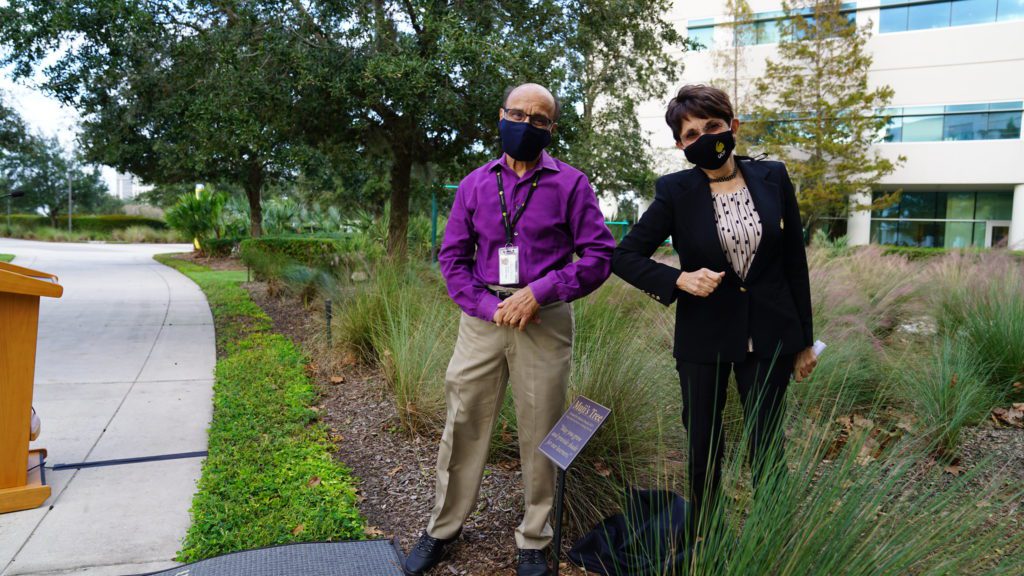 A young Southern hickory tree, nestled among the landscape at the College of Medicine's Lake Nona campus, honors a founding faculty member who retired this year after helping to create a nationally recognized pathology curriculum and inspiring colleagues and students with his caring spirit.
The medical school unveiled "Muji's Tree" in recognition of the 10-year service of Dr. Mujtaba Husain. The physician educator, known for running up and down the stairs of the medical school to train for running competitions, won the tree at a race and donated it to the college. A plaque, unveiled Nov. 18, stands near the tree between the Medical Education and Burnett School of Biomedical Sciences buildings and reads, "May you grow and provide shade to our learners."
"He donated the tree be a permanent part of our campus and I can think of no more appropriate gift," said Dr. Deborah German, vice president for health affairs and founding dean of UCF's medical school. "This tree will bring life to our college – and that's exactly what Dr. Husain did."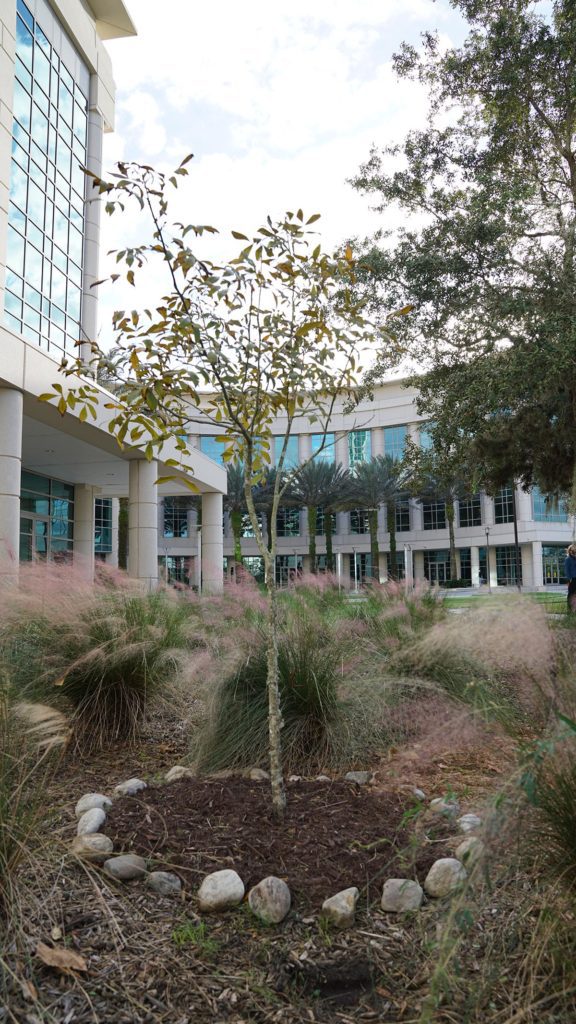 Colleagues gathered to unveil the plaque during a physically-distanced ceremony because of COVID-19. So many people wanted to speak that Dr. Jonathan Kibble, assistant dean for students, joked that the ceremony was going to last past sunset. All who spoke talked about Dr. Husain's kindness, his appreciation for staff, his words of encouragement during difficult times, and his wise counsel.
Dr. Martin Klapheke, assistant dean for medical education, spoke of training for mountain climbing with Dr. Husain, and how the two went to the medical school on weekends and ran up and down the four flights of stairs before visiting Clermont to try and find a hill to climb. "Florida is a heck of a place to train for mountain climbing," he joked, noting that the two had climbed Mount Hekla in Iceland "I called it Muji's mountain" and then the Inca Trail in Peru.
Born in Pakistan, Dr. Husain came to the United States for his medical training and did his residency at Deaconess Hospital and the University of Missouri Medical Center. Before joining UCF, he was a faculty member at Wayne State University.
At UCF, he developed and helped teach the pathology curriculum for the systems-based modules and helped create the medical school's nationally recognized Anatomy Lab, where first-year students act as detectives to determine the cause of death of their first patient, a cadaver. "You are one of our most committed teachers," said Dr. Richard Peppler, vice dean and associate dean for faculty and academic "with a passion for teaching students to think like a doctor from Day One. Every one of our 700-plus graduates carries some of your DNA."
UCF named Dr. Husain professor emeritus when he retired in June. He will continue to serve the medical school as a volunteer faculty member and has ready been teaching in this year's Anatomy Lab module.
He said he was "overwhelmed and humbled" by the tree dedication ceremony and his colleagues' remarks, adding that what set UCF apart from all of his other medical schools was how faculty, staff and administrators work so closely "to build something together."
Post Tags
dedication

husein

memory

tree