Burnett School

College of Medicine

Students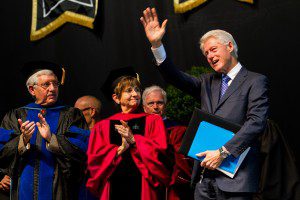 A total of 237 students graduated from The College of Medicine's Burnett School of Biomedical Sciences on May 2.
The graduates included 229 undergraduates and eight Master's and Ph.D. recipients, who studied at UCF in preparation for an array of science careers. A number will be headed to professional programs such as dental, medical or pharmacy schools, including 20 who will enroll in the UCF College of Medicine this fall.
Biomedical Sciences is UCF's second most popular major and continues to grow as more students seek career opportunities in healthcare. The Burnett school graduates were among 7,800 students who will participate in commencement activities May 2, 3 and 4. Former President Bill Clinton was granted an honorary doctorate at Thursday's commencement. His address detailed the need for improved health care, and research partnerships to make it happen. "I love this place…it's big, diverse, energetic and focused on the future," Clinton said. "The successes of UCF are all a testimony to the fact that no matter how smart we are, how righteous we are, how close to the truth we are, we all do better when we work together." Clinton looked back on his time as president, and how he allocated billions of dollars to human genome mapping. The massive undertaking continues to contribute to health technology today. It was a particularly poignant message for the Burnett school's graduates, who begin their futures as leaders in science and healthcare.
Burnett School Graduate and future UCF College of Medicine student Angela DelPrete spoke to Orlando's WFTV News about Thursday's ceremony. "To have such a huge former president give us so much respect, it really says a lot about our school and how much of a name we've made for ourselves."
Commencement is "one of the joys of being a faculty member," said Dr. Richard Peppler, interim director of the Burnett school and associate dean for faculty and academic affairs at the medical school. "To see students come in a bit unsure of themselves, and watch them develop self-confidence with the foundations they need for their future careers." It is an ongoing mission of the Burnett school to expand course offerings to meet the needs of the modern workforce and help develop technology-based industry in Florida. The Medical Laboratory Science Program, which trains scientists who work in hospital and clinic labs, consistently has a job placement rate of at or near 100 percent. And the Burnett school is working with the UCF College of Business Administration to offer a joint MBA/Ph.D program for students who are interested in the business side of healthcare.  "We're going to continue to improve so we can provide the best educational experience for students," Dr. Peppler said. "Not just when they're here, but to train them for when they go out into their professions."
Post Tags