Burnett School

Faculty News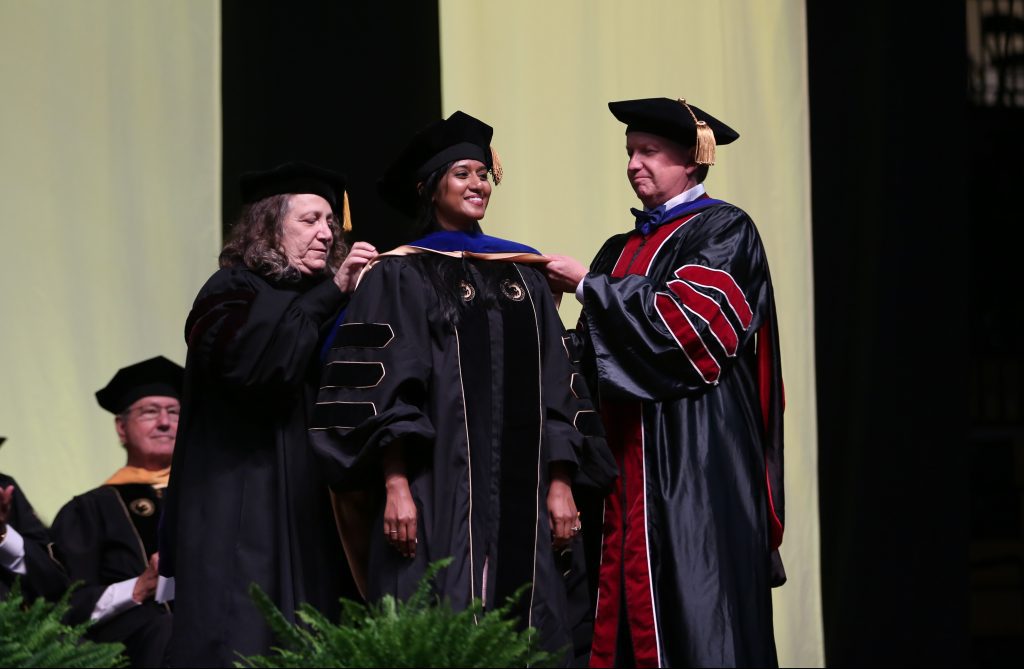 Joanne Tejero's graduation cap said "Hardly Phinished" with an emphasis on "Ph" and "D," honoring the next step of her journey to complete a doctorate in biomedical sciences.
Tejero, who graduated with a double major in biomedical sciences and health sciences, was one of 248 students who graduated from the College of Medicine's Burnett School of Biomedical Sciences on Thursday, May 3. Students collected 227 bachelor's degrees, including 45 with university honors, 18 master's degrees and three Ph.Ds.
At UCF, Tejero did immunology research with Dr. Kai McKinstry, assistant professor and immunology researcher at the Burnett School. She researched the effects of cigarettes smoke on cells in the immune system and its implications for conditions like Crohn's disease, which is characterized by an overactive immune system.
"I love research because I like applying the scientific method," she said. "It's a lot of critical thinking and requires having a lot of confidence in yourself, because there will be a lot of times that experiments fail and you have to rethink, keep going and then in the end it's so rewarding when you do get those good results."
Former Florida Governor Jeb Bush was the commencement speaker for the Burnett School ceremony and received an honorary doctorate degree in public service. Bush was instrumental in working with the Florida Legislature to approve UCF's College of Medicine in 2006.
"You have and continue to be a friend and champion to the University of Central Florida," said UCF President Dr. John Hitt, who retires in June after 26 years leading the university. "Your support of the UCF College of Medicine was critical for its approval."
In his address to the graduates, Governor Bush said it was a privilege to work with President Hitt to bring the medical school to Central Florida.
"Under the leadership of Dr. Hitt, that school is making a huge difference in producing first rate physicians and collaborating with research institutions of world renown," he said.
Class of 2018 M.D. graduates will collect their diplomas on May 18.
The College of Medicine is unique nationally because it includes the Burnett School, which offers undergraduate degree programs in biomedical sciences, biotechnology and medical laboratory sciences. The bachelor's degree prepares students for medical, veterinary, and other related professional schools, or to continue post-graduate studies to become research scientists.
Naomi Fix, who graduated with a bachelor's in biomedical sciences, thanked UCF for preparing her for the next step of her journey in veterinary school.
"I know that when I leave UCF I will be prepared for whatever lies ahead of me," she said. "I want to stand up for those who don't have a voice. Animals can't tell us when someone is being cruel to them, so I want to be able to be that voice for them."
Camille Dos Pueblos also graduated with her bachelor's in biomedical sciences and wants to go to pharmacy school. She said commencement day was even more special as she recalled her mother's breast cancer diagnosis in the final years of her undergraduate studies.
"It was hard because I had to juggle life, work and school," she said. "But now my mom is cancer-free and couldn't be more proud of me."
Post Tags