College of Medicine

Faculty News

Medical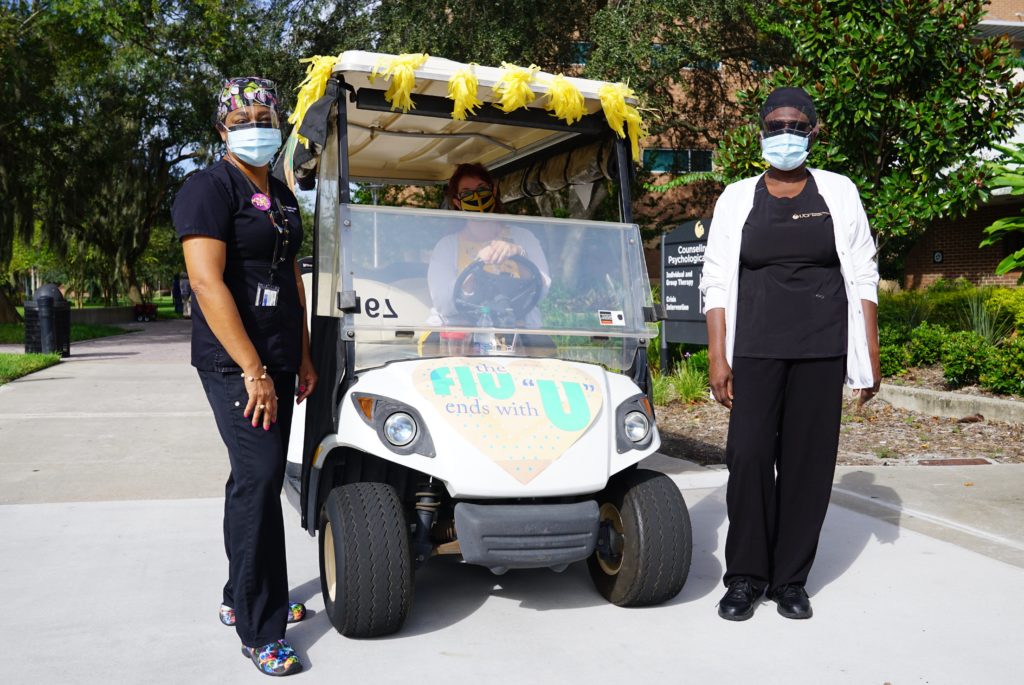 UCF's clinical leaders gathered Monday to give the community a simple message: Get your flu shot. And then they rolled up their sleeves and were vaccinated at a new mobile flu shot golf cart that's making the rounds on campus to protect even more people from the virus.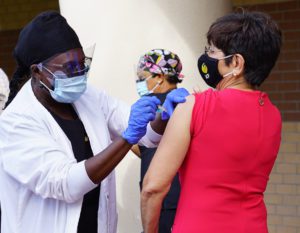 Drs. Deborah German, vice president for health affairs and dean of the College of Medicine, Michael Deichen, leader of UCF Student Health Services, Mary Lou Sole, dean of the UCF College of Nursing, and Christopher Ingersoll, dean of the College of Health Professions and Sciences (CHPS), said the COVID-19 pandemic makes it more important than ever for everyone to get a flu shot. While the flu vaccine won't protect you from COVID-19, Dr. German emphasized, it will keep you from catching the flu or minimize symptoms if you do get infected. That, she said, will will help curb the spread of the virus and save hospital bed space and healthcare resources for those infected by COVID-19.
"If we do this, we'll be safer from the flu and better prepared for the pandemic," she said.
German, Deichen, Sole and Ingersoll are the leaders of UCF's new Academic Health Sciences Center, which unites all of the university's clinical programs. One of the goals of the AHSC is to located many of UCF's health-related programs to the Health Sciences Campus at Lake Nona to increase multidisciplinary medical education, research and patient care.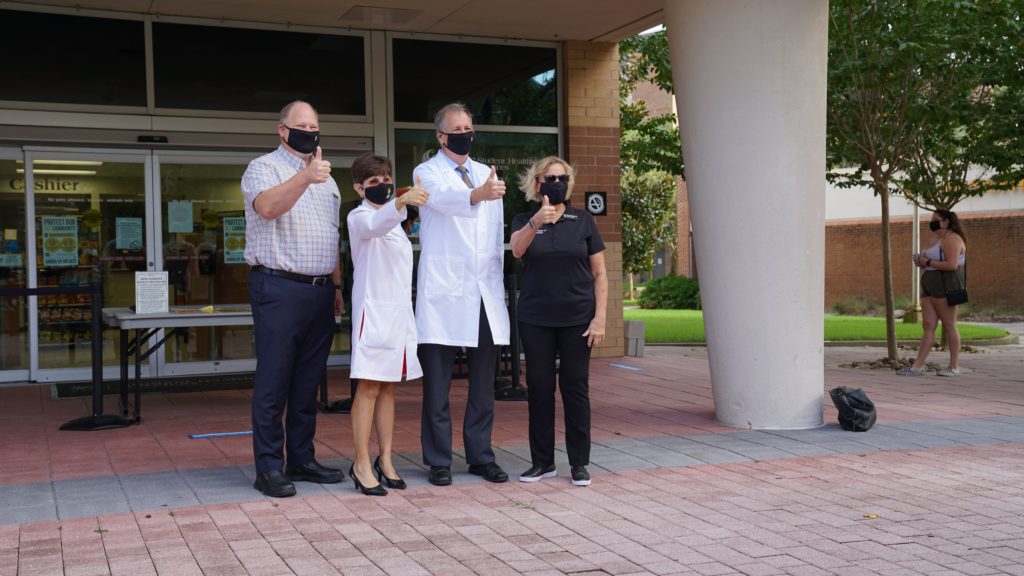 Student Health created the mobile unit to make flu shots more convenient for students, faculty and staff as they go to work or class. You don't need an appointment. You just flag down the cart. Student Health lists on social media where the cart will be located, and through social media students, faculty or staff can request it comes straight to them. Flu shots are free to students and faculty/staff with insurance plans accepted by UCF.
"We want to keep UCF safe and healthy," German said. "All you have to do is flag down the golf cart. It doesn't get any simpler than that."
Deichen said Student Health is also organizing a drive-through flu shot event. Patients can also request to be vaccinated as part of their scheduled in-person appointment, or via walk-up accessibility outside of the building.
The CDC recommends everyone over 6 months of age get a flu shot with very rare exceptions. The AHSC leaders urged people to get their flu shots soon because it takes your body two weeks after the vaccine to create protective antibodies. The best time to get a flu shot is in the early fall – before an outbreak hits. Health officials are concerned because the flu and COVID-19 will be active this fall and winter – all at the same time. Both are especially dangerous for the elderly and those with pre-existing conditions like heart and lung disease and diabetes.
Sole said getting a flu shot is every nurse's responsibility. "Nurses are the front-line healthcare providers. It is our duty to protect our patients from harm and promote their well-being. Getting the flu shot is an essential part of this nursing advocacy," she said. "A flu shot helps to protect us, our families, and our patients from a respiratory illness that can be deadly."
Ingersoll, whose college includes programs like Athletic Training, Social Work and Physical Therapy, agreed. "It is especially important for everyone to get their flu shot this season, not only for yourself but for your loved ones," he said. "Don't put it off, go today!"
Post Tags
deborah german

flu

flu season

flu shot