Burnett School

Cancer Division

Cardio-Metabolism Division

College of Medicine

Neurodegenerative Division
Kelvin Chaplin thought about applying his scientific mind to solving crimes – until he met a cancer patient whose disease had spread from his lungs to his brain. "I saw his suffering," said the incoming Ph.D. candidate at the College of Medicine's Burnett School of Biomedical Sciences. "Every day I thank God for my health. That's what I want for others."
Chaplin is one of 66 new graduate students who began their studies at the medical school this week – almost double the number from last year. They come from 25 U.S. states and 14 countries.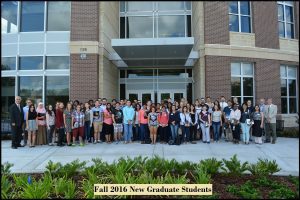 This year's incoming students exemplify several firsts, including 17 master's candidates enrolled in a new neuroscience program and the college's first M.D./Ph.D. candidate.
"We are thrilled to welcome these young scientific leaders to the medical school family," said Dr. Deborah German, vice president for medical affairs and dean. "These students share a passion for discovery and health, and our goal is to help them work hard and achieve their dreams."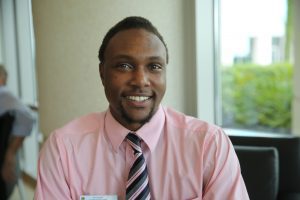 Chaplin (below left) was raised in South Carolina and before coming to UCF did his undergraduate work at that state's Claflin University. He sang in a local Baptist church organization, "Full Gospel," which gave him the opportunity to get active in the community and perform at local events. He is the winner of a McNair Doctoral Fellowship, designed to help increase the number of African American Ph.D.s. As part of his McNair experience, he shadowed a physician and saw the CT scan of a patient whose cancerous tumors had metastasized.
"That patient touched me," he said. I kept thinking, 'What did he do to deserve this?' I don't like to see people in pain. I had thought about forensic science before but now I wanted to develop cures, vaccines even, for cancer. I want to see people healthy."
Chaplin is excited because the Burnett School's Ph.D. candidates spend about a year rotating between labs so they can find their niche. In addition to cancer research, he's also interested in infectious diseases such as AIDS.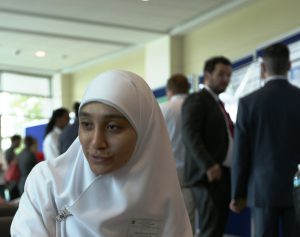 Incoming Masters student Nada Abdelmaksoud (right) received an undergraduate and master degree in pharmacy at Zagazig University in Egypt and is now seeking an M.S. degree from UCF in biotechnology. Her first Masters thesis compared brand and genetic antibiotics. Her goal at UCF, she said, is to expand her scientific and research knowledge to find better chemotherapy treatments for cancer. "You need to have collaborative opportunities between departments and specialties so you broaden your knowledge," she said. "Expanding my knowledge of cell biology will give me a chance to deal with other fields."
Ultimately, Abdelmaksoud wants to run her own lab to find new cancer therapies.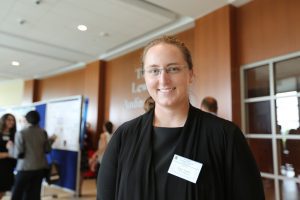 Masters candidate Kaley Garner (left) credits a UCF faculty mentor with getting her interested in heart disease and using new technologies to provide better care. While a biomedical sciences undergraduate, Garner worked in the lab with the College of Medicine's Dr. Dinender Singla in exploring how 3D printers can be used to model disease states and even protect cells inside the body. Today, an Orlando pediatric cardiac surgeon is using UCF's 3D heart to improve surgeries. And Garner's experience as a young scientist has her excited about the future. "Dr. Singla has been my inspiration," she said. "The more I learn about the heart, the more fascinated I am. I love a challenge. And this research has become a very big challenge."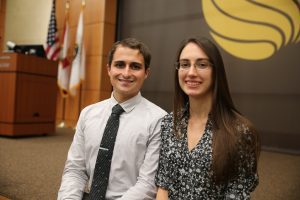 Science is a family calling for fiancés Michael Rohr and Trina Rudeski (right). He's the College of Medicine's first M.D./Ph.D. candidate who wants to become a physician scientists who treats patients with diseases of the pancreas, gall bladder and liver – like diabetes and cirrhosis. She is a Masters student in biotechnology, has done research with a Nobel laureate and hopes to attend medical school in conjunction with Rohr's seven-year path to two degrees.
Both like the outdoors and exploring Florida's natural environments. Because both were raised in South Florida, Central Florida's environment – including a recent trip to DeLand's Blue Springs State Park – has been fascinating. "The environment up here is so different," said Rohr. "We're trying to figure out our schedules so we can have time to be explorers."
Both graduated with honors from Florida Atlantic University. Rudeski did neurology research with Nobel laureate Dr. Bert Sakmann at the Max Planck Florida Institute of Neuroscience. Her undergraduate degree in liberal arts and sciences had concentrations in biology and psychology. The two said they were drawn to UCF's College of Medicine because of its focus on collaboration between science and medicine and because of opportunities in the growing Medical City where both will study. Ultimately, they hope she can get into medical school after her M.S. degree and in seven years the two can couples match into residencies together. For now, they say, they're working on figuring out how to juggle their schedules between graduate and medical school.
Post Tags