Burnett School

College of Medicine

Communique

Faculty News

Population Health

Research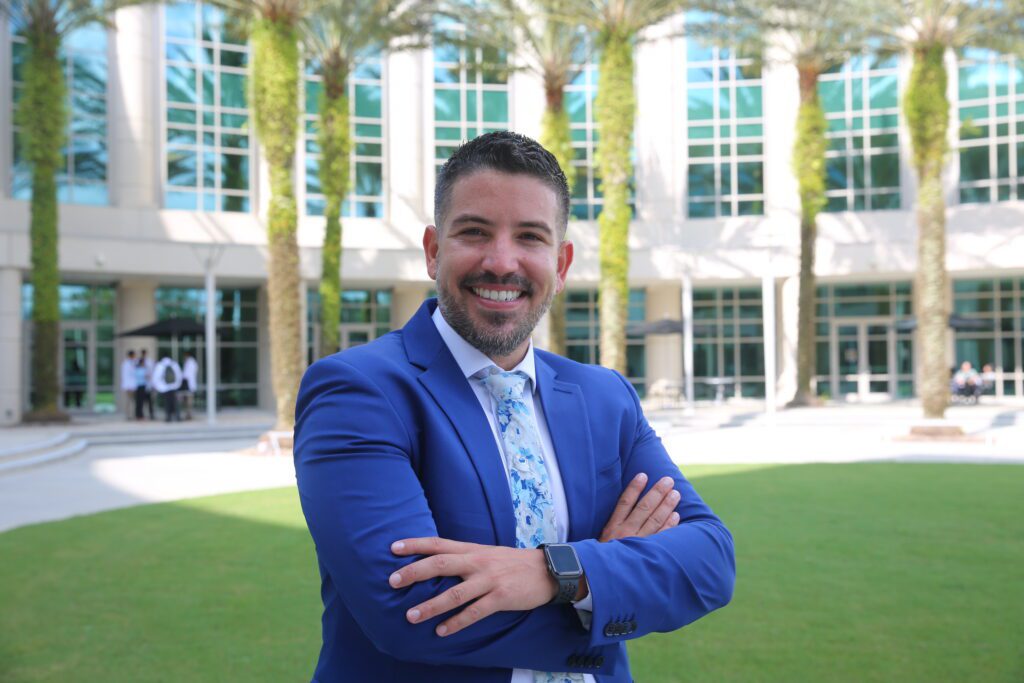 A researcher who has dedicated his career to addressing societal issues that cause higher rates of disease – including cancer, HIV and substance abuse – among systemically and structurally excluded populations has joined the UCF College of Medicine's Population Health Sciences Department.
Associate Professor Omar Martinez's training in public health, law and clinical research methods make him "a highly accomplished star in the field who can help our community address healthcare disparities, particularly within the Latinx community," said Dr Eric Schrimshaw, the department's chair. "In particular, his skills in designing and implementing public health interventions will enhance our ability to translate our research into services and interventions to benefit Central Florida."
Martinez comes to UCF from Temple University's College of Public Health, where he created multi-level community interventions to address the healthcare needs of the medically underserved. He has earned more than $3 million in research grants, including multiple National Institutes of Health awards. A recent grant will allow him to develop outreach programs for Latinx women to increase their screening for HPV – the virus that causes cervical and other cancers. Latinas in the United States are 30 percent more likely to die from cervical cancer than non-Hispanic whites.
He has authored more than 80 peer-reviewed studies and serves on multiple boards and non-profit organizations, including Women Organized Against Rape (WOAR), Philadelphia's only rape crisis center and one of the first in the nation, that offers a 24-7 crisis counseling hotline.
He joins the College of Medicine's young Population Health Sciences Department, whose faculty are conducting research on issues including COVID-19, higher breast cancer death rates among women of color, substance abuse, suicide and preventative programs to stop the spread of HIV/AIDS. Orlando has one of the highest rates of new HIV infection in the country and Latinos are disproportionately impacted by the HIV epidemic in Orlando and nationwide.
The department is also working to begin a masters of public health (MPH) program to train the next generation of population health leaders – another of Martinez's passions. He serves on multiple organizations designed to increase the diversity of population health researchers and to help the field of medicine understand the need for more diverse research topics and participants. He has teaching experience in topics that will support the MPH curriculum, including research and methods, health policy, health equity and implementation science. He said the College of Medicine's theme of training M.D. candidates to be one of "The Good Doctors" inspires him.
"To be 'The Good Doctor' means recognizing and addressing the upstream factors that harm health," he said. "Your neighborhood matters. Your environment matters. Where you were born matters. Empathy, understanding and caring for the other are key to being a researcher, a physician and a community member."
He is currently developing and studying a program that includes legal services in the ongoing medical care for patients with HIV. The goal of the study is to see if legal assistance for "health-harming" issues like immigration status, landlord-tenant disputes and name changes for transgender patients can improve overall mental and physical health. By addressing such legal challenges, Martinez believes patients will be more empowered to improve their physical health and better follow treatment plans.
A community-based participatory researcher, he has created bilingual HIV prevention programs for gay, heterosexual and transgender individuals and leads an NIH study to develop organizational partnerships to help healthcare groups better serve people living with HIV.
His Implementation Science Research Lab has developed a national and international reputation for conducting high-impact health disparities research and for providing a unique venue for training the next generation of behavioral researchers. The lab focuses on research to enhance the development, uptake, effectiveness and efficiency of evidence-based interventions and policies within clinical and community settings to improve population health and reduce health disparities.
Martinez completed his master's degree in public health, juris doctorate at Indiana University-Bloomington, as well as a master's degree in clinical research methods at Columbia University Mailman School of Public Health. He completed a National Institute of Health postdoctoral research fellowship in behavioral science research in HIV prevention at the HIV Center for Clinical and Behavioral Studies at Columbia University and the New York State Psychiatric Institute.
Post Tags
HIV/AIDS

Omar Martinez

population health