College of Medicine

Students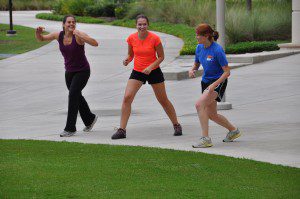 Students at the UCF College of Medicine are demonstrating their commitment to health and wellness by participating in circuit workouts on the front lawn of the Tavistock Green.  Students say the goal of the exercise program is to help them stay active while managing a grueling medical school schedule.
The Thursday afternoon workouts are the brain child of second-year student, Christin Giordano, who is no stranger to fitness challenges. She recently formed a "Tough Mudder" team with her classmates, who will participate in a 10-12 mile, high-intensity obstacle course. The team is currently preparing for a November event in Tampa that will benefit the Wounded Warrior Project, "I decided to do Tough Mudder back in March as a way honor the memory of my father," said Giordano, who lost her father in December. "My dad was very involved in the military."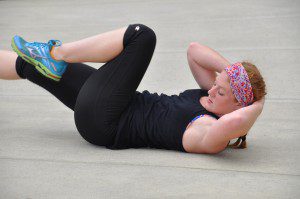 While preparing for her next race, Giordano reached out to the College of Medicine's Wellness Through Fitness (WTF,) a student group that was formed earlier this year. Both groups have teamed up to make the weekly workouts a possibility. "We just want to promote fitness for all levels," said Ashley Franklin, communications director for Wellness Through Fitness. "We ask for people to give us ideas, and we'll help them advertise and create the opportunity."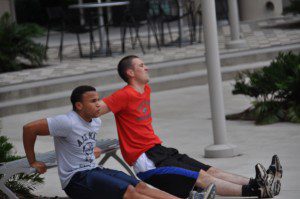 Despite their full schedules, these students say they want to remain committed to staying healthy. As aspiring health professionals, they hope to inspire their future patients to do the same. "If we create opportunities while we're busy medical students, we can tell our patients what we've done in the past and what's worked for us." Giordano said. "If you can be a good example, you're really promoting eventual patient care."
The group kicked off the weekly circuit workouts during the first week of school, and hopes to add more activities as the school year goes on. They want to increase their members to include faculty, staff, local schools and charity organizations. Many of the students have already joined pathology professor Dr. Mujtaba Husain, who is known for running the stairs at the College of Medicine to stay fit.
Post Tags