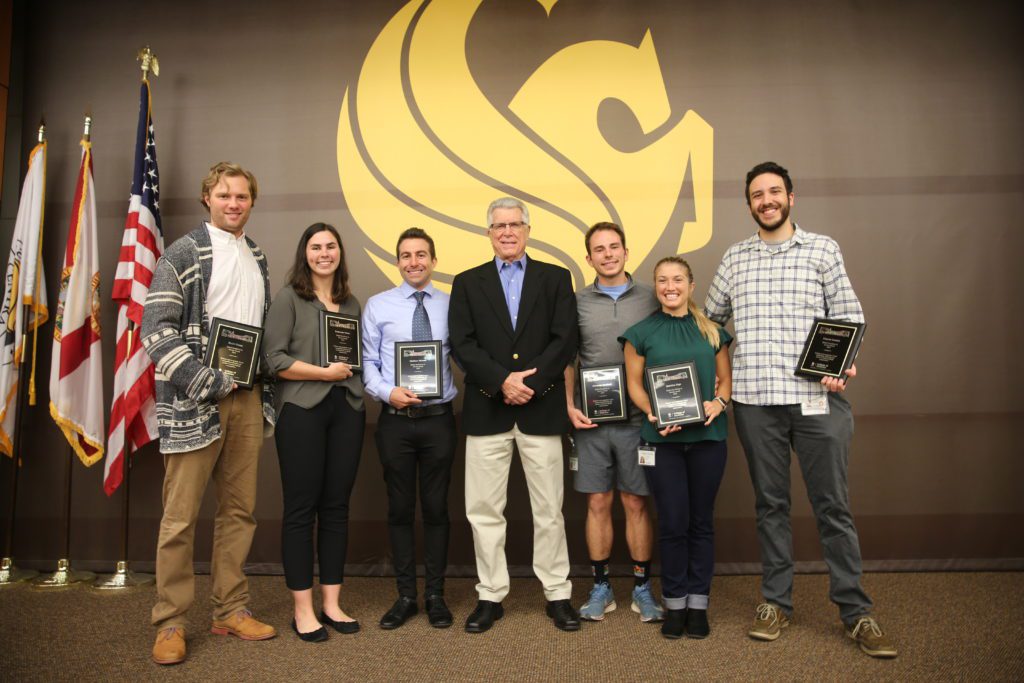 Medical student Annalisa Sega says her most important rewards are the hugs and "besitos" (kisses) she receives from grateful patients in rural Peruvian villages and Apopka foliage fields.
"I've always loved service and helping others," Sega said of her volunteer work at the UCF College of Medicine's free clinics. "I never went into medicine for the glory or the prestige. I chose medicine because I really liked science and I wanted to use something that I was good at to help people, the best way to do that is through medicine."
Sega was one of six second-year medical students who were honored for their community service at the first annual Diebel Excellence in Service Award Ceremony Dec. 16.
As members of the medical school's service organizations, the winners led medical mission trips to Peru, provided treatment for uninsured farmworkers in Apopka, gave wound care and vaccines to downtown Orlando's homeless population, treated uninsured patients at the KNIGHTS student-run free clinic and coordinated fashion shows for cancer patients — among other projects.
The award is named in honor of the Diebel family whose son, Dr. N. Donald Diebel, Jr., died in 2002 when he was hit on a roadway after stopping to help others at an accident scene. To honor his life and work, the family launched the Diebel Legacy Fund at Central Florida Foundation, which supports the medical school's efforts to help others.
"When you perform these acts of service when you're younger and still learning your trade, it becomes more of a habit," Dr. Donald Diebel, Sr. told the awardees. "You will continue to do that right throughout your life without expecting remuneration or recognition."
As a practicing OB-GYN who knows well the rigors of medical school, Dr. Diebel said he was particularly impressed with how the honorees, most of whom are involved in multiple service organizations, give so much and so freely of their time.
"As medical students, that's time spent away from their books and whatever little free time they have, to give to others and that's just inspirational," he said.
For award winner David Gittess, serving others is what ultimately led him to medical school. He left a career in politics – working as a legislative correspondent in the office of former U.S. Senator Bill Nelson, to pursue a career that had a more direct impact on people's lives.
"When I was an undergrad, a professor challenged me to find the place where my interests met some need of the world," Gittess said. "It was the first time someone had really connected my passion to service, and it defined a lot of what I did after college. From public service to working with refugee patients, and on through my decision to leave politics and pursue medicine, I have thought of service and a career as one and the same."
Other Diebel Award winners are:
Matthew Abrams – Education and Advocacy Chair, Rising Youth (Preventative Mental Health Education Program for Adolescents); President , LGBTQ+ Medical Students and Allies
Vincent Cendan – Floor Manager and Education Team Leader, Apopka Farmworkers' Clinic; MEDPACt Global Health Conference Director
Alexander Gartland – Chief Data Officer,

Apopka

Farmworkers' Clinic; Executive Board Member, Chapman Compassionate Care Clinic for the Homeless
Katherine Porter – Volunteer and Clinic Co-Director, KNIGHTS Clinic; Chapman Compassionate Care Clinic for the Homeless volunteer; Runway to Hope volunteer
Sega said the range of service learning opportunities at UCF was a major factor in her decision to study medicine here.
"Medical school is hard," she said, "but when I can use what I learned to help a real person who has limited access to healthcare, it makes it worth it. When someone has an abnormal EKG and I can use what I learned in Cardio/Pulmonary about how to read an EKG to help someone, it makes those hours spent in the books feel like I'm doing something right."
Post Tags
Annalisa Sega

David Gittess

Diebel

Donald Diebel

KNIGHTS

MedPACt

mission trip

students

volunteer service