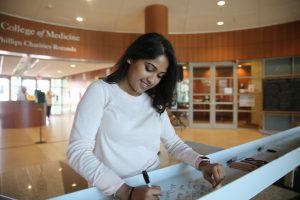 First-year medical student Pooja Selvam's words will forever be part of UCF Lake Nona Medical Center as she joined students, faculty and staff April 29 in signing their names and messages on a 20-foot beam that will be the highest installed at the hospital.
Selvam said she wrote the words because she looks forward to being among the first students who will work with patients in the hospital when it opens in late 2020.
"I chose to study at UCF because of the promise and innovation that it offered," she said. "It's just very inspiring being able to see the hospital being built from the ground up and to know that one day I will be in that hospital learning, helping to set things up, to see patients and contribute to its development."
Construction began last fall on the joint venture hospital, a partnership between UCF and Hospital Corporation of America. The three-story hospital, located on university-owned land next door to the College of Medicine, will open at 204,079 square feet with 64 beds, with room for expansion to 80 beds. The hospital is authorized to grow to 500 beds without further state approval.
The beam's first signature came from Dr. Deborah German, vice president for health affairs and founding dean, who wrote, "May this be a place we deliver the best care in concert with learning and discovery."
With the three letters "P-E-P," Dr. Richard Peppler, interim vice dean and associate dean, faculty and academic affairs, left his imprint on a fourth Medical City pillar. It's the same moniker he signed on the wall in the college's Medical Education Building and on last beams for the Orlando VA Medical Center and Nemours Children's Hospital.
"This was a wonderful event and a very important one in College of Medicine's history," Dr. Peppler said. "We are one step closer to the hospital we all have wanted since the beginning of 2007."
Fourth-year medical student Jake Sambursky will graduate from UCF on May 17. It will be his second UCF commencement – Sambursky earned his B.S. degree in biomedical sciences from UCF. After becoming a Physician Knight, he'll train in neurology at Jackson Memorial Hospital and University of Miami. His dream is to return to UCF to help train medical students and residents at the new hospital. So on the beam he wrote, "Let this be the first step towards something BIG!"
"Today, I am just signing a beam, but this beam is part of the framework that is going to lead to thousands of patients getting care and students and residents learning to become better physicians," Sambursky said, "And I hope to be a part of that."
Post Tags