College of Medicine

Faculty News

Internal Medicine Residency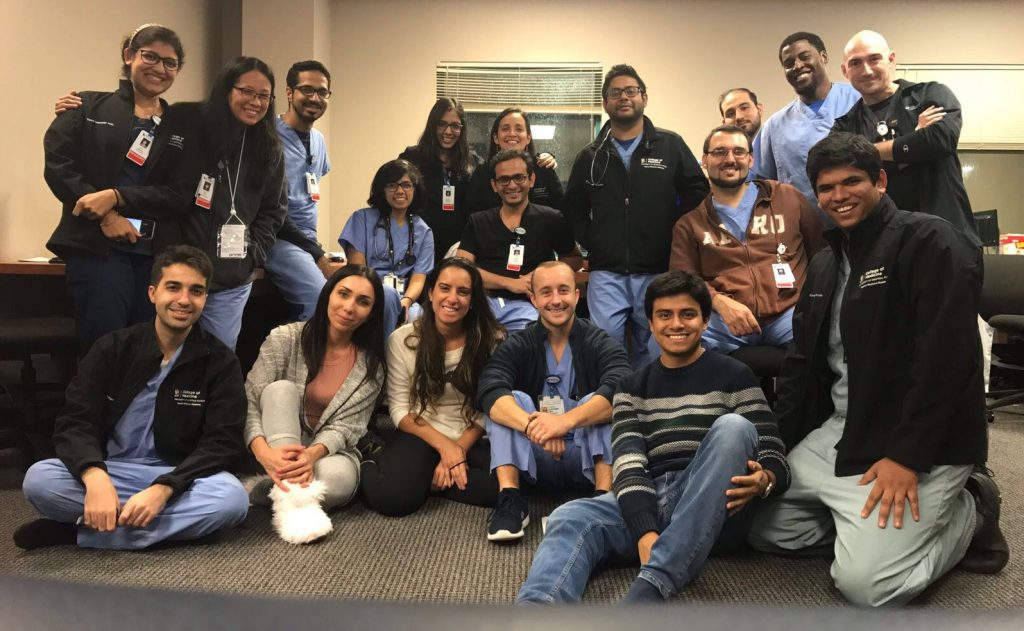 As Central Floridians were braving Hurricane Irma, College of Medicine residents were caring for patients at partner community hospitals. Some spent days at the hospital and slept on air mattresses as furious winds battered the community.
"It was dark, so we couldn't see what was happening outside, but we could hear the howling of the winds," said Dr. Israel Costa Sanchez, a second-year internal medicine resident who worked during the storm at the Orlando VA Medical Center. "Some patients were scared, but we tried to keep them calm and assured them the windows were strong enough to withstand 160 mph winds."
Dr. Costa Sanchez is a native of Venezuela and this was his first major storm since moving to Florida for residency training two years ago. So he secured important documents and valuable possessions in his apartment, and packed a few necessities before heading to the VA on Saturday morning where he would spend the next three days.
"My family members were concerned because I would not be with them, but they knew I was needed at the hospital and it was a safe place to be at that time," he said.
Some of his patients were already hospitalized for illnesses like diabetes and heart disease when the hurricane approached. Dr. Costa Sanchez and his colleagues also helped veterans at the hospital's nursing home who needed oxygen and pain management. Other patients came to the hospital from mandatory evacuation areas.
Dr. Costa Sanchez is one of more than 250 UCF residents serving at four different hospitals in North and Central Florida. Most of them worked during the storm.
"It's a hard decision to make to leave the comfort of your home in a natural disaster like this," Dr. Costa Sanchez acknowledged, "but I think that's why we became doctors to be able to provide care to our patients in whatever circumstance. We signed up for this, but we love what we do and so I think it comes for us naturally."
At Osceola Regional Medical Center – another of the medical school's residency locations — Dr. Niharika Chimalakonda and other residents brought sleeping bags and air mattresses and when they weren't on shift, slept in the resident's lounge.
Irma was the first hurricane for Dr. Chimalakonda, a third-year internal medicine resident who grew up in Singapore and studied in the UK. "I knew the hospital was the safest place to be, but it was a little stressful in that I didn't know what was going to happen to my house," she said. "I was afraid I would come home to broken windows or a fallen tree in the yard, but thankfully, nothing happened to my house."
But most importantly, Dr. Chimalakonda said she felt compelled to be at the hospital to care for her patients.
"These were my patients, so I had a sense of responsibility towards them," she said, "and I wouldn't want to give that responsibility to anyone else who doesn't know the patients as well as I do. And I also feel like the patients had the added comfort of having their own doctor there as well."
While her team did not treat any storm-related injuries, they did receive patients who came in after the storm reporting chest pains that were perhaps linked to anxiety.
Dr. Abdo Asmar, director of internal medicine residency program said the hurricane showed the importance of teamwork in caring for patients during an emergency.
"Many residents, faculty and hospital staff left loved ones at home to come in and provide care for their patients," he said. "What they have shown in terms of teamwork and professionalism throughout that emergency was really some commendable work."
Post Tags