College of Medicine

Faculty News

UCF Health
On April 8, medical providers and those with lupus gathered at the UCF College of Medicine to increase awareness about the disease and share recommendations for care across the care spectrum.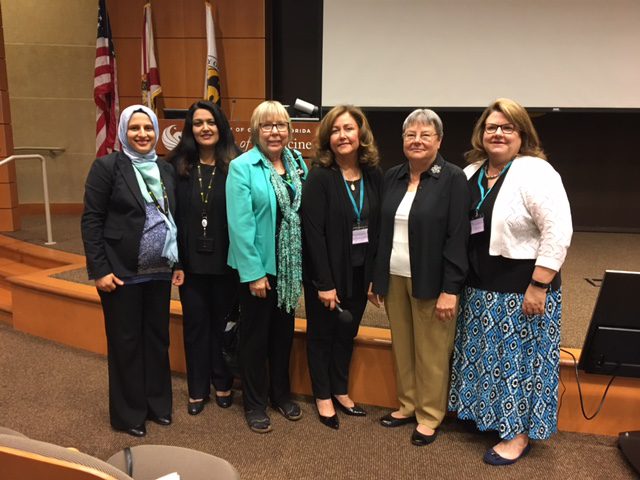 The event was hosted by the Lupus Foundation of Florida, an organization that has been advocating for the advancement of lupus care through education, awareness and research since 1979. The event blended together continuing education for nurses and doctors, as well as patient education. The keynote speaker was Dr. Michelle Petri, director of the Johns Hopkins Lupus Center.
Dr. Petri shared changes in treatment and medications for lupus over the past several years.
"Thinking outside the box is necessary to really make progress," Dr. Petri said. "Things that we thought were written in stone have turned out to be wrong. Science is our friend as we continue to learn more about this disease."
The event featured a session specific to medical providers, and two sessions aimed at patient education. In addition to Dr. Petri's perspective as a rheumatologist, attendees also learned about the effects of lupus on the brain from Dr. Stephen Berman, a neurologist and professor at UCF College of Medicine.
Dr. Berman says 50 percent of those with lupus have some type of nervous system involvement.
"The better understanding you have, the better you can communicate with your doctors," Dr. Berman said. "Good communication is important for you to get the best care from your doctors."
One of the goals of this annual event is to increase awareness of lupus among primary care providers, since that is often the first encounter a patient with lupus has.
"If you look back even just 10 years, there was very little awareness about lupus among primary care providers and even some specialists," said Patricia Weinstein, a nurse practitioner and board member of the Lupus Foundation of Florida. When her daughter was diagnosed with lupus, she started doing her own research and was surprised by how little she learned about lupus through her training. "I was a cardiac nurse, and I didn't even know that lupus increases a patient's risk for stroke."
Things are much different today thanks to enhanced awareness about the disease and increased education at the primary care level so that the disease is more readily detected.
"This event is special because we come together to learn more about how to better serve our patients," said Dr. Deborah German, vice president for medical affairs and dean of the UCF College of Medicine,who is also a board certified rheumatologist.
The seminar has grown dramatically since it first started 32 years ago in a church hall. This was the first year that the event was hosted at the UCF College of Medicine in the heart of Medical City. The new location helped facilitate one of the goals of event planners to attract more primary care providers and other specialists to learn about lupus from world experts.
"Not only do we want to increase awareness among primary care providers, but also expose our residents and medical students to the field of rheumatology to help foster their interest in the specialty because we don't have enough rheumatologists to keep up with demand," said Dr. Shazia Beg, a rheumatologist at UCF Health and faculty member at the UCF College of Medicine.
To learn more about lupus and advocacy efforts, visit The Lupus Foundation of Florida.
Post Tags