College of Medicine

Faculty News

Medical

Student Affairs

Students

UCF
Patients only get excellent care if their healthcare professionals work as collaborative teams, and with that focus, the College of Medicine held its first Interprofessional Education Advocacy Workshop December 9-10 with over 200 UCF M.D., Masters students from the school of social work and University of Florida pharmacy students.
As part of the training, students used their unique perspectives to come up with care plans for families dealing with the challenges of homelessness and health issues like diabetes, high blood pressure and mental illness.
Interprofessional education "May be the most important course you take in all your clinical training," UCF College of Medicine Dean Deborah German told participants during an introduction video. "Understanding the communication across professions is critical to the care we deliver to our patients."
Faculty hope that teaching healthcare students to communicate and work together in interprofessional teams will prepare them to provide more coordinated, meaningful and quality care to people and their families in the real world. "Each person has an important role to play, and that really is key," said Dr. Judy Simms-Cendan, associate professor of obstetrics-gynecology, who is leading the College of Medicine's interprofessional efforts. "Whether you're coming from pharmacy, social work or medicine, your understanding of the needs of this family is going to be different, but they're all going to be reflected in the family's overall health."
A case study focused on "The Neads Family," of three that is living out of their car. The father, an Iraq war veteran, suffers from Type 2 diabetes and high blood pressure. The mother has an eighth grade education, is 20 weeks pregnant and has a history of drug abuse and mental illness. Their 8-year-old son suffers from asthma, and has been to the emergency room twice for severe wheezing. Working in interdisciplinary teams, the students examined the family's needs, and where they weren't being fulfilled. For example, students pointed out that Mr. Neads did not have access to a refrigerator to keep his insulin cool, something vital for his diabetes treatment. Mrs. Neads was not receiving prenatal care, and was living on a diet low in folic acid, which can lead to birth defects.
Students said that the diversity of training in their groups allowed them to approach the family's problems from many angles. "The pharmacy students were able to bring things to the table, because they knew about the availability of certain medications, all of the family was on something," said Courtney Mascoe, a first-year medical student. "The professors from Social Work knew about the programs that could help the family."
Teams also created proposals for legislative policies to address healthcare issues and access for homeless patients. By the end of the session, many students walked away with a keener understanding of the role of teamwork in healthcare. "This experience really does show you that other professions are able to contribute and help," said Judith John, a UF pharmacy Student. "Despite our different backgrounds, we can really gain a lot by working together."
Interprofessional education has become an increasingly important part of healthcare education. The Liaison Committee on Medical Education (LCME), which regulates medical schools across the country, requires it to be part of the M.D. curriculum. College of Medicine Faculty Development Assistant Director Denise Kay said such education is the right practice for patient safety. "Looking at medical error, they've found that it's usually the result of miscommunication within the healthcare team," she said. "There is a movement to integrate more of a team approach into medical education, and we're responding to it."
Dr. Simms-Cendan and newly-appointed Interprofessional Education Module Coordinator Brenda Perez, say they plan to offer more group-based opportunities in the future. "If these students can learn about other professions and become comfortable communicating with them, we really think it will improve collaboration when they go out to practice," Dr. Simms-Cendan said.
The UCF College of Medicine Interprofessional Education team thanks many contributors who helped make the workshop a success. Dr. Mary Ann Burg from the College of Health and Public Affairs contributed her social work expertise and briefed students on the realities of homelessness. Mr. Bakari Burns, CEO of Healthcare for the Homeless, spoke about the issue from the perspective of someone who works with the homeless every day. The team also extends their thanks to College of Medicine assistant professor, Dr. Christine Bellew, and Dr. Shannon Miller from the UF College of Pharmacy, who developed the Neads family case study. The workshop was only made possible with the teamwork and collaboration of faculty and staff from across UCF and The University of Florida.
Winners: Team 2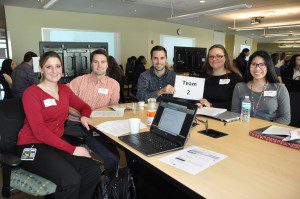 Post Tags