Burnett School

College of Medicine

Faculty News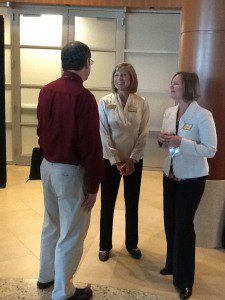 Lake Nona's Medical City is quickly gaining a reputation as a hub for learning, innovation and medical research and UCF College of Medicine faculty and staff are working to increase that reputation through networking and communication. The college's Research Network Initiative (RNI) is on a mission to bring research-minded professionals together to form meaningful partnerships.
Dozens of area scientists came together with that mission in mind  during RNI's World Café Event on Thursday, March 21. The casual meet-and-greet brought together researchers from the medical school,  Nemours Children's Hospital, the Orlando VA Medical Center, Sanford-Burnham Medical Research Institute and Osceola Regional Medical Center.
"The goal is just to initiate a lot of dialogue between people who can potentially contribute to each other's work and develop new projects that relate to health care," said Denise Kay, assistant director of faculty development at the College of Medicine. She is working to bridge the gap between basic scientists working in the lab and clinicians who care for patients. This "bench to bedside" transition can bolster the research that is most needed by real patients.  By facilitating communication among medical professionals, Dr. Kay and others hope to increase the opportunities for collaboration.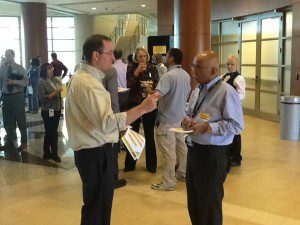 "I hope that these meetings will lead to science on demand," said Dr. Sampath Parthasarathy, who holds the college's Florida Hospital Endowed Chair in Cardiovascular Sciences and is also leading the networking events. "I would like physicians to tell us what types of patients they see, the problems they encounter and how future medicines could be of help."
Medical professionals with similar goals gathered at the World Café event to get to know one another, and chat about their respective fields and areas of interest. Dr. Parthasarathy hopes the spirit of collaborative research will influence doctors and scientists-in-training at College of Medicine. "A medical school should be a place for learning, and there is a learning curve for researchers, clinicians and for the public," he said. "We think we can bring all these things together and go beyond boundaries to bring patients to research."
Post Tags