College of Medicine

Medical
Lake Nona's Medical City played host to dozens of journalists from around the world June 23-27, serving as a model for innovative high-tech communities. The Sanford-Burnham Medical Research Institute was one of many sites across the country that was "plugged in" to the annual Cisco Live Conference held at Orlando's Orange County Convention Center.
Cisco North America's Senior Managing Director, Tony Evans, explained why Lake Nona has quickly become a global example for what technology can do. "This is a really exciting place to be and it's stimulating a lot of thought." Evans said. "This is probably one of the first fully-connected communities here in North America where you look at live, work and play."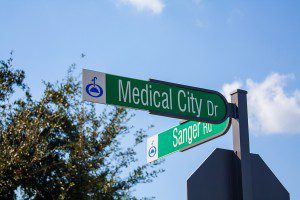 Lake Nona has been developed with the "live, work, play" mantra in mind. With facilities like the Orlando VA Medical Center, Nemours Children's Hospital and the UCF College of Medicine, the area is expected to create  30,000 jobs and $7.6 billion in economic impact by the year 2017. It's a model that has caught attention from across the world, and the international press members from Europe, South America and Asia attended Tuesday's conference to report back on what they've seen in Medical City. "They're here to learn how to do what we're doing here in Lake Nona." Evans said. "They'd like to take that information to their respective countries, and model what they see here."
Dr. Deborah German, vice president for medical affairs and dean of the College of Medicine, spoke to attendees about how the College uses innovative technology in preparing students to be healthcare leaders in the 21st century.  "When you get the chance to build a College of Medicine and a brand new Medical City from scratch, you owe it to society to build it the best it can be," she said.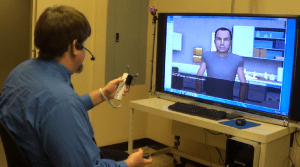 She talked about how the college has become a model for using technology in medical education, including a library that is  99 percent digital, allowing students to have information anywhere, anytime, on any device. "When most people enter our library, their first reaction is: Where are all the books?" she added. "Digital text books can be constantly updated, and they are—quite regularly." Digital textbooks eliminate the problem of using out-of date information, and allow students using medical school-issued iPads to bring their learning tools wherever they go.
The College of Medicine's innovation also translates into the way students hone their clinical and patient care skills. Dr. German showed two videos highlighting that instruction, including a patient simulation that requires students to pick up on the symptoms of cranial nerve palsy through an interactive conversation and examination of a virtual patient. "You take a disease that's rare, and most doctors will never see it in their career, but if they miss it, there's an important consequence for a patient."  She said. "You want to make sure all doctors can take care of that kind of patient."
The cranial nerve palsy causes the virtual patient to have double vision and one eye that appears to veer off to the side. Prompt diagnosis of this condition is critical because it can point to metabolic issues like diabetes, or worse, cancer and brain hemorrhages. Students are able to ask the patient questions, use tools to examine his eye, and even give the patient an eye test for vision.
Another vital part of clinical training involves the use of high-tech avatars or mannequins that can respond to hundreds of prescription drugs and display symptoms like seizures and sweating. In the second video Dr. German presented, students had to determine what caused a healthy, 40-year-old man to start seizing after a gallbladder operation. "We can create an actual hospital scenario where the students can learn in a safe environment." Dr. German said.
She emphasized that UCF College of Medicine students also learn how to practice medicine without the use of high-tech instruments. "Our students go to places like The Dominican Republic and Haiti so they develop an appreciation of what you have to do when all you have is your head, your hands, some water and a stethoscope."
Presenters from Sanford-Burnham, the Lake Nona Institute and the Tavistock Group also spoke about the impact of Medical City. The conference was simulcast with other Cisco representatives in Chicago, and both sides communicated in real time.
Post Tags