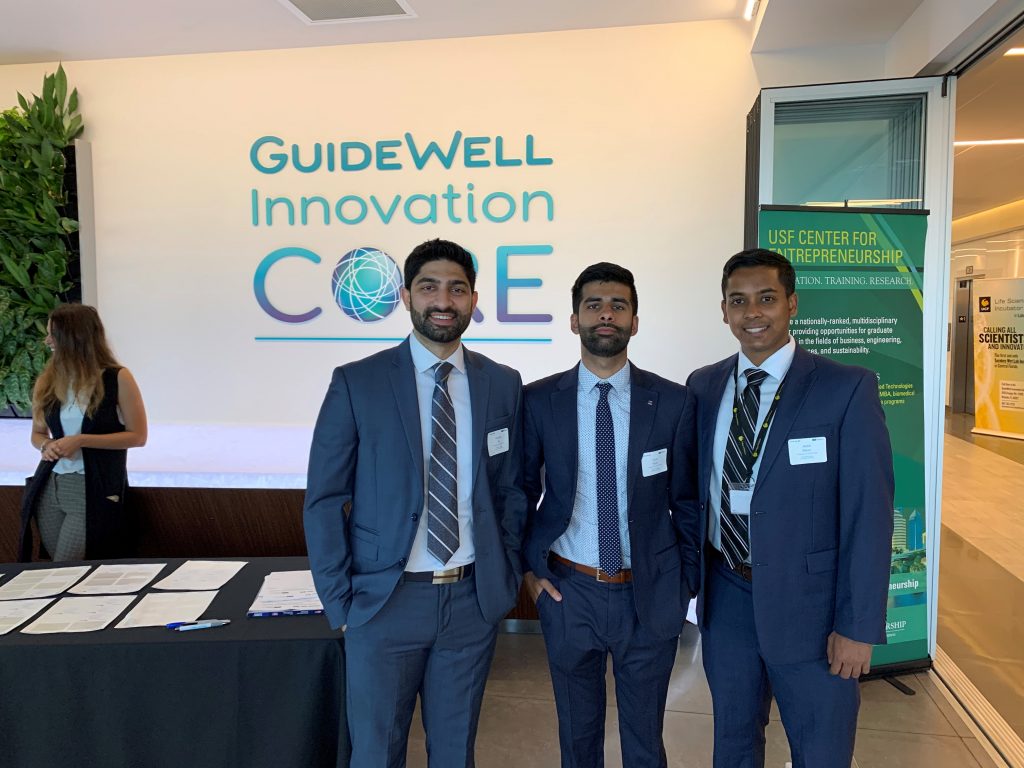 Three UCF College of Medicine students took first place and a prize of $15,000 in a statewide competition on Sept. 19 for their invention of software to better manage patient records.
The contest, Florida Blue Health Innovation Competition, is open to college students across Florida who were tasked with creating an innovative solution for a particular healthcare challenge. Twelve student teams from six universities pitched their ideas at the event held at the GuideWell Innovation Core in Lake Nona.
The winners, fourth-year medical students Ayan Nasir, Akhil Khan and Haider Ali, presented Chronic Conditions Mapping Package (CCMP), a software tool for electronic medical records to improve record keeping of patients with chronic conditions.
"I was initially interested in this idea based on my clinical experiences – I noticed how passionate care teams were in taking care of patients," said Nasir, the project's team leader. "However, the burden of managing multiple chronic conditions and gaps in information regarding those conditions were causing frustration for the team and subpar care delivery to the patient."
Each team pitched their ideas on how to leverage Big Data to help solve and prevent chronic health conditions such as obesity, diabetes, and heart disease to a panel of experts in healthcare, marketing, engineering and entrepreneurship. Teams were judged on the innovation's uniqueness, relevance to the theme, and its potential to generate profit.
"When a patient with chronic conditions like diabetes or heart disease goes to the doctor, gaps in information can develop in terms of completeness, consistency, and accuracy of diagnoses." Nasir said. "This algorithm sources a variety of patient data, from doctor-patient encounter notes to objective lab data. This allows for better and more complete tracking of these diagnoses, also accounting for different stages of diseases. And this has tremendous potential to improve healthcare for all patients."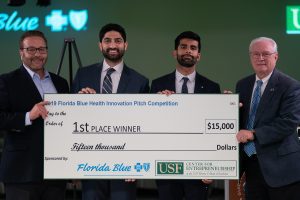 The team who was mentored by Dr. Varadraj Gurupur, associate professor of Health Management and Informatics at UCF has submitted the project for publication and have already filed a patent for CCMP. They have also been invited to present at Disrupt the Bay, a health care conference scheduled for November that will bring together leading experts, innovators, and funders in the industry.
"We are also excited that the CCMP has received validation from so many people," Nasir said. "While the prize money will be helpful in jumpstarting the development of this project, it was the feedback we received from industry experts and the beginning of a network development that we feel will have the greatest impact."
Florida International University won the second place prize of $5,000 for Cardiacoustic, a non-invasive screening tool that uses machine learning to analyze heart sounds recorded from a commercially available stethoscope.
Third place and a cash award of $2,500 went to the University of South Florida for an app called Photovore, which uses machine learning to simplify tracking dietary habits for pre-diabetics to help control their condition.
Post Tags