College of Medicine

Students

UCF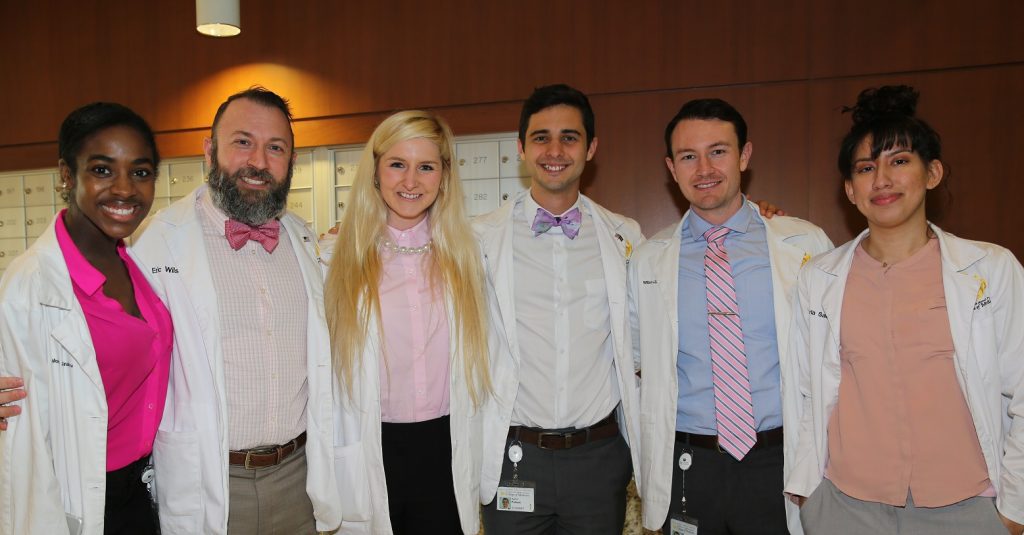 The students' first patient was a retired tax preparation and legal professional when she died at 94. And before her death, she'd enjoyed a pedicure – with pink nail polish. So Team 18 wore pink in honor of their "silent teacher" who had trained their hands and brains during 17 weeks of Anatomy Lab.
The team was among 20 who presented autopsy report presentations on February 6 documenting what they believed had caused the death of their cadaver – a person who had willed their body to science. At UCF, anatomy class for first-year students isn't just about memorizing parts of the body. It's a forensic investigation. Students do not know their first patient's cause of death – instead they spend the lab time investigating organs, cells and bodily systems to try to find out how illness may have impacted their patient's life.
Team 17's patient battled breast cancer at a young age. She underwent the traumas of radiation therapy, mastectomy and reconstructive surgery, and died at age 34. In her honor, the team's six members wore pink ties, blouses and shirts with their white coats.
"From the very get-go, we understood the psychological stress that our patient must have gone through and that moved us emotionally," said Aaron Pollock whose group was named one of two top presentations. "Diseases are usually the focal point, but the emotions and the stresses that the patient underwent are things that we saw as very intense and had a very important message. So, we tried to incorporate both the medical and social aspects in our presentation."
The UCF College of Medicine is one of three locations in Florida where people can will their bodies to science for the training of medical students. This year's "first patients" included a teacher, farmer and dental assistant, ranging in age from 34 to 99.
Core and volunteer faculty and local medical examiners judge the students' autopsy reports based on their presentation, accuracy and rationale for the cause of death. The top two teams received a cash prize donated by Dr. Hariharier Subramanian, assistant professor of surgery at the College of Medicine.
Assistant medical examiner for Orange-Osceola counties, Dr. Sarah Zydowicz helped judge the reports and was moved by the medical students' appreciation of their donor.  "One thing that stood out to me was that all the groups acknowledged the gift of their cadavers," she said. "I think that speaks a lot to not only skill and knowledge, but also gratitude and realizing what an opportunity it is to study a body that way."
The goal of UCF's medical school curriculum is to instill in students a "spirit of inquiry," a passion for learning and the ability to seek answers to medicine's unknown questions.
"You have a great opportunity to be at a medical school, where you are asked not just to memorize but to be curious and ask questions," Dr. Deborah German, vice president for medical affairs and dean told students as she presented awards after the autopsy presentations. "It is a skill you are going to need for the rest of your lives."
Dr. Joshua Stephany, chief medical examiner for Orange-Osceola counties, said he was impressed with the students' scientific conclusions and their ability to piece together all they had learned in their first months of medical school.
"I think they did great as first-year medical students," he said. "They are not even a full year in, and they are learning a new language with all these medical terms, what these diseases are, all these new processes and trying to incorporate all this with what they see in the body. It's hard to keep that together, so I take my hat off to them."
Medical student Anna Thompson, said she was grateful for the learning opportunity her first patient had given her.
"The reason I want to be a physician is to prolong life, and so it was a bit daunting that the first thing I experienced was death," she said. "But then I realized that all the things we are learning mattered to our patient's life, and I really learned the benefit of doing this."
This year's winners include:
Team 17: Aaron Pollock, William Fraser, Karla Salazar, Lacie Turnbull, Monet Winslow and Eric Wilson.
Team 19: Jack Keehn, Melissa Kendall, Austin Sowers, Anna Thompson, Daniel Hushla and Ayan Nasir.
Post Tags